By Jack Franks
Is romance dead?
If you ask ChatGPT, it's not! Citing our constant desire for romantic connections and relationships remains fundamental to human nature.
An AI-influenced response may not provide enough evidence to suggest this generation still holds a candle to the concept of the sweeping of feet, but we would be foolish to cover our ears.
Harnessing the power of artificial intelligence, 2023's latest addition to the production line of dating apps prides itself on finding you your person. Premium membership-based model Teleport isn't about dating, elevating the process of matchmaking to the peak of its offerings.
Boasting catchy slogans – no doubt painstakingly brainstormed around a table of marketing gurus – such as 'Attract, Don't Chase' and 'Manifest Love' headline their alluring site, its simplicity pushing users towards downloading the app.
Teleport steers away from the much-trodden path of mindless swiping, which has become a culturally-defining staple of the likes of Tinder and Bumble, subbing in a less is more approach by limiting the number of profiles served up daily.
Its AI-driven algorithms learn from a user's every activity –  including which of five daily profiles they view, to whom they send messages and feedback about dates they go on.
Teleport will provide users with three optimized matches per week but be able to message with only one, with the hope that hopeless romantics in search of genuine love will avoid the sensory overload of endless options and focus on creating meaningful connections.
Find and secretly like people you know from your school, dorm, and social network. On 1 June 2023, Teleport plans to launch to the world.
Can AI play cupid, or is the future of dating best served in the hands of humans?
Related content:  The best dating apps for men 2023
Re-inventing romance…
Initially, Teleport's membership will be capped at 5,000 paid members when the app launches, with founder Chad Goodman stating that the app's AI can perform matchmaking at scale for its members, who will need to pay for at least three months of membership to begin.
Goodman says this will allow the algorithm to learn what people are looking for and ultimately to find a long-term connection that outlasts the investment period.
Goodman, a consumer technology entrepreneur whose primary focus is communication and dating, has created products that have connected over 30,000 dates with their perfect matches since 2015.
He's a dating-app veteran who previously launched the dating apps Lucid – which helped users find and secretly like people they knew from their school, dorm, or social network – and Firstdate – which sped up the process of meeting up, promoting less flaking, ghosting, and nonsense.
Lucid was Goodman's inaugural dating app attempt, created while living on the campus of its pilot school alongside co-founder Micheal Ding. Upon the release of its fourth and final version, more than 70% of the school had downloaded the app, with users accessing it more than 20 times per day.
Alas, this love story failed to stick the landing, with Facebook shutting off access to an essential friend graph API, rendering Lucid's algorithm useless.
A few weeks later, Facebook launched a replica of Lucid.
Firstdate fared much better, overcoming the potentially tricky post-honeymoon phase to rack up millions of users, and singletons placed 47 million-plus first-date offers on the table for consideration.
In an interview with Medium in 2021, when Teleport was in its private beta stage, Goodman outlined his mission statement for his most recent dive into the complicated world of online relationships, declaring that "traditional dating apps are mindless, objectifying, addictive, and out of touch with reality."
Goodman planned to "create real, authentic connection" by "going on real dates with real people," highlighting the spark of looking into someone's eyes, seeing their smile, and hearing their voice.
In decades to come – and dependent on the success of Teleport – Goodman may be revered as the king of dating apps, likened to Elon Musk and Mark Zuckerberg – albeit without the hum of controversy – as a leader in his field.
The cutting-edge technology used to power Teleport aims to return people to their roots, driving a cultural revolution where online behavior is just as advantageous as real-life experiences.
Goodman sums it up perfectly. "We may be more connected than ever, but we are the most socially isolated humans ever." 
The price of love
Love sells. A glance at the eye-watering $4.6 billion dating app market speaks volumes about the appetite for romance.
Since 2015, the dating-app market has tripled, with an active user base of 323 million, with around 20 million paying for a premium service.
Category behemoth Match Group Inc. reported that 16.1 million users had paid for a subscription, an on-demand purchase or both in 2022, roughly on par with the previous year, across its portfolio of brands, including Tinder, Hinge, OKCupid, Plenty Of Fish and its flagship, Match.
Teleport's lofty $111 monthly subscription will inevitably put some users off, given that Tinder charges $30 per month, Bumble $40, and Hinge's new offering comes in at $50.
The price of love is high, with the much fantasized 'one' coming at a high cost: "There's always been this overarching question with dating apps as to whether they work for their consumers, for their users, to find love or whether they work for investors to make money?", says Laura Forman, Heard on the Street columnist for the Wall Street Journal.
Speaking during an episode titled 'The Price of Dating Apps' released on Valentine's Day 2023, he cites that investors are losing interest in dating apps and that companies must show "that there are new legs" to the story.
'The Journal' co-host, Kate Linebaugh, says that the business model that served dating apps so well in previous years is "going through a rough patch," highlighting a "dating app saturation" which is showcased by research suggesting that the percentage of Americans using them hasn't shown any growth in three years.
Singles are falling out of love with the 'freemium' nature of the likes of Tinder, enticing users to pay more to gain exposure and become more noticeable.
That's where Teleport aims to revolutionize the dating app industry, believing that "the future of meeting people isn't a dating app, it's matchmaking.
"Live in the moment and be present. Stop swiping. Stop scrolling. Stop clicking mindlessly. The best experiences are fun and exciting and make you feel full of life. The future of consumer software is more intentional. A social life online that feels as authentic as being in person."
What is certain is that some users will be happy to fork out hundreds of dollars a month to increase their chances of love.
One guest on 'The Journal' podcast likened using data apps to "cutting through the forest with a machete" without paying, while another thinks that spending money works, but only if "you're going in intending to use that money you're spending."
Teleport's triple-figure monthly outlay will turn many away. Still, those in the upper-income brackets, in particular, will see Goodman's AI-powered love train as another potential vehicle for finding a perfect partner.
A dystopian reality?
If you're a fan of Charlie Brooker's award-winning show, Black Mirror, then the concept of dating being based on data-driven algorithms may smack you with a wave of nostalgia.
In 2016 Brooker dropped an episode in series four of the dystopian anthology masterpiece, centering around millennials navigating an opaque, AI-powered dating program called 'the System.'
Hang the DJ," a heartbreaking hour that explores the emotional and technological limits of dating apps, and in doing so, perfectly captures the modern desperation of trusting algorithms to find us love—and, in fact, of dating in this era at all.
The soul-deadening experience of swiping through Bumble, or spending countless hours with profoundly uninteresting strangers in service of being open-minded, makes the prospect of finding an equitable love, or even a satisfying lust, a laughable unlikelihood.
How could even the best dating app algorithm today factor that in?
Teleport could be the solution, with the System portrayed in 'Hang the DJ' simply standing in as a stunt double, allowing Goodman to pamper and prepare the main event.
On the subject of Black Mirror, he said: 
"Our team talked quite a lot about the dystopian technological future of dating. However, we think we're already living in it, and what a horrifying reality. We spend so much time swiping mindlessly for the dopamine rush of a "match," and rarely ever connect beyond a "hey." That's why we decided to completely redesign the dating "app" and step away from the traditional user interface. Teleport is not a dating "app." We don't do "matches." We don't do "swiping." We do real, authentic, face-to-face connections and conversations — our technology is a stepping stone that gets you that much closer to the actual in-person meet."
So, is romance dead?
There may be hope for love in such a dystopia as ours—and that hope can exist between the 100% human and the 100% mathematical.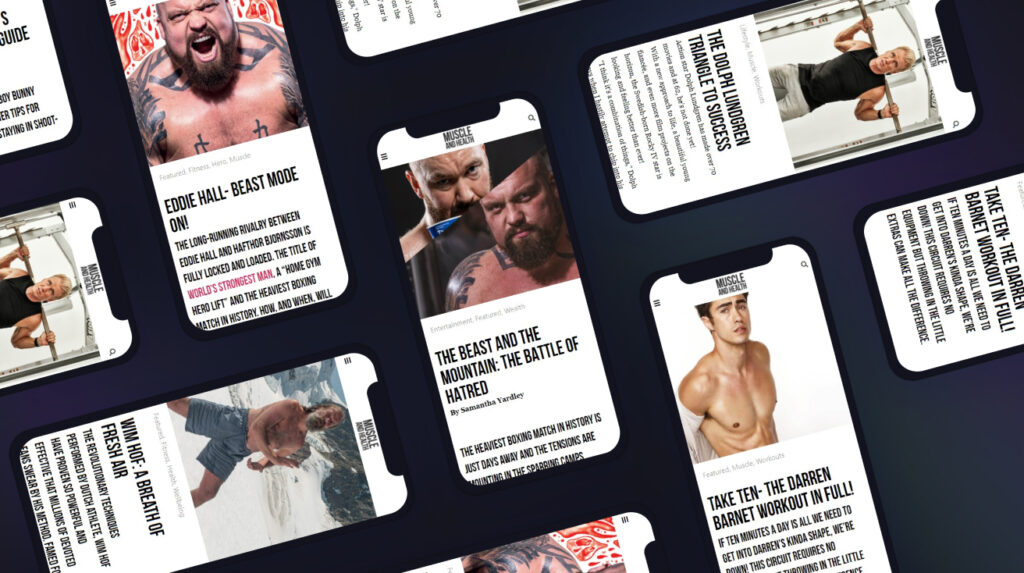 get all the latest mucle, health and wealth news delivered straight to your inbox