HIIT Kitchen first opened its doors in June 2017 on a busy high street in Saint Albans After noticing an increasing popularity within the health and fitness industry they wanted to bring a much healthier, quicker alternative to the public. Try these Thai food recipes today!
Chicken Pad Thai (serves 4)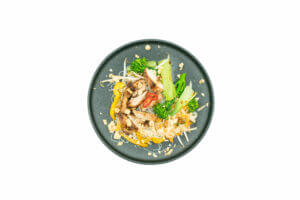 Chicken Marinade: Tbsp honey, Tbsp fresh ginger, Tbsp fresh garlic, 1 red chilli, 5 tbsp gluten-free soy sauce.
Kohlrabi Salad: 1 kohlrabi, 1 large carrot, 1 banana shallot, Tsp tamarind paste, Juice of half a lime.
Pad thai: 14oz rice noodles, 2 eggs, 4 4oz chicken thighs, 1 red pepper, sliced. Handful bean sprouts, 4 tbsp crushed peanuts, 1 bunch cilantro, 2 pak choi, 1 broccoli
Method:
• Mix together the chicken marinade ingredients, reserving half of the chilli. Pour over the chicken thighs, reserving two tablespoons of the marinade. Place into the fridge to marinate for two hours
• Take one tablespoon of the reserved chicken marinade and place into a mixing bowl with the lime juice and tamarind paste. Mix well until combined. Peel the carrot, kohlrabi and shallot. Using a cheese grater, grate the vegetables into the bowl containing the tamarind dressing. Mix well.
• Sear the peppers and beansprouts in a hot pan for one minute. Beat the eggs and add to the pan with the remaining chicken marinade. Stirring constantly, cook for a 1-2 minutes or until the eggs are cooked
• Prepare the rice noodles following the package guidelines and place in the pan, toss and stir well. Sprinkle over the crushed peanuts
• Place the chicken thighs in a 375°F oven and cook for 20 minutes
• Steam the broccoli & pak choi for two minutes. Slice the remaining chilli half and use to garnish
Baked Falafel (serves 4)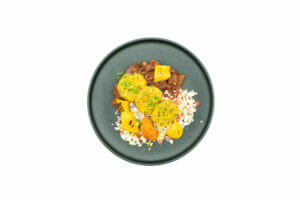 Falafel: 3 cups cooked chickpeas, 1 bunch cilantro, Tsp ground cumin, Tsp minced garlic, Juice from half a lemon, 1 small red onion, 1 bunch parsley, Tsp turmeric, Tsp olive oil
Cauliflower Tabbouleh: 1 cauliflower, Seeds from half a pomegranate , 1 bunch mint, 1 bunch parsley, ½ cucumber, diced, 1 plum tomato, diced, ½ red onion, diced, Juice from half a lemon
Red Pepper Hummus: 1 heavily roasted red pepper, 1 cup cooked chickpeas, Juice from half a lemon, Tsp cumin, 2 tbsp olive oil, 1 large garlic clove Eggplant Ragout: 1 eggplant diced, 2 cups chopped tomatoes, 1 red onion, diced, Tsp cinnamon, Tsp cumin, Tbsp olive oil
Method
• Sauté falafel ingredients in a medium-hot pan for 3-5 minutes and puree in a food processor or mash by hand. Mould into 12 even patties and bake at 350°F for 20 minutes
• Place the Red Pepper Hummus ingredients into a food processor and blend until smooth
• Add the Eggplant Ragout ingredients to a saucepan and place on a medium heat. Cook for 40-50 minutes, stirring regularly
• Finely chop the cauliflower until it resembles rice. Place on a greaseproof tray and bake at 300°F for 15-20 minutes or until the cauliflower has just started to singe. Add the remaining Cauliflower Tabbouleh ingredients and mix while warm.
OODLES OF NOODLES. You will go crazy for these fragrant and flavorsome dishes!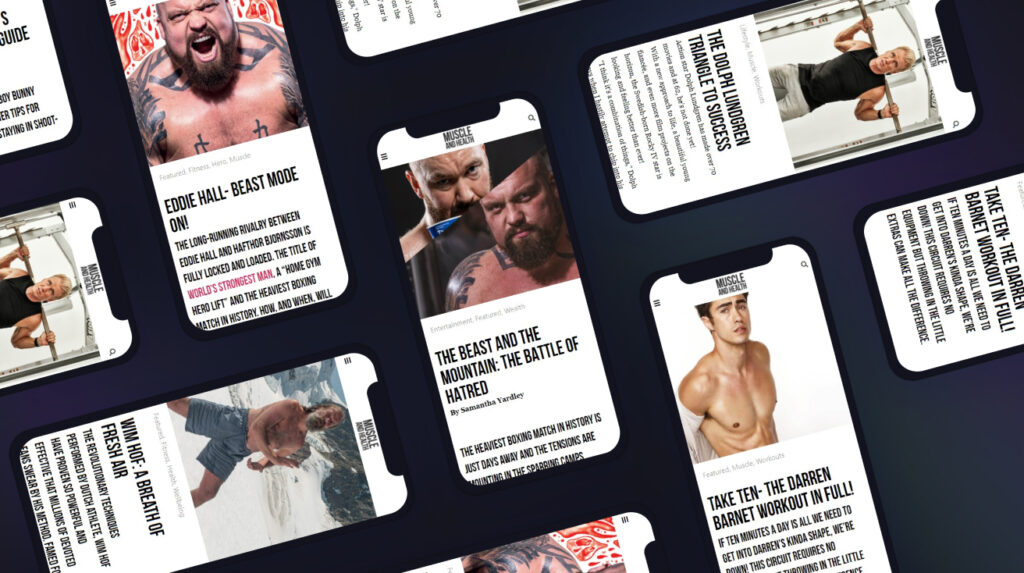 get all the latest mucle, health and wealth news delivered straight to your inbox