By Jack Franks
The ideology of festivals has become universally attached to a full weekend bender of music, alcohol, drugs and all-around chaos, but with more people detaching themselves from the wild lifestyle, alternative options are becoming increasingly more appealing.
Regular one-dimensional music festivals no longer have the same pull factor, with a health-conscious generation looking for the perfect concoction of fitness and fun. 
That can be presented in many forms, with Rapha's 500km Pennine Rally cycle followed by beer and food offering something completely different to the fly-fishing infused package on offer from Snow Peak.
The Financial Times recently covered these fitness-wellness festivals as the hot trend of summer 2022, reporting that they "challenge stereotypes as to what fitness and wellness can be" – with their strong focus on delivering a real sense of community and with many young, solo travelers coming to the multi-day extravaganzas. 
Typically, these festivals combine a form of exercise or practice – trail running, surfing, and yoga – with music, healthy food, spectacular immersion in nature, and diverse, communal wellness experiences.
They constitute a new form of wellness practice, more focused on fitness but combined with lots of social pleasure. 
A more health-aware younger crowd is flocking to these events worldwide in search of finding the communities they belong to, connecting over shared interests and experiencing a synchronized endorphin rush powered by goodness.
Organizers are becoming aware of promoting the health message beyond physical activities, with zero percent beer and plant-based foods a common sight on the menu. There is literally a taste to suit everyone.
So, it's time to swap the unflattering wellies for the sensation of sun-kissed sand between your toes, ditch the debilitating hangover symptoms for an early morning massage complimented by a picture book sunrise, and embrace the sound of nature instead of the eardrum-bursting bass.
From the Faroe Islands to the coast of Cornwall, which wellness retreat will set your soul free in 2023?
The Arc'Teryx Alpine Academy
Headline: Amplify your mountain experience.
Location: Chamonix – Mont-Blanc, France
Date: June 29 – Jul 2 
Experience four days of education, inspiration and connection with a community of like-minded mountain enthusiasts, backed by a soundtrack under the open sky of the Chamonix Valley. 
The sheer variety and broad palette of options here make the fairly lofty prices worth it, with 80 different clinics for all skill levels, fitness, and all budgets across mountaineering, climbing, hiking, trail running, and many more. 
Highlights include priceless experiences such as Climb & Portaledge Night, Reach Your Best Rock Climbing Level, Vallée Blanche Glacier Tour, Trail Running Best of Tour du Mont-Blanc, and Photography in the Vertical Environment. 
There's also a stacked daily schedule at the Alpine Village, the hub for the event, allowing guests of all ages to indulge in activities that will no doubt bring the good times. Aside from the late-night DJ sets, expect to be a VIP guest at film premieres, join pro's on the bouldering wall, and mingle with like-minded souls basking in the heart of the Chamonix magic.
How to book
Clinic bookings can be made from 29th March 2023, 5pm (Central European time), here.
Music and Parties information online May 4 2023
Alpine Villa information online June 1 2023
https://chamonix.arcteryxacademy.com/
Soul Circus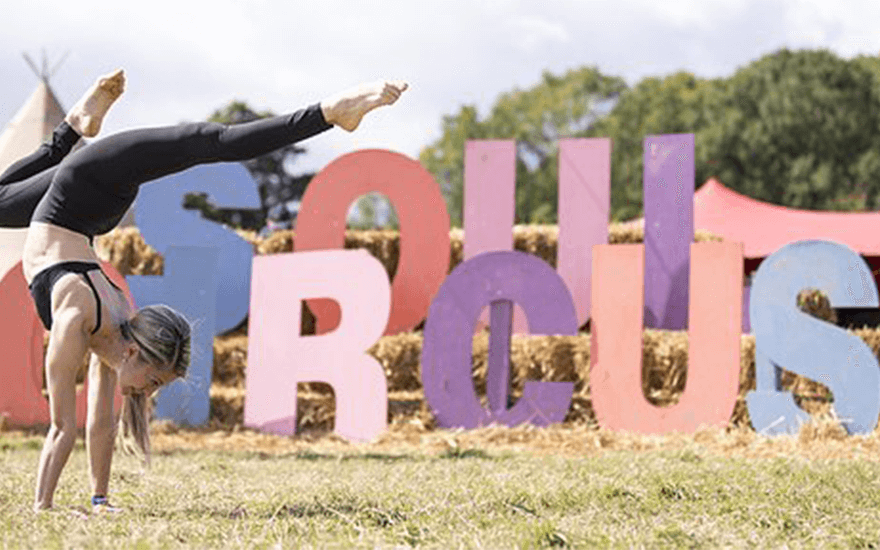 Headline: Put yourself back together and recalibrate.
Location: Hollow Farm, Gloucestershire, United Kingdom
Date: August 17 – 20
Music, yoga and holistic therapies meet glittery festival antics and DJ after-parties in the beautiful Cotswolds. We are talking yoga tipis, epic English countryside views, transformational workshops and headline act Groove Armada, set against the backdrop of a village filled with free spirits in search of sunset cocktails and a truly life-changing weekend.
Roman and Ella, founders of the festival, have always aimed to promote a journey of healing and transformation, encouraging attendees to take time to realign and recalibrate with inspiration from world-renowned teachers, speakers and musicians. Spend your days finding yourself with ecstatic meditations, shamanic journeying and cacao ceremonies before shaking your booty at the boozy after-parties on offer. Find your hedonistic side and run away to the circus.
How to book
Tickets are available to buy now here.
Átjan Wild Islands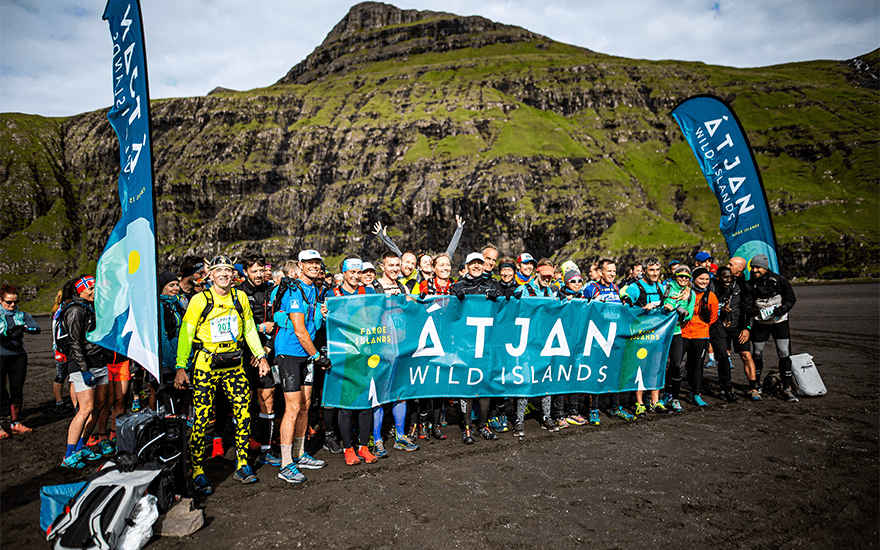 Headline: Adventures at the edge of the world.
Location: Faroe Islands
Date: September 6 – 10
A unique five-day trail-running festival in the Faroe Islands – a country comprising 18 rocky, volcanic islands between Iceland and Norway in the North Atlantic Ocean – it offers an experience centered around the natural beauty of the landscape it calls home. Embrace an early morning rise and take a dip in the Atlantic Ocean for a bracing wild swim before spending your day's trail running and exploring lush green valleys, jagged mountain tops, and spectacular waterfalls.
Nights will be spent congregating around an open fire, sharing tales of wonder and wild adventures, enjoying music performances and dancing into the early hours. The views and untouched nature of the setting are the true show stopper on offer here…and the hot tub by the sea isn't bad either.
How to book
You can book your tickets for the festival here.
https://www.atjanwildislands.com/
Love Fit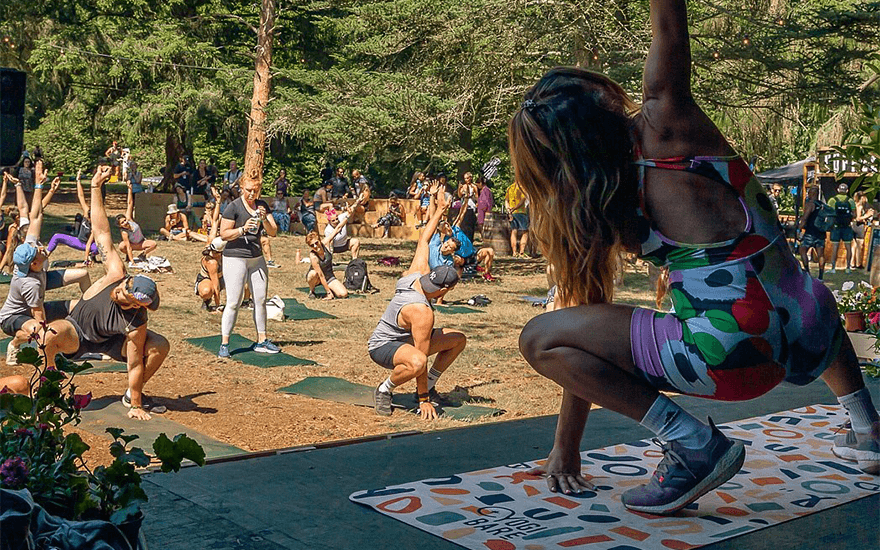 Headline: 3 days of adventure, fitness and well-being, followed by magical forest parties just outside of London.
Location: Kent, UK
Date: 14 – 16 July
A highly-renowned and successful festival that brings some of London's favorite fitness studios – the likes of Kobox, Gymbox and Farm Fitness – to the Heritage Pine Forest of Kent, Love Fit is based on six pillars: fitness, adventure, wellbeing, after-parties, food and drink and the mysteriously named sanctuary. 
Perfectly hitting the sweet spot between lung-burning endurance challenges and a jolly good time, days at Love Fit offer something for people of all different levels, ranging from intense boot camps to blissful meditation sessions. For a more niche experience, open up for a tarot reading or let your hair down at a dance party class. Speaking of dancing, Love Fit boasts some majestic DJ sets fuelled by cuisine from across the globe. Sweat. Eat. Repeat?
Oh, and remember to bring your own tent. This is an authentic camping experience under the stars.
How to book
You can buy tickets for Love Fit here.
https://www.lovefitfestival.com/
Wonderfruit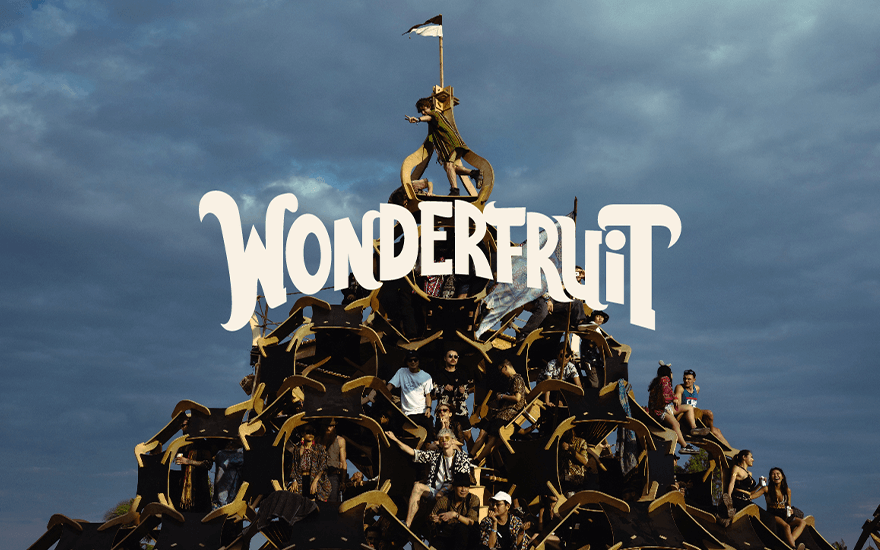 Headline: Live, love, wonder.
Location: Pattaya, Thailand
Date: TBC (2022 event was held between 15 – 18 December)
Wonderfruit is simply that. Filled with charm and flanked by the natural beauty of its hub in the rolling Siam Country Club, Asia's answer to Coachella has been providing a dose of healthy hedonism since its debut performance in 2014. You'll discover round-the-clock music, wellness workshops, an on-site organic farm, jungle chill-out-zones and a healing village offering massages and sound baths, as well as some profound TED-style talks, crystal bowl meditation, capoeira, and not forgetting 'orgasmic yoga.'
The organizers deserve huge praise for their ongoing and dedicated commitment to making a green and clean festival, which seeks to grow what we use and give back to the land that sustains us. Last year, the Wonderful team built an ancestral forest covering 10,000 square meters, 30,000 trees and 46 native species, in the past has used reclaimed materials, no single-use plastics, a lake-filtered water system, and quirky stages crafted from rice parcels that are later donated to the community. Ethically and aesthetically a winner.
How to book
Dates for the 2023 festival are yet to be announced.
Keep up to date here.
Boardmasters
Headline: See you at the beach.
Location: Cornwall, United Kingdom
Date: 9 – 13 August
Adventure and epic music clash on the stunning Cornish coastline as Boardmasters offers the perfect place for water babies to unite. Offering perfect surfing spots and beaches within walking distance of the event site – we are looking at you, Fistral Beach – there's also the option to enjoy a spot of kayaking, barefoot coasteering or paddle-boarding at Newquay activity center.
Zennor Haven offers a zen-like sanctuary for those looking to discover a world of mindfulness within its hidden walls, allowing a place to step away, nourish your mind, and free your soul. It would be rude not to mention the ten carefully curated stages that play host to a world of talent. Expect to hear local acoustic artists, mind-bending visual performers and world-class international headliners.
How to book
You can book tickets for Boardmasters here.
SOUL Festival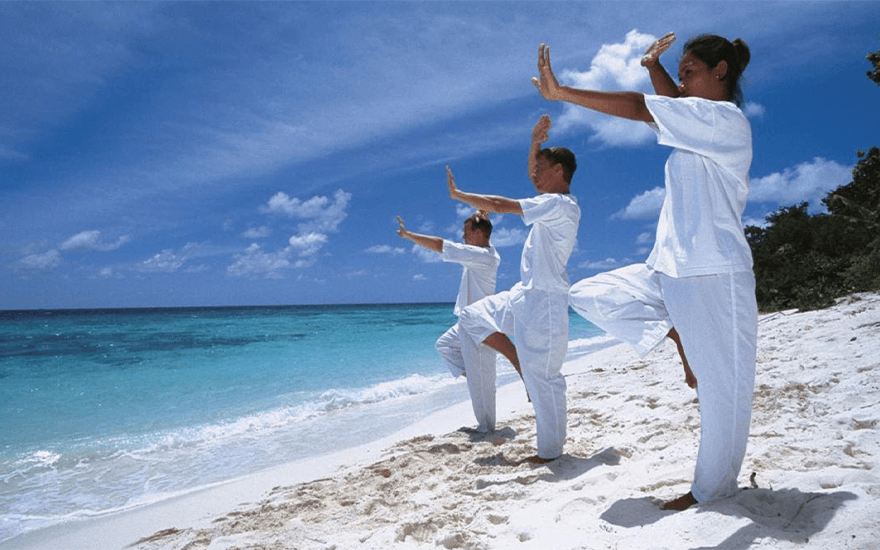 Headline: A sanctuary for wellness.
Location: Soneva Fushi, Maldives
Date: 29 September – 8 October
Operating on the higher end of the budget scale, this luxurious retreat located in one of the most Instagram-able venues on the planet is pure wellness in paradise. Ahead of its inaugural showcase, the pioneering, sustainability-first Soneva is partnering with wellness enterprise ORGANIC INDIA to create an inaugural and immersive wellness festival.
Over 10 days, guests from across the globe will explore wellness in all forms, led by a line-up of visionaries, thought leaders, and wellness pioneers, and celebrate ancient healing traditions and modern innovations through workshops, programs and one-to-one consultations. Three packages – Introduction, Immersion and Deep Dive – offer differing lengths and content, starting from USD 6,900 per villa. If you've got the cash, then explore your soul.
How to book
You can reserve your space here.
Other Wellness Articles You May Be Interested In
Wellness Your Way. The Maldives Resort That's Unveiled A Holistic Approach To Holidays
Miami Wellness Resort Launches Cutting-Edge Functional Medicine And Anti-Aging Center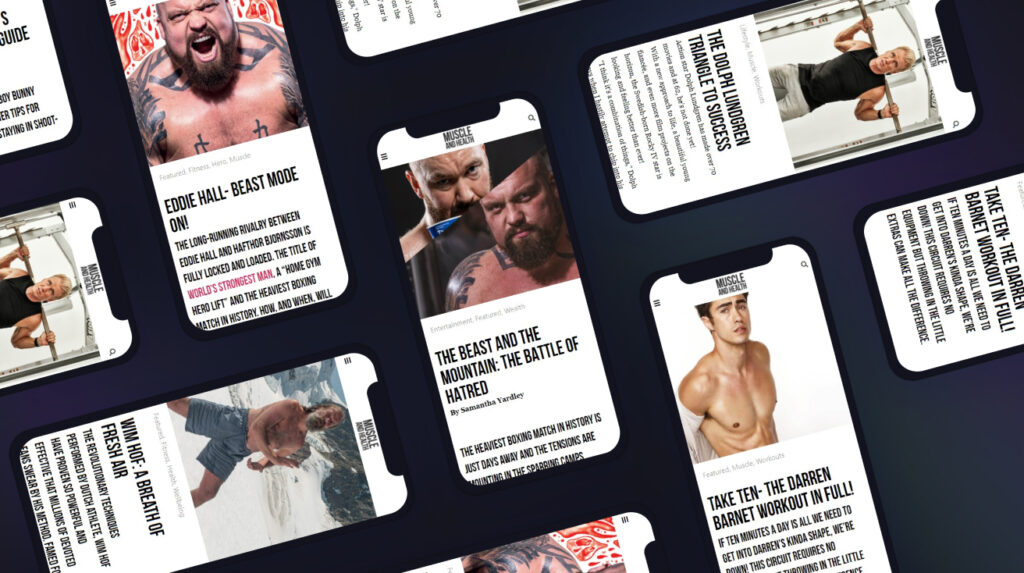 get all the latest mucle, health and wealth news delivered straight to your inbox