Looking at streaming platforms in May 2023 – By Jack Franks
We're diving straight into what's being shown streaming platforms in May 2023 so you never run out of things to watch. 
Anna Nicole Smith: You Don't Know Me
Stream on: Netflix
Release date: Tuesday, 16th May
An "unflinching" and "humanizing" look into Anna Nicole Smith: the glorified, glamorous figure, a portrait pieced together by "never-before-seen footage" and interviews with important people in her professional and private life. 
The upcoming documentary examines the life, death and secrets of the American model, actress, and television personality, who started her career as a Playboy magazine centerfold in May 1992 and won the title of 1993 Playmate of the Year. In fact, Anna's face was so famous that even if you don't recognize her name, you'd certainly recognize her in a picture.
Air
Stream on: Amazon Prime
Release date: Wednesday, 12th April
This biographical sports movie tells the story of Nike employee Sonny Vaccaro (Matt Damon) and his pursuit of basketball legend Michael Jordan for a sneaker deal. It is getting a surprisingly early streaming release after its April debut in theatres.
Some critics have glowingly compared the movie to a "slam dunk," while others have been a little less positive but regardless of critical opinion, if you have ever proudly worn a pair of Nike Jordans, you owe it to yourself to give this one a go.
The Never-Ending Murder
Stream on: Amazon Prime
Release date: Wednesday, 17th May
The Never Ending Murder is an investigative true crime docu-series about the disappearance of 18-year-old British woman Nicola Payne. The limited series re-examines Payne's disappearance in 1991 in Coventry, U.K., which led to one of the West Midlands Police Force's largest-ever investigations
The series includes interviews with family and friends, including her father, John Payne and eldest brother Nigel Payne, as well as those closely involved with the case, including retired detective Malcolm Ross and Martin Slevin, both of whom were lead investigators at one time.
Ed Sheeran: The Sum Of It All
Stream on: Disney +
Release date: Wednesday, 3rd May
For the first time, global superstar Ed Sheeran opens the doors to a definitive and searingly honest view of his private life as he explores the universal themes that inspire his music. This series follows Ed after he learns of life-changing news and reveals his hardships and triumphs during the most challenging period of his life.
Blending exclusive, never-before-seen personal archive, present-day actuality, authentic interviews with his wife and loved ones, and intimate performances in cinematic locations, the series widens the lens to unearth what Sheeran thinks of the world, of himself and his music, as well as showcases a decade of hits enjoyed by subscribers around the world.
The Family Stallone
Stream on: Paramount+
Release date: Wednesday, 17th May
Sylvester Stallone is taking a swing at something new. Paramount+'s upcoming reality show, "The Family Stallone," follows the actor, his wife and their three daughters in an unscripted series. It will allow viewers to get to know Stallone's wife, Jennifer Flavin Stallone, a businesswoman and the co-owner of the Serious Skin Care wellness brand.
Additionally, viewers will meet the pair's three daughters, who are all on different paths; the oldest, Sophia, is still finding her focus and co-hosts the "Unwaxed" podcast with Sistine; Sistine, whose an actress and model, is developing her first feature film; and Scarlet is working on her acting career while at college. She appeared in Season 1 of "Tulsa King."
Sanctuary
Watch on: Netflix
Release date: Wednesday, 4th May
An eight-episode sports drama series set in the specialized world of Japanese sumo wrestling. The show follows a juvenile delinquent who becomes a sumo apprentice and soon finds himself on a collision course with a voiceless wrestler carrying a secret.
Netflix pitches Sanctuary as "a gritty look into the underbelly of professional sumo, a world full of young men with ambitions for money, women, fame, and power, where some may find sanctuary with a history of more than 1,500 years in Japan's traditional culture and as a religious ceremony."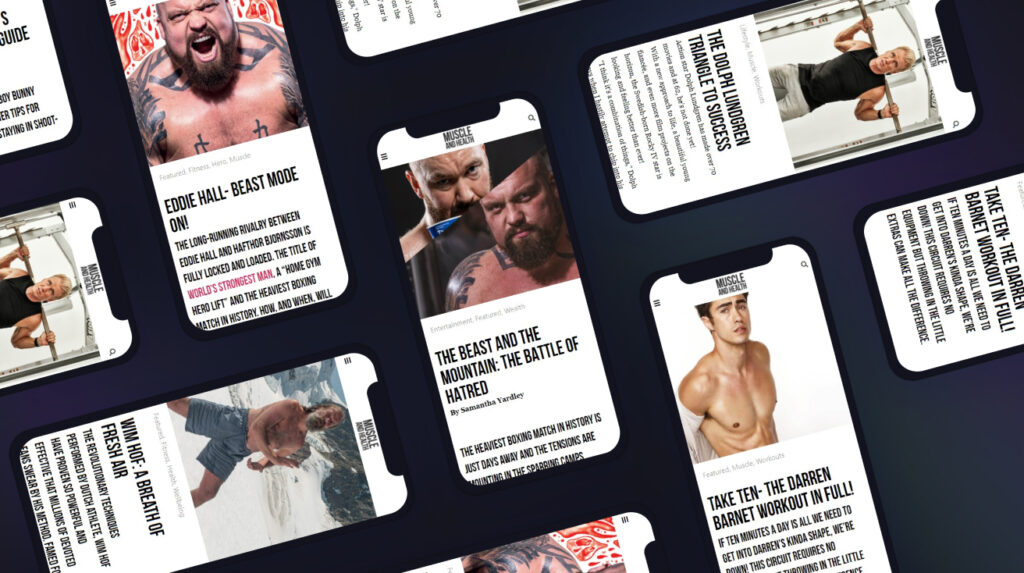 get all the latest mucle, health and wealth news delivered straight to your inbox