"I knew as soon as I hit that point, it was going to come up."
There's a slight shaking of the knee, but it's all too easy for Lucy Underdown.
Having broken her own world record moments earlier, she pulls the 700-pound bar up with eye-scratching ease, an effort resembling a subdued Sunday afternoon stroll.
At the top of the lift—and with the knowledge that the mission is complete—Lucy smirks before echoing the roar delivered from the MC, revving up the crows at the Utilita Arena in Cardiff.
Humble by nature, it's a moment even Lucy can't shy away from as she raises her two arms aloft before heading over to her fellow Strongwoman community to celebrate as one.
Not only is Lucy's name now forever associated with the icons of the sport, etched in the parchments of Strongwoman folklore—but she now holds a title that is impossible to put into words.
Lucy Underdown: the strongest female deadlifter in history.
"I don't really know how to comprehend it all. I don't even know how to talk about it.
"When you watch the video back, I start smiling, which shows I had no doubt about the lift. I knew straight away whether it was going to happen.
"It looked like I was going to drop it when my knees started to shake, but then I was like, 'nah, only kidding, here it comes!'
"That was the best part for me. I looked over to the judges to ensure I got the down signals but decided to hold the lift to show everybody how good it was.
"It felt amazing."
Almost a week has passed since the pinnacle of Lucy's Strongwoman career—a night she is unlikely to ever wish to erase from memory. But it's clear she's still attempting to piece together the events and recover physically and mentally.
Suffering from a cold and feeling the physical effects of such a monumental feat of strength, Lucy admits her body "has completely hit a wall." Still, she has no choice but to push through the fatigue with another competition on the horizon in a few weeks.
Britain's Strongest Woman in Doncaster is in the diary before heading to Liverpool in late November for The World's Strongest Nation competition before the year concludes with the Official Strongman Games in Charlestown, West Virginia, in December.
This hectic period presents a snapshot of Lucy's schedule, even more remarkable given that Strongwoman is a side hustle.
Her day (and night) job as a Police Officer commands her attention for most of the time, a duty nestled alongside the task of consuming around 5,000 calories a day and training her body to move weight that would make a mere mortal quiver.
"One minute I'm at my day job, then I'm in a stadium full of people breaking a world record."
Throwing down the gauntlet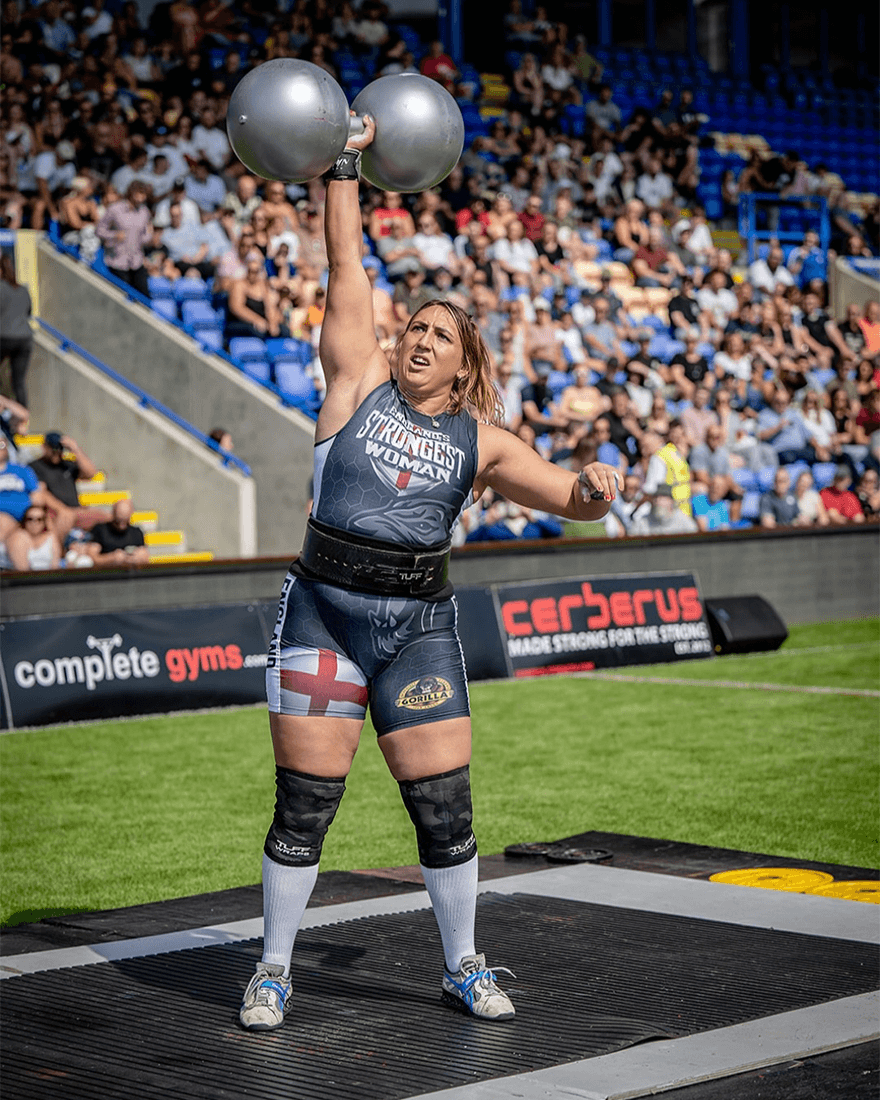 Since 11, Lucy has been involved in the world of sport, fuelled by her twin, Amy, a keen sprinter and holder of a school record. Although her ambitions wandered more towards swimming, the sisters' parents didn't fancy the idea of two different sports at once, instead guiding Lucy to join an athletics club.
There, the world of shot put and discus entered the horizon. Naturally strong and well-suited to throwing disciples, Lucy excelled from the outset, rapidly establishing herself as a top prospect.
She placed first in her debut event in 2008 at the Newport UK Women's League in both the shot put and discus, rarely finishing outside the top three for the next eight years, dominating competitions in Coventry, Ashford, Tonbridge, Wakefield, Stevenage, Watford, Braintree, Hendon, Wigan and Loughborough.
"I was a bit too lazy to do all of the sprinting, so I opted for throwing instead and went on to be ranked number one and two in the UK from 12 into my early twenties.
"At the age of 14/15, I started going to the gym a bit to get my strength up, and by the time I was 18, I was lifting twice and throwing three times a week.
"I've always been strong. My family are not sporty at all and my sister doesn't do anything now, so I am the odd one with a natural gift for strength."
The apparent question surrounds Lucy's undoubted potential in both the shot put and discus, her ability unquestionably putting her in discussions to reach the elite levels of the sports.
In short, life got in the way, with her new role in the police a leading factor, but Lucy admits she fell out of love with it for a long time.
"I didn't have as much time to dedicate to it anymore. I didn't know what else to do with my life because I was so used to training in my spare time, so I didn't know how to give it up.
"If I was to train as hard as I do now, I think I probably had more potential."
Alas, Lucy was never destined to become an Olympic thrower. In hindsight, a sliding door moment thrust her head first into an iron-coated realm of strain and muscular explosiveness.
On 19th August 2017, she uploaded a photo of a selection of tops, tracksuits, and vests from a sport she had dedicated 17 years of her life towards, signaling the closing of one chapter but the birth of one that would quickly reap the rewards and shine a spotlight on Lucy's natural strength.
View this post on Instagram
"I found my calling within the strength side of stuff rather than the throwing."
"I hated every second."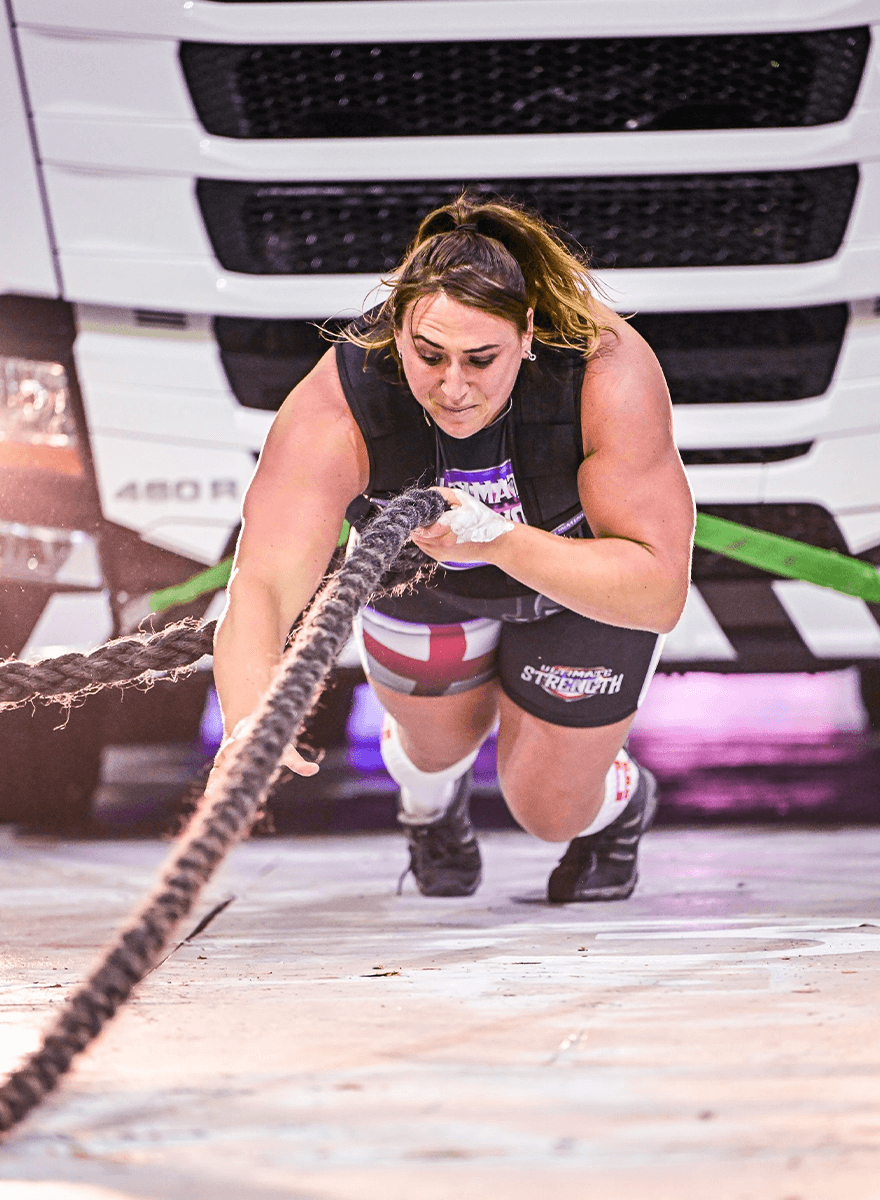 From 2018 onwards, a clear tone shift is evident on Lucy's Instagram page, a feed now dominated by barbells, plates, hearty meals, and progression pics.
Now fully immersed in strength training, the transition from thrower to lifter is underway. Evolution Strength and Fitness in Aylesford, Kent, around 40 miles from the center of London, acting as her training hub.
Its gym has a rich history and star-studded athletes, notably former Britain and UK's Strongest Man, Terry Hollands, and multiple World, European and British Powerlifting Champion, Dave Mannering.
Lucy would watch on as Hollands and others moved enormous weight, knowing in her head she was more than capable of achieving similar feats but simultaneously held back by a lack of confidence in her obvious potential.
"It took me two years to build the courage to enter competitions. I would get many messages from other strong women on Instagram encouraging me to participate, but it took a while for me to be persuaded."
Brighton's Strongest Woman was the first port of call, a chance for a raw and unpolished Lucy to push herself with apparatus and skills she was yet to even test, all of which would serve as an experience building ahead of UK's Natural Strongman.
This was a far cry from the bright lights in Cardiff, a scene boasting state-of-the-art equipment, facilities, and a packed-out crowd, with the stage for Brighton's strongest resembling a car park littered with pockets of spectators.
Despite some issues with rep standards and understandable inexperience spilling into her performance, Lucy claimed the crown to kickstart her strongwoman career.
"I was so nervous before that first competition. I hated every single second of it, I literally could not think of anything worse.
"I didn't want to be there.
"But afterward, I just had this huge buzz. I knew at that point I was pretty good at this and I can do it.
Within a year of claiming her debut victory, Lucy won Britain's Natural Strongest Woman before sealing other podiums within the UK circuit. This impressive feat helped her qualify for the 2020 Arnold Amateur Strongwoman World Championships in Colombus, Ohio.
A seventh-place finish (out of 10) was highly respectable given her light footprint in the space, but it was just the start, with a 3rd place finish at her first UK's Strongest Woman event a year later turning heads.
"It was a massively quick progression through the sport for me, a real baptism of fire, but I was still relatively unknown."
That was all about to change on one sunny afternoon in Milton Keynes.
World Record Breaker: Part One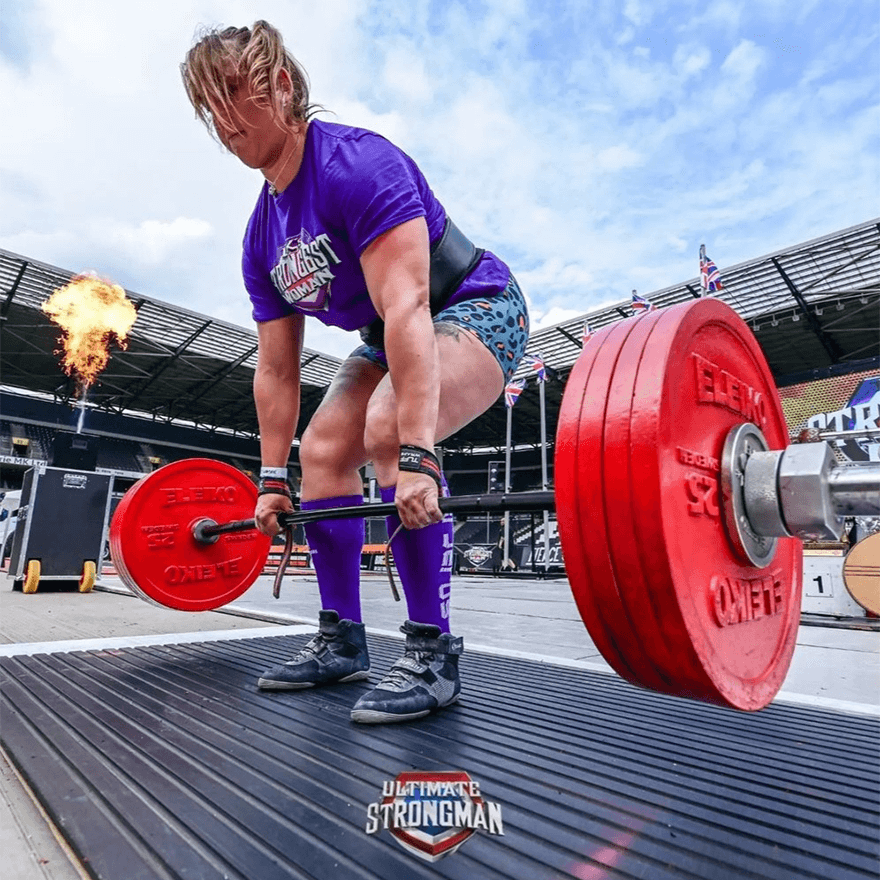 For some time, Lucy's strongest movement was the deadlift.
While always possessing the natural ability to pick up a bar and lift easily, COVID-19 allowed her to build up weight and hone in on technique.
A lack of equipment in her home-built gym admittedly steered her towards the deadlift's more simplistic nature, a movement which Lucy "never had any fear with" compared to other events.
By the time lockdown restrictions were lifted and she could return to Evolution Strength and Fitness, the lifted numbers were miraculous, which Terry Hollands and Martin Cee quickly noticed.
"I was going to try and pull 300kg in training, but they were adamant that it couldn't just be a lift done there. It had to be official. I didn't realize it was such a big thing."
With the encouragement of Terry and Martin and the help of Executive Producer of Ultimate Strongman, Glenn Ross, Lucy would suddenly be attempting to break the world record deadlift as part of the half-time show at UK's Strongest Man 2021.
The only woman at the event and with little knowledge of what she was walking into, Lucy was soon at ease when she reached the lifting platform. With 4,000 pairs of eyes eagerly awaiting the lift of her life, it was her time to showcase why she is the 'Queen of the Deadlift.'
Months of bottled-up emotions, anxieties, and depressive moods were about to be exercised in one short and sharp moment.
A pause. A moment to breathe and prepare the body and mind. Then the pull. Despite a wobble in the early part of the lift, Lucy was soon screaming at the top of her lungs, fireworks shooting into the air behind her, absorbing MK Stadium's applause like a sponge.
World. Record. Broken.
"If you could bottle up that feeling and give it to people, it's the best feeling in the world.
"Hearing the crowd shout my name and cheering for me was incredible, and it was the moment I knew I could go far in the sport."
The achievement was noticed across the Strongman community, propelling Lucy's social accounts to new heights.
From 2,000 to 20,000 followers overnight, the spotlight was an initial shock for someone who openly admits to suffering with anxiety.
"I found it quite overwhelming, to be honest.
"I was getting so many messages and tags. I'm just ordinary, and people treat me like I'm famous. It took me a long time to talk about it outside of the sport because I felt embarrassed.
"I felt like people would think I was big-headed, and it's only over the last year that I've entirely accepted that I'm the world record holder. It's helped me come out of my shell and be more relaxed about it.
"I should talk about it much more, but try to play it down. I've always struggled like that, but it's better to be humble than be overconfident.
Conquering Europe and her own doubts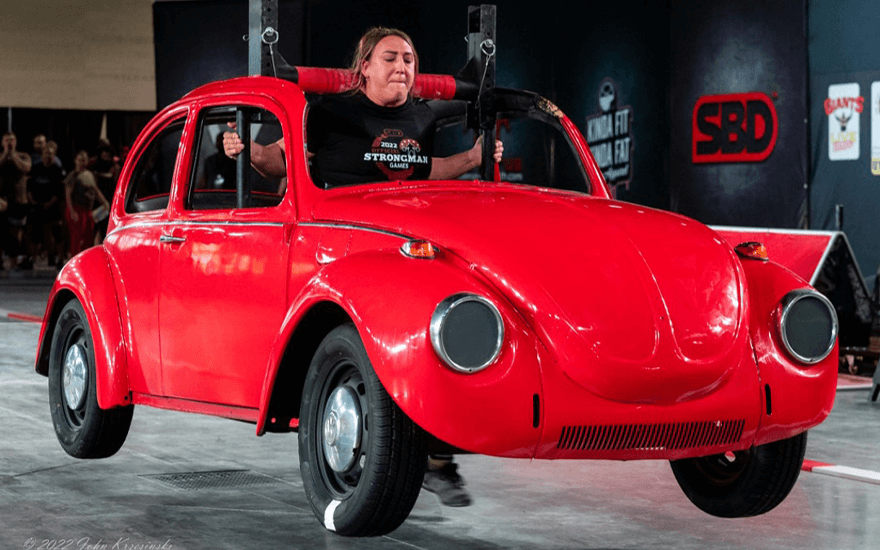 Now a household name despite her infancy in the sport, Lucy was soon mixing with the best at events and competitions, placing third in the 2021 and 2022 editions of UK's Strongest Woman before taking second place on the podium in 2023.
Progression was there for all to see, gained through her own application and dedication, as well as the work of her coach, Shane Jerman, and nutritionist, Ellis Vine.
Jerman runs MST Systems, a world-class Strongman coaching platform that has coached Mark Felix – a 17-time—World's Strongest Man competitor— and Graham Hicks, Britain's Strongest Man, 2019.
In pursuit of the extra 1%, Lucy even enlisted the support of a psychologist to help her use different thought processes before competitions.
"We built a lot on my weaknesses over that period. My pressing and fitness were letting me down, but I also suffered from a lack of confidence.
"I took on a nutritionist this year because I want to be the best. The little things do not seem much, but they do add up.
Heading into Europe's Strongest Woman this year, Lucy was more determined than ever following a heartbreaking conclusion to UK Strongest Woman in Nottingham three months earlier.
After two event wins— including breaking her own deadlift record with a 305kg pull —it came down to the final event, 'Bag Over Bar,' in which she or Rebecca Roberts would claim gold.
Despite leading for the entire event, a fateful mistake on the final sandbag saw Roberts take control and eventually win by eight seconds and one point in the overall rankings.
But, it was a different story in London, with Lucy's consistency and execution allowing her to win four of the six events, pipping Roberts by two points and claiming her inaugural major title.
View this post on Instagram
"I knew that my confidence was building going into the Europeans. I really knuckled down, worked on my mindset, and decided that rather than being nervous and worrying about what everybody else was doing, all I could do was focus on myself.
"That's when my mindset changed. It was a mental flick in the head, combined with better nutrition."
With her next event coming up, Lucy will need to harness that mentality again and maintain her dietary demands.
While training, she eats five meals a day, clocking in at around 4,500 to 5,000 calories, which she says is a mental struggle at times; however, she believes the nutrition switch has also given her higher energy levels.
Her days currently begin at 4.30 a.m., with her job in the police force required to live in harmony with a strict training routine.
It's a job Lucy refreshingly declares she loves, something she isn't ashamed to say, with many people not keen to advertise the notion.
"It's been tough to balance, but I've been fortunate that I work on a unit that—at the moment— allows me to work mornings between Monday and Friday.
"Not doing shifts at the minute has greatly impacted my training. I can get up, go to work, come straight to the gym, and that's it."
A future icon in a growing world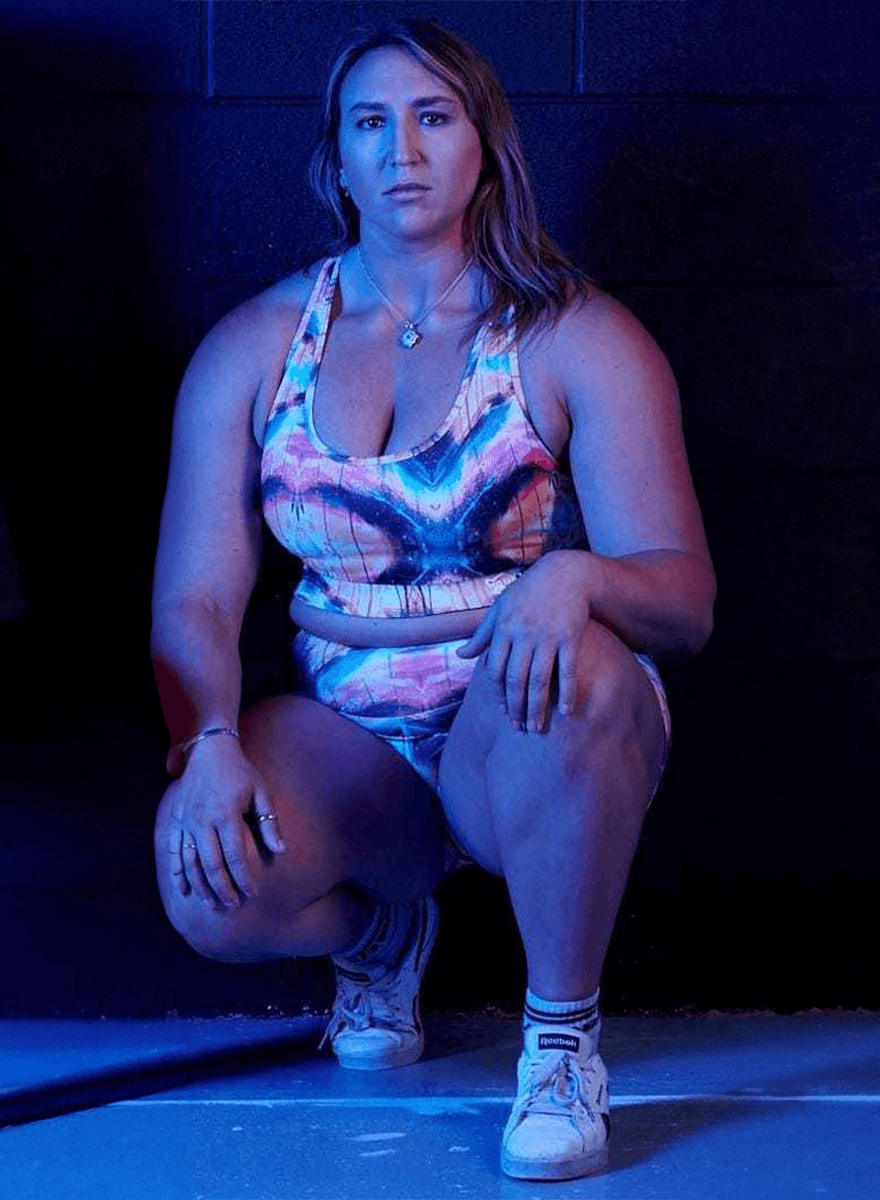 Lucy is on the way to becoming the following iconic figure in the realm of strong female athletes. Going back through the history books, the likes of Abbye 'Pudgy' Stockton, Becca Swanson, Jill Mills, and Jan Todd dominated headlines. In Todd's case, she was named the most muscular woman of all time by Sports Illustrated.
Australian Bev Francis, who broke over 40 world powerlifting records in her undefeated career, even followed the same route as Lucy, starting out as a shot and discus athlete before transitioning.
Regarding the UK, the legends of Strongwoman include three-time World's Strongest Woman Donna Moore, four-time Britain's Strongest Woman, and World's Strongest Woman Andrea Thompson, while familiar foe Roberts could also be considered within the category given her recent success.
It's a tight-knit community that has welcomed Lucy with open arms since her arrival through the strongwoman gates.
"From the top girls all the way down to the grassroots level, everybody gets on.
"You'll never go to a competition and see other competitors not cheering each other on. They want to see each other doing well. We support everybody and come together throughout the day.
"Even at the top level, despite the fact that we compete for world titles, we will stand there and support each other.
"Some of my closest friends now are the other strong women. There's Donna Moore, Andrea Thompson, and Chloe Brennan. We talk a lot outside of the sport about our everyday lives, and you can't really have that relationship with people who are not in the sport because they don't understand what you're giving to it.
"You can understand what's going on in their lives and what's happening. Everybody that goes to the gym is fighting some sort of demons.
"We've all got our own issues and stuff, but we're able to support each other through every everyday life."
That group of like-minded people was present and supporting from the sidelines when Lucy became the most potent female deadlifter in history.
With training going well and her lifting reaching new levels, Lucy's boyfriend, Jonathan Kelly—a fellow strongman from Ireland—contacted Giants Live to propose the idea of a world record-breaking deadlift live on stage.
With the organizers keen to promote and push the women's side of the sport, the offer couldn't have been better timed for all parties, so with the inaugural Giants Live Britain's Strongest Women debuting in late September, the concept was given the green light.
"It was an excellent opportunity for them to be able to promote what we as women can do, and it helps to put us on that platform to show the world how strong and capable we indeed are and showcase the entertainment levels.
"I didn't contact the organizers because I was too embarrassed, but I knew I was ready to break a world record."
Fast forward to backstage before the most significant lift of her life, and Lucy is going through the final mental preparations before attempting the world record.
Having lifted 305 kg and firmly warmed her body, it's time to lock in. No music, as this stresses her out. Instead, harness her learnings, and discoveries from her work with sports psychologists. No overthinking. Relax. Execute.
The rest is now firmly in the history books.
After a few days of rest and recovery, punctuated by familiar walks along the beach, Lucy must prepare to go again. The world of strong women is demanding.
All hail the Queen of the Deadlift.
Photo credits:
Blowfish Photos
Silverback Gym Wear
If you loved reading this checkout our article with Hulk Hogan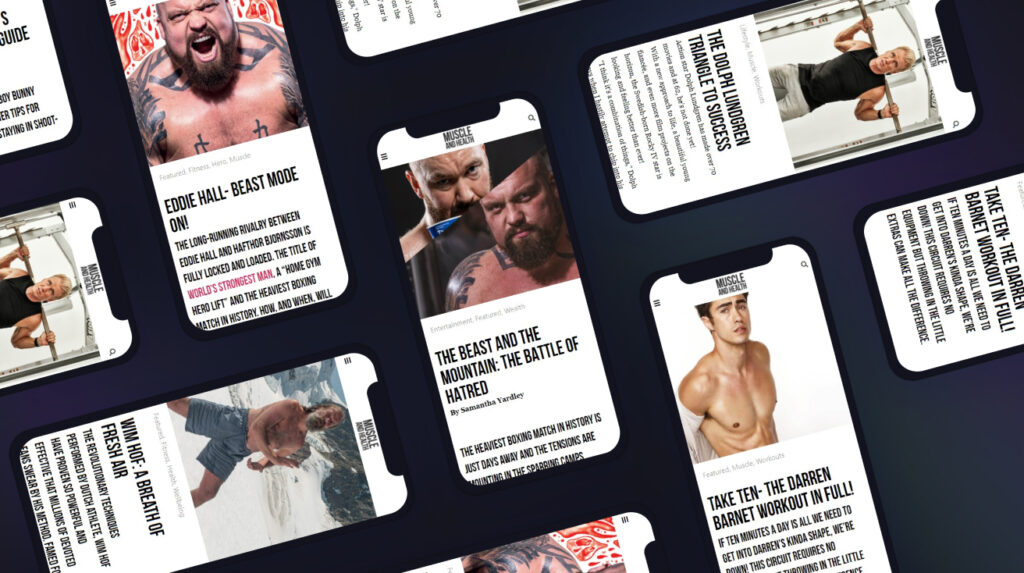 get all the latest mucle, health and wealth news delivered straight to your inbox