by Jack Franks
"I was ready to quit. If I didn't win, I wouldn't have anything."
Risk is inevitable in sports. The all-or-nothing ethos can be identified within every elite athlete, with the shimmer of sacrifice and dedication laid bare for the world to see.
Max Cook is no different.
Lining up on the grid in second place behind Sam Laffins, Cook knows pole position will see him seal the 2022 Pirelli Junior Superstock Championship at Oulston Park.
A perfect start proceeds, and soon, Cook commands control of the race, progressively extending his healthy lead.
The final few corners lay ahead, and the 20-year-old can soak in the glory of wrapping up the title with two rounds still to come.
Cook describes the moment as an "unbelievable relief."
From almost leaving the world of superbikes in 2021 following Covid-related funding cuts, Cook had put it all on the line for one last crack at his dream.
Now, he is ready to fulfill his destiny since his grandparents bought him a Minimoto at three.
On April 7th, Cook will be making his British Superbikes debut at Silverstone, riding for Cheshire Mouldings Kawasaki.
It's time for the boy Wonder to become a man.
In the blood
The Max Cook fairytale story began long before his birth in 2002, with the racing culture he grew to love establishing its roots with his grandad.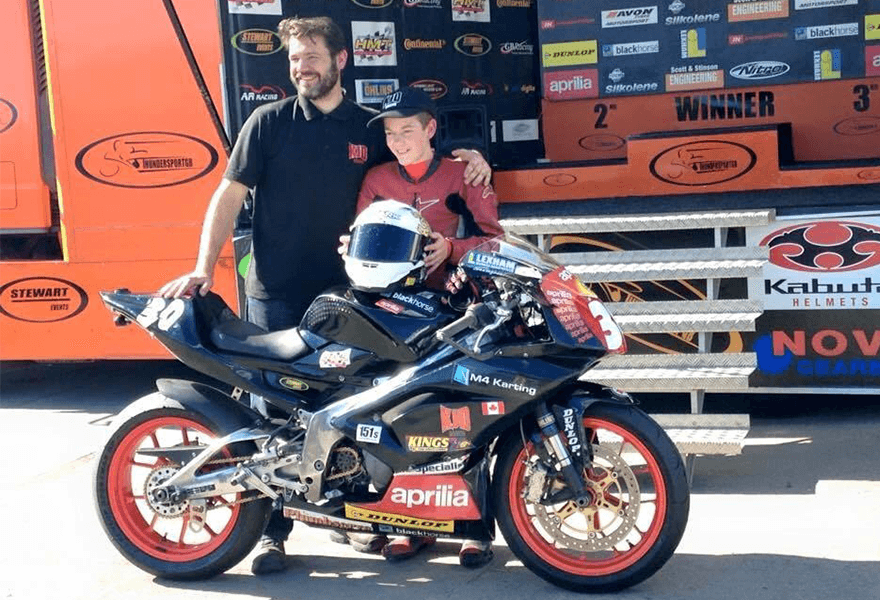 A European RallyCross Champion in 1988, he passed down his passion for racing on to the next in line, Max's dad, who worked as a mechanic for his friend's endurance team.
Despite never being directly involved in racing, Max was introduced to Formula One and Moto GP by his father, watching the likes of his idol, Valentino Rossi, every weekend as a pose to Bugs Bunny and the Looney Tunes gang.
"A lot of racers dad's used to be racers, whereas mine didn't, so he never really understood that side. But he is the one who got me into the sport of racing. I've always liked the idea of adrenaline sports, things like skateboarding, BMX and the X Games. Anything with an element of danger attached to it! My grandad, the family racer, thought it would be funny to buy me a Minimoto for my second birthday. It was a bit of a joke, but it soon snowballed from there."
Call it irony or fate, that act of lightheartedness was the starting point for Max's racing career, as he soon found himself riding that same bike years later every Sunday when his dad found a place to hone his skills.
"It snowballed from there. You start to make friends, and you become invested. My dad always wanted to give me the best opportunity, no matter what I chose to pursue. It could have been tennis, football or any other sport. He didn't care. He just wanted to give me the best opportunity to follow my dreams."
Like most childhood escapades, it was purely a hobby in the initial infant stages, with Max a regular visitor to Moto GP races, the first of which was at Donnington Park in 2008.
A rain-sodden day saw several riders crash out of the contest, with Max watching on from his Dad's shoulders as Casey Stoner finished six seconds ahead of Rossi.
The pair upgraded to the luxury of a hospitality suite to celebrate his Dad turning 30, allowing a perfect view of the crane curves corner – a steep downhill section of the track – a section notorious for drama.
A star-struck 6-year-old Max, once again aloft his father's shoulders to gain the perfect viewpoint, met Rossi at one of the many 'Day of Champions' events he attended.
A charity event allowing spectators to mingle with drivers in the paddock, Max boasts vivid memories of the crowd parting like the red sea, leaving Rossi within touching distance.
The photo the trio got together sits proudly on the family fridge to this day.
Backed for greatness
"Believe it or not, I wasn't very good at the start."
Max rode weekly at the Scott Redding Young Riders Academy indoor circuit before his Dad bought him his first fully-fledged Mini Moto race bike in 2011. It was time to start racing.
The purchase of that bike for Max epitomized his father's commitment to giving him the best possible opportunity to make a name for himself.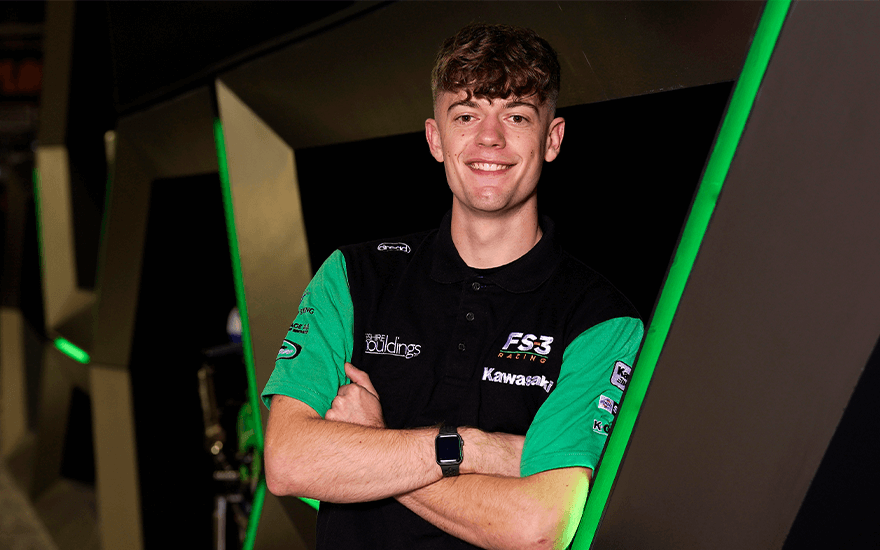 Unbeknown to many people unfamiliar with bike racing, it's a costly business that requires constant investment, trading, selling, and, most importantly, financial commitment.
"My Dad got carried away, and he pushed me from a young age to get the best out of me. He was quite hard, but it got me going, and I was better for it. When I first started off it was around £400 for a Minimoto, and I remember my Mum going crazy at that. Obviously, the higher your ranks, the more expensive it gets. It's a snowball effect, and when you get to race on the bigger tracks, we are talking around 10 to 20 thousand pounds a year. That's my Mum's yearly salary, which accompanies me riding a motorbike ten weekends a year."
Some riders and their families resort to extreme measures to make sure the finest spec of bikes, parts and tools are at their disposal.
"We didn't quite go as far as some racers' families who sell their house and live in a caravan, but it was close to looking like that.
"They sacrificed everything."
Max has a younger brother, James, who is a keen racer; however, due to the financial restraints placed on his parents, he has had to park his ambitions.
In normal circumstances, bikes would be sold once they become unsuitable or not fit for purpose. However, Max's rides were passed down to his sibling.
James would watch his brother start to win races in 2013 after a slow start to life on two wheels, making the jump from Minimoto's to geared bikes, the point at which Max thinks "it started to become a bit more of a career."
A breakout year…
Examine any successful athlete or sportsman, and there is an infallible certainty that they will be able to pinpoint a moment when it all just clicked.
The amalgamation of all the hard work struggles, and dedication molds together like the meeting of two oceans.
Rossi's career epiphany can be traced back to 1997, when he won the 125cc title, winning 11 of the 15 races with 321 points. The Italian would graduate to the highest class in World Championship motorcycle racing, the 500cc, by 2000.
2015 was the year Max indeed turned heads.
A long list of accolades, records and noticeable mentions littered the twelve months, with Max being crowned the overall and Newcomer/Rookie Champion at the Aprilia Superteen Championship.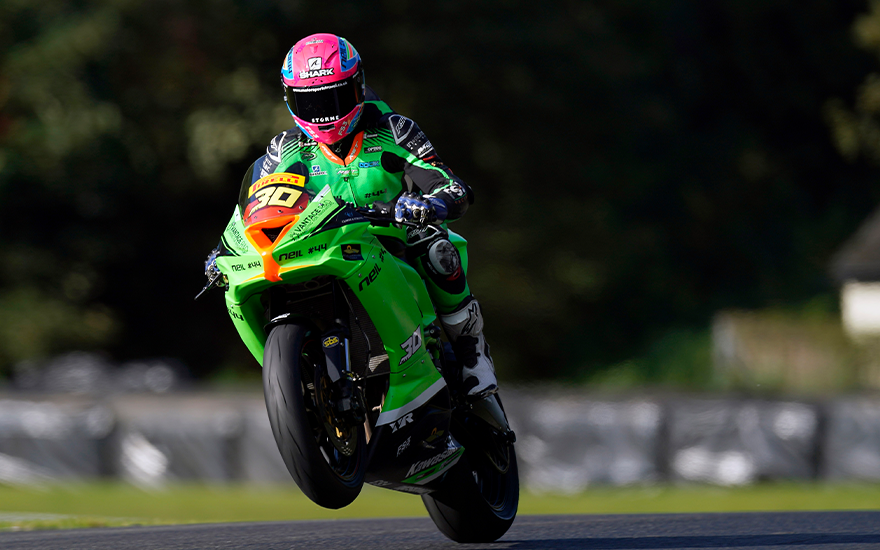 Coincidentally, it was the same competition that Stoner – the rider who took the race win as Max experienced his first ever MotoGP – learned his trade.
Max re-wrote Superteen history, becoming the only rookie to set pole position and win their first race at the first round, which had never been done in the Championship's 20-year history.
He also set the record lap time for Donington Park GP Circuit, eclipsing the previous record by 2.5 seconds during a memorable race.
"That was one of the best races of my career. Looking back, it was probably the most fun I've had on a bike; plus, I had the bonus of winning the race, wrapping up the championship and beating the lap record! The reaction from the paddock, organizers, marshalls, my family and friends is something I will never forget. It was a turning point for me as it was the first time I had some media attention and people talking about me.
At only 12 years old, Max was starting to understand and become more conscious of what was happening around him.
No bike, no life…
Progress naturally followed, with Max exceeding expectations in 2016, finishing in the top 10 leaderboards of his inaugural British Superbike Moto3 Championship campaign.
If a ninth-placed standing surpassed expectations, they were transcended a year later.
15 wins out of 22 races – featuring no fewer than seven lap records – saw him claim the 2017 championship, opening the door to a venture in Spain to compete in the 2018 Red Bull Rookies MotoGP Cup.
Max was now fully immersed in bikes and racing, with the 'normal' teenage lifestyle and distractions sitting far from his focus.
While his closest friends of the same age left school and went off to "do what lads do", Max's mentality was unmoved.
"Racing is my life. I'm so focused, and my life revolves around the sport. Without racing, I have no life. I don't go out much on the weekends and don't do what a normal teenager or kid in their early twenties would do. Sacrifices have been made, but I wouldn't change it, as it's finally got somewhere."
The countless hours perfecting his cornering, handling, balance and speed, not to mention the huge investment put behind his journey, was under threat in 2020.
While competing in the Junior World Championship, the Covid-19 pandemic caused the majority of funding to the racers to be cut.
Max was stuck between a rock and a hard place, unable to return for another year of racing unless he could fork out around 100,000 euros to pay for a new ride.
This forced a relocation back to Britain to compete in the Junior Superstock 600 Championship, and by this point, he was doing things entirely on his own.
"My Dad always said I would be alone when I turned 16. He stuck to his guns; I've never had any help since! In 2021 I had to do everything I could to stay in the sport, so I sold my bike and put everything into racing the Yamaha ride. It was a huge risk. It was the final risk. I was ready to quit in 2021 because I was done with it. I wasn't enjoying it anymore."
The credits don't start rolling now, though.
Max was far from done with racing.
Fortune favors the brave.
After an 8th overall finish during the 2021 Junior Superstock 600 series – a standard Max doubted – the 2022 season took on all-or-nothing status.
The season got off to the worst possible start with a DNF at Silverstone. However, this only seemed to provide the motivational spring for Max to thrive.
Three wins on the bounce followed at Oulton Park and Donington Park before two second-place finishes at Knockhill and Brands Hatch.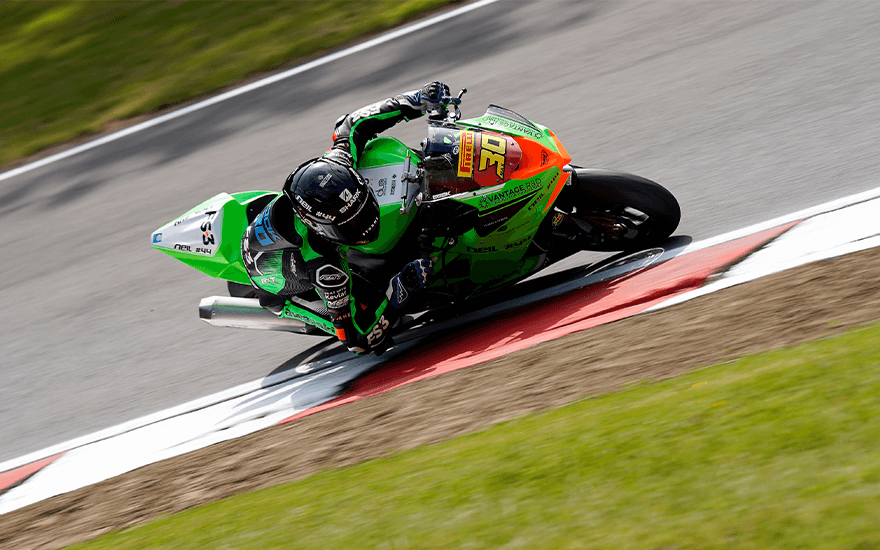 It wasn't long until Max was summiting the podium again with wins at Thruxton, Cadwell Park and Snetterton, setting up the potential of a title-winning weekend on 23rd September at Oulton.
The rest is history.
"Going over the line to clinch the title after everything was unbelievable. I've never been happier not to give up and chase my dream. That moment made it all worth it."
Max's success led to an influx of admirers who all spotted his potential to make the step up, a time which, although exciting, proved a stressful experience.
"The team I won the championship with (UGGLY & CO by BINCH Pro Yamaha) wanted to keep me and move up a class into British Super Sport. It would be riding the same 600cc bike again but in a more competitive environment. At the same time, Cheshire Mouldings Kawasaki sounded out their interest, so I was going back and forth between the two, getting daily phone calls and having both teams saying they wanted me for the next season. It was constantly on my mind, and I thought about it daily."
Caught in two minds with two potential directions, Max had to consider the sponsorship and support Cheshire Mouldings Kawasaki had placed in him during his rise.
Nigel Snook, Team Manager of the British Superbike Championship team, invited Max into their workshop to build a practice bike in preparation for a track day in Spain.
Unbeknown to Snook, Max spotted a list of names on top of one of the toolboxes.
"It could be for the seat. I took a picture and noticed there were some massive names on there. Then there was me. I was at the top, to be fair!
"Three names were highlighted, one mine, and I assumed they were all big potentials for the ride.
"I was desperate for it. I wanted that seat."
The day arrived for Max to pick the bike up, and the team's big guns were ready and waiting in the team's meeting room.
For Max, it was the news he had hoped for.
"I jumped out of my chair! It was a massive relief and probably the biggest release of emotion I've had in the sport."
After putting his faith in Max, Snook felt the decision fitted perfectly with the team's philosophy of actively supporting young talented riders.
"As a front-running BSB team, it's easy to overlook a long-term development plan in return for instant results.
"We believe every team in the paddock has the responsibility to nurture young talent to keep British riders at the forefront of world racing and show everyone that the British Superbike Championship is the strongest domestic championship in the world.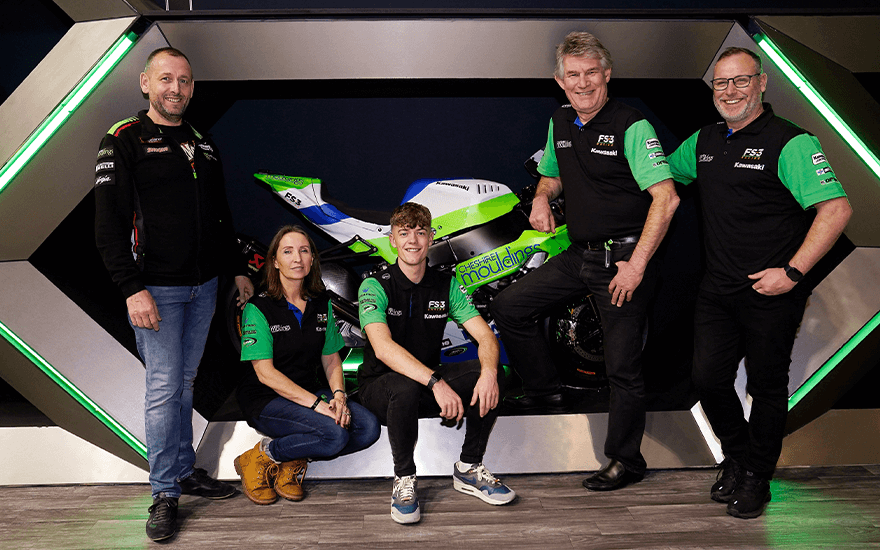 "Just coming up to his 20th birthday, Max will undoubtedly have his work cut out getting used to the raw power of a superbike, but we've got a complete testing plan in place for him over the winter, and he's very excited to get going.
"Based on his previous experience, we don't think it will be too long before he surprises a few people.''
Snook has been a significant influence on Max's career since 2017 after his father helped him to assemble his hospitality unit.
Their relationship will continue to blossom as the pair prepare for the 2023 season.
 Harder, better, faster, stronger
Ahead of his debut British SuperBikes campaign, Max can take inspiration from the man whose seat he is taking, Rory Skinner.
Skinner, who crossed paths with Max in 2018 when the pair raced together, has followed an eerily similar journey to Cook, being forced to drop down the ranks after losing funding.
"Rory is a huge inspiration to me because he is only two years ahead of me on the career ladder. I want to get to the stage he's at now in the same timeframe. He's now just one step below MotoGP, so if he does well, that bodes well for me, too, as they will look at where he has come from."
Before thoughts of further progression take over, Max has the small task of making the meteoric jump to the highest class he's raced in.
This comes with obvious challenges, one of the main ones being the need to become physically stronger.
"The bike I will be riding in the upcoming season is the same weight as the previous one but has around double the horsepower. It's a big jump, and you've got to be much stronger.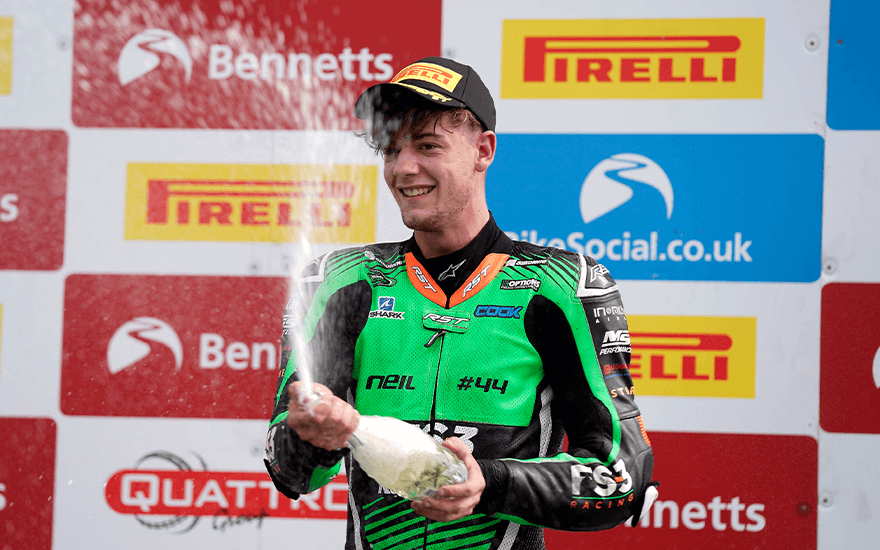 "In the past, I've been used to starving myself as I needed to be light to suit the slower bikes, and my training was all based around cardio with very few weights. It's the complete opposite now! I can eat a lot more, and I've had to bring in much more weight-based training over the winter, which has been much better. My teammate, Lee Jackson, has been around for years and eats like a king. He's super strong, and that's where I need to get to."
As well as a shift in physical emphasis, Max's team also gives him access to Loughborough University, where he follows a program, is guided by a nutritionist, and has access to a psychologist.
His team has put everything in place to give him the best chance ahead of a season of change.
Races are longer and more frequent, the bikes are more erratic and harder to control, and the competition is more challenging.
But Max is realistic about his expectations.
"I think the first milestone is to get points and secure a place in the top 15. Ultimately, I want to see improvement throughout the year. If I'm in a better place at the final round compared to the first race in Silverstone, then I know it's been a successful season. The team has done well to put no pressure on me. They know it's my rookie year, so they aren't expecting anything big from me."
It's lights out for Max very soon.
What began as a pleasant gift from his grandfather has evolved into the centerpiece of Max's existence. The sacrifices made by himself and his family will accumulate on the grid at Silverstone this weekend.
"I'll be a nervous wreck. On the face of it, I'll be relaxed and calm. Poker face.
"I get nervous thinking about it.
"But, as soon as those lights go out, I'll be ready."
More Sporting Articles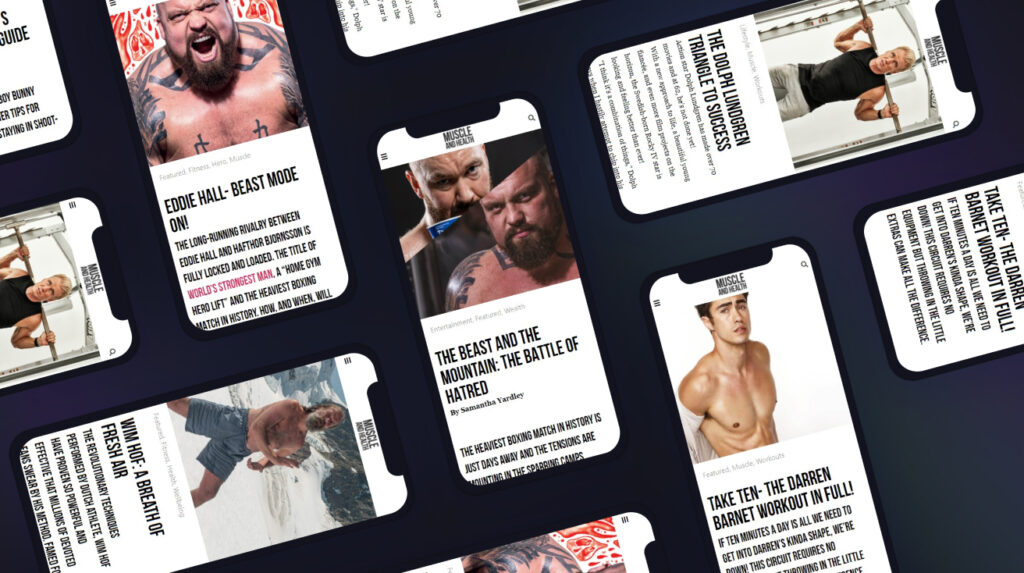 get all the latest mucle, health and wealth news delivered straight to your inbox