THE LONG-RUNNING RIVALRY BETWEEN EDDIE HALL AND HAFTHOR BJORNSSON IS FULLY LOCKED AND LOADED. THE TITLE OF WORLD'S STRONGEST MAN, A "HOME GYM HERO LIFT" AND THE HEAVIEST BOXING MATCH IN HISTORY. HOW, AND WHEN, WILL IT ALL END?
by Danni Levy
Photography by Simon Howard SIMON HOWARD
EDDIE HALL POSSESSES AN UNQUENCHABLE PENCHANT FOR VICTORY. HIS UNBRIDLED, IRREPRESSIBLE APPROACH TO SILENCING REPEATED ATTEMPTS TO MUZZLE HIS GLORY IS ENTERTAINMENT AT ITS FINEST. FROM THE MOMENT I SAT DOWN WITH THE BEAST, HIS INADVERTENT HUMOR HAD ME HOOKED. WELCOME TO THE WORLD OF EDDIE VS THOR…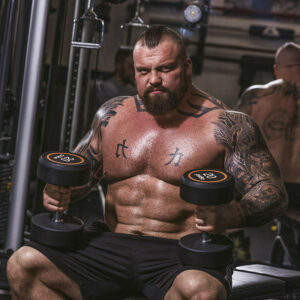 "Strongman is something I fell into accidentally," says Eddie. "I got good at it, really good at it, and Thor became my arch-nemesis. We'd had a lot of back and forth through first and second placings over the years and then I beat him at World's Strongest Man 2017 and he just couldn't take it. He came out with all these cheating allegations, claiming I was working with the referees to rob him of the title and God knows what else. Obviously, that just put a really dark, black, horrible cloud over my legitimate win and I've just never forgiven him for it. He then went and did some bollocks home gym hero lift trying to beat my world record deadlift. When he offered me a fight on live TV, on ESPN, I was looking for an excuse to bung the bloke in the chin so it was perfect! Obviously, I agreed, I couldn't say no. I signed the contract and now we're locked in, it's on.
"As it happens, I've always had a bit of a passion for boxing. Where I grew up you didn't blend in if you didn't know how to fight, so for that reason, it was a big part of my upbringing. I started training seriously for this fight 18 months ago, but prior to that, I'd never done any professional boxing training. I'd done little bits to keep fit and a bit of pad work. I did a charity boxing match back in 2012 and I had like four boxing sessions in preparation for that, but I had virtually zero real boxing experience. I picked it up really fast though.
"Luckily I was already in decent shape when I signed the contract. If you're fit, you can learn how to box very quickly. If you're unfit, learning to box can be hard because if you're tiring after one minute you'll lose technique and balance and things can go wrong very quickly."
Eddie unapologetically disputes the world deadlift record claimed by Thor in 2020. Performed in his own gym, the lift was set at 501kgs, just 1kg heavier than the official world record set by Eddie at the World Deadlift Championships in 2016.
"If he beat me then the fact it was only 1kg heavier is irrelevant, but I just can't get my head around how he can think his attempt can be legitimate," says Eddie. "Every single person in that room was paid to be there. People were saying it was sanctioned by Core Sports. No one from Core Sports was there. Who checked the plates? His dad weighed the plates!
Everything about it just stinks to me. Put it this way, if I pulled 500 kilos four years ago in my home gym and my own dad weighed the plates, every single person would smell bullshit. I just don't understand how he thinks that's okay. It just seems so convenient that we all have to go into lockdown for him to pull this deadlift four years after I did it. It just stunk of bullshit to me.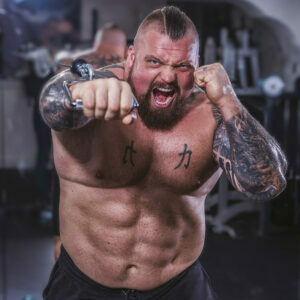 "I mean, the only reason Thor took the World's Strongest Man title is because I retired- so he's welcome. He's welcome that I retired. He's lucky I retired, or else he never would have won the World's Strongest Man."
A poll by The Sun newspaper revealed 69.8% are backing Eddie to outbox Thor.
"The polls are strongly in my favor," says Eddie. "In the beginning, I think everyone had Thor as the favorite because he's got the reach and height advantage. I'm 6' 2 1/2" and he's 6' 9", but I think people are now gauging how seriously I'm taking this. I'm putting my heart and soul into this fight and I don't do anything 99%. It's 100% or nothing. I think it's safe to say the public is starting to get that feeling that I'm taking this very seriously indeed and that Thor is going to get a broken jaw."
"HE CAME OUT WITH ALL THESE CHEATING ALLEGATIONS, CLAIMING I WAS WORKING WITH THE REFEREES TO ROB HIM OF THE TITLE AND GOD KNOWS WHAT ELSE. OBVIOUSLY, THAT JUST PUT A REALLY DARK, BLACK, HORRIBLE CLOUD OVER MY LEGITIMATE WIN AND I'VE JUST NEVER FORGIVEN HIM FOR IT"
Eddie has his tactical plan mapped out and it doesn't come down to size. At the height of his Strongman career, the giant weighed in at 196kg. He now sits at 158kg. Tactically, he says weight is not a big issue.
Win A Pair Of Boxing Gloves Signed By Eddie Hall

"When I won the World's Strongest Man I was almost 200kg," says Eddie. "Right now I weigh about 158kg, so I'm 40 kilos or so down. But weight isn't important to me going into this fight. My game plan is to combine power, speed, agility, and endurance and I've got all four attributes nailed down. I can do ten three-minute rounds quite comfortably. On fight night, honestly, I just want to be in a position where I've got those four attributes: the speed, the power, the agility, and the endurance, and I've got all those at 158 kilos, so I guess I'm just going to go with the flow. I'm not really jumping on the scales and thinking to myself, 'Oh, I need to lose another five kilos', it doesn't bother me. So long as my performance is there I'm happy to fight. I'm happy to fight 158kg, to be honest. I'll probably go in at this weight.
"I'm still very strong in the gym. I'm benching a quarter of a ton and squatting 300kg. Agility-wise, I'm able to duck and dive and get my head out of the way of punches very fast. It just seems as if I'm working at a much faster speed than Thor. I've even been accused of speeding up my footage which is great! It all seems to be from the same fake profiles that support Thor and hate on me so it's just a massive compliment when people say I'm speeding up the footage when I'm actually not. It just gives me that extra boost so thanks for that guys!"
Eddie admits he can't predict how things will play out when he faces the enemy in the ring.
"I'm prepared to be able to handle an endurance-based fight because I don't know for sure what will be necessary," says Eddie.
"It's like a Pandora's box we're opening. You've got two of the biggest men on the planet going at each other, so I'm leaving no stone unturned. I'm coming in with the thought 'I'm going to knock him out in round one,' but I'm also going to be able to last six three-minute rounds if I need to. So everything's there and all bases are covered. There's no stone unturned.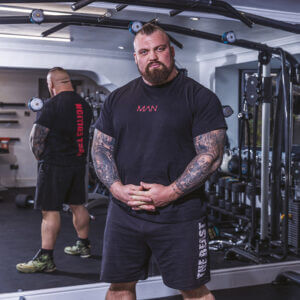 "I think the third round will be the end for him. That's what I'm aiming for."
It would seem that absolutely nothing about his Icelandic rival gives cause for concern for Eddie.
"Like I said, the height difference doesn't matter to me," he says. "Thor maybe six and a half inches taller than me, but I've actually got a surprisingly long reach. I've got an 80-inch reach so we're pretty equal because that's the typical reach of someone who's 6'7" or 6' 8". I don't know what Thor's reach is but what I'm saying is the height advantage is almost nulled by the length of my arms. Besides, you only have to look at the likes of Mike Tyson back in the day. He was only 5'10" and he won the Heavyweight World Championship several times over. He worked out a way to overcome the reach disadvantage and just get in on the inside and break people down and I've done exactly the same.
"WHEN HE OFFERED ME A FIGHT ON LIVE TV, ON ESPN, I WAS LOOKING FOR AN EXCUSE TO BUNG THE BLOKE IN THE CHIN SO IT WAS PERFECT!"
"I'll say this. Since we started prepping for this fight 18 months ago, I have not seen one single punch that Thor has thrown on a
heavy bag, on a person, or on a mitt that's made me think, 'wow, that could hurt somebody.' Not one punch have I seen that I think could hurt anyone. Thor just pushes everything. There's no snap in his punches. I'm the complete opposite. Every punch I throw is snappy. It lands a crisp sound on the bag or a crisp sound on the opponent's headgear. I know I can bang quicker and harder than he can- evidently."
The heaviest boxing match in history was originally set to take place in Las Vegas, but headgear requirements spurred a change of venue.
"I JUST CAN'T GET MY HEAD AROUND HOW HE CAN THINK HIS ATTEMPT CAN BE LEGITIMATE. WHO CHECKED THE PLATES? HIS DAD WEIGHED THE PLATES! EVERYTHING ABOUT IT JUST STINKS TO ME. IF I PULLED 500 KILOS FOUR YEARS AGO IN MY HOME GYM AND MY OWN DAD WEIGHED THE PLATES, EVERY SINGLE PERSON WOULD SMELL BULLSHIT"
"I don't know the ins and outs of it, but I think Vegas has their own regulations and wanted us to wear head guards and bigger gloves and only fight for three rounds," says Eddie. "If Thor and I had to fight in head guards, it'd be laughable. We want to hurt, well, I want to hurt him, so to go in and sort of hit each other with big pillows on our hands and head guards would take that seriousness away and this is a serious fight. We actually genuinely hate each other."
Packing the meals in is all in a day's routine for Eddie, whose calorie intake has halved since making the transition from Strongman to boxer.
"In my Strongman days I was consuming upwards of 12,000 calories a day," he says. "That was just a constant cow grazing. All-day from the second I woke up to the second I went to sleep I'd have meals. I was probably eating eight meals a day with snacks in-between and lots of liquids like high-calorie smoothies. Now, I have four square meals a day and five protein shakes in between to make sure I don't dig too big a hole. I'd say I'm on roughly 6,000 calories a day right now. That's half what I was eating when I was the World's Strongest Man."
Eddie's weekly training schedule ensures he retains strength and muscularity, whilst continuing to build on technique and endurance.
"I'VE NEVER TRAINED MY ABS BELIEVE IT OR NOT AND I'VE NEVER TRAINED MY CALVES AND THEY'RE RIDICULOUS AS WELL"
"I was doing four weights sessions and five boxing sessions each week," he says. "That was just to make sure I kept my body big and powerful. Now, I'm doing two weights sessions, two swimming sessions, and five boxing sessions. Essentially, I've removed two weights sessions and added a bit more cardio and mobility work. The next few months aren't about getting stronger or getting better at boxing. I've learned how to box, so now it's all about keeping sharp, maintaining the muscle mass and making sure I don't get any more injuries. It's a case of making sure I peak on fight night.
"IT JUST SEEMS AS IF I'M WORKING AT A MUCH FASTER SPEED THAN THOR. I'VE EVEN BEEN ACCUSED OF SPEEDING UP MY FOOTAGE WHICH IS GREAT!"
"I'm sparring different people but I've got a main sparring partner I've hired full-time. He's 6'10-1/2" and 115 kilos, so he's lighter than Thor but he's a good boxer, a real, real good boxer. He's been boxing for six years and he's my day-to- day sparring partner. He's basically my full-time Thor that I've got in my own camp and he's brilliant. He's only 19 years old, but by God does he beat the shit out of me!"
Despite his insistence on winning the bout hands down, Eddie reveals a rematch is already on the cards.
"There's always a rematch," he says. "It's sort of in the contract to have two and then maybe a third if I win one and he wins one; you never know. There may be a third, but to be honest I just want to bang this guy out, bang him out again, and then just get him out of my headspace because I've just spent too much time fixated on wanting to hurt this man and I just need to move on. He wronged me in 2017, he's put a black cloud over me for a number of years. I just want to put that to bed and move on with my life.
THE PUBLIC ARE STARTING TO GET THAT FEELING THAT I'M TAKING THIS VERY SERIOUSLY INDEED AND THAT THOR IS GOING TO GET A BROKEN JAW"
"I'm a bit up in the air about my future plans right now because I've got a lot of opportunities coming my way. I'm being offered big Hollywood film work, so I'm in two minds as to whether to carry on with the boxing career or to go down the acting route. In all honesty, I just want to get this fight out of the way, take a few weeks off to evaluate my life and then talk with my family about what I want to do. A fight career is a bit like World's Strongest Man. It dominates your life, but then so does making movies when you're away from home for months at a time. At least with the boxing, I can train at home, so there are pros and cons that I need to sit down and think about."
Where pre-fight nerves are concerned, Eddie plans to remain calm and collected and enter the ring cool as a cucumber.
"MY GAME PLAN IS TO COMBINE POWER, SPEED, AGILITY, AND ENDURANCE AND I'VE GOT ALL FOUR ATTRIBUTES NAILED DOWN"
In any form of competition you've got to be able to handle your nerves," he says. "If you're up all night the night before thinking about the fight then you're going to fry your central nervous system and you're going to fight like shit. I'll be doing lots of meditation and visualization. I've been doing some good exhibition fights as well, not just sparring, so I'm actually getting in the ring with guys who want to take my head off and that's what it's all about. It's about trying to take someone's head off. Unless you're actually in the ring with someone trying to take you down, you're never going to experience that. You can be like Thor and you can set all these fake exhibition fights where guys are told to tickle you and not really take your head off, but that won't do you any favors. That's just teaching you to be tickled. I think I'm doing the right thing by sort of doing lots of sparring and then doing the exhibition fights every four or five weeks against guys I've never met before. Then you get that adrenaline rush and you know what it feels like to be in a ring and have people watching and fighting someone that you don't know."
Being a boxer is somewhat more comfortable for Eddie than lifting cars, but his 'God complex' has dwindled.
"When I was World's Strongest Man I was walking around as a 32-stone bloke of pure muscle and I genuinely thought I could like run through walls," he says. "That's how big and strong I felt. I had a bit of a God complex in a sense. I mean, you do when you've got the title of the World's Strongest Man. When you're walking around and you're like, 'I'm the World's Strongest Man,' it's a great feeling. I will say though, it's a very uncomfortable life being that size. Getting in cars, getting on planes, even getting dressed can be a task and a half when you're that big. Putting your socks on is a mission!
"I'M BENCHING A QUARTER OF A TON AND SQUATTING 300KG"
"Life is far more comfortable now and I feel a lot fitter and healthier. I do feel as though I'm going to claw back a hell of a lot of years on my lifespan, but then there's the risk of concussion with boxing and at the end of the day, if you enter the ring with another man trying to take your head off, you're putting your life on the line."
Competition or not, there are certain aspects, of his current lifestyle Eddie plans to continue in the long-term.
"One thing I will definitely keep up that I've found a new love for is walking," he says. "Just taking my dog and going for long walks and plodding away is great. I'm talking power walks at a really good five mile an hour pace. I love doing that and it's something I'll definitely keep up regardless. Swimming is also something I'll always continue to do and have done my entire life. Even when I was training for Strongman, I swam at least once a week. Swimming and walking are the two things I'll definitely keep up. To be honest, I've found a new love for boxing too. It's something I genuinely enjoy. I've even got a boxing ring in my basement now, so I might as well make use of that for a little while longer.
"I bought my house in December 2019 and then the COVID lockdown hit in March 2020. I immediately thought to myself, 'right, I need to get some kit in here,' and within a couple of weeks I had a full gym, a full recovery room, and a boxing room. Now I've got a spa in the garden too with my own swimming pool, hot tub, sauna, cold pool, swim bedroom, everything! I'm very comfortable at home that's for sure. I've literally got all the kit here you'd expect to find in a big commercial gym so I'm very lucky, very blessed."
Sport doesn't come without injury, especially when you're the best in the world and Eddie suffered a torn bicep during training, but hopes his niggles have come and gone with perfect timing.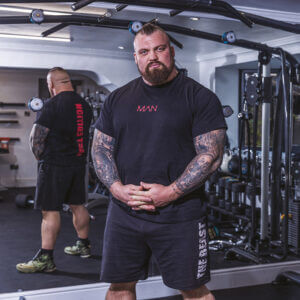 "WE WANT TO HURT, WELL, I WANT TO HURT HIM,SO TO GO IN AND SORT OF HIT EACH OTHER WITH BIG PILLOWS ON OUR HANDS AND HEAD GUARDS WOULD TAKE THAT SERIOUSNESS AWAY AND THIS IS A SERIOUS FIGHT. WE ACTUALLY GENUINELY HATE EACH OTHER"
"I had quite a bad back injury about eight weeks ago too, and it put me out of action for about five weeks," he says. "I couldn't box, but it fell very well time-wise, because it was the calm before the storm. I carried on doing my cardio and then the day I got back from presenting the World's Strongest Man, the doctor told me I could continue boxing. I pulled my calf really badly in May of last year, but I've had no problems with it since. With boxing, you've always got niggles. You've always got a little twinge in your ankle or your bicep. You get hit in the head and you rip the muscles in your neck. There's always something. My philosophy is that if you don't turn up to a competition with an injury, you haven't trained hard enough. It's an inevitable part of the process."
Revealing potential bodybuilding plans, Eddie says having an objective at all times is fundamental to keeping his body fat levels down.
"Because of my appetite I pack on fat really easily," says Eddie. "I've got a very sweet tooth. I like my sugary foods and fruits, so it's kind of good that I've got an objective at hand here, something to keep me good and keep my body weight down. Once the fight's out the way there's going to have to be another objective, whether that's another fight or something like stepping onto a bodybuilding stage. Otherwise, I'll just sit and eat and put a lot of weight on.
"The thing is, I can put weight on like a pregnant woman, like so fast. That cake at the weekend, I couldn't just have one piece, I'd have to have half of it, you know? Then that's like the whole week's training and diet out the window.
"For the first time in my career, I've had a nutritionist. I've enlisted Nathan Peyton who's world-class and I've got a blood doctor who does my bloods every quarter too. He breaks down all the elements like the electrolyte levels, the iron, and the zinc and we make adjustments based on the back of that. I've got everything in check. I've never been so prepped for something in my life. During my Strongman days, I was struggling for money. It was really hard to buy everything I needed, do all the recovery things that I needed and buy all the organic foods. Now, I'm in a very comfortable position and I'm able to do all of these things and do them properly. I'm having £15 worth of organic salmon for breakfast every morning. That may seem obscene to a lot of people and it is, but when it's your job and you want to be the best at what you do, it's a no-brainer. I'll invest anything into my body."
Aesthetically, Eddie has carved a physique fit for the stage, but he says polishing up his reflection was never a part of the game plan.
"I'M BEING OFFERED BIG HOLLYWOOD FILM WORK, SO I'M IN TWO MINDS AS TO WHETHER TO CARRY ON WITH THE BOXING CAREER OR TO GO DOWN THE ACTING ROUTE"
"The physique just came naturally," he says. "Because of my ten-year Strongman career, I've got such a thick core from squatting and deadlifting and running with weights on my back. I've never trained my abs believe it or not and I've never trained my calves and they're ridiculous as well, so I think my current shape is a result of an accumulation of what I've done over the past year on top of that foundation. As a kid, I was an Olympic standard swimmer. When I was just eleven years old I was on the junior Olympic team and even then I had a massive chest, big arms, and a six-pack. That carried over well to Strongman, really well, and then what I built up as a Strongman complimented my boxing training. I've just been very lucky with my previous sports and built my body up very nicely as a result.
"There's definitely potential for me to step on a bodybuilding stage, but I don't know if I'd ever want to turn pro and do it properly. I think I'd enjoy doing it for a laugh, just to try it once and do an amateur show or something, but I couldn't do it how the pros do it. It's so obsessive to be the best in bodybuilding and I'm afraid I've spent too much of my life being obsessive and I couldn't do that again with another sport. I'm 33 now and I've probably lived the life of ten men, so it's coming to the time where I need to start winding down and thinking about the future and relaxing a little bit more."
"THERE'S DEFINITELY POTENTIAL FOR ME TO STEP ON A BODYBUILDING STAGE, BUT I DON'T KNOW IF I'D EVER WANT TO TURN PRO AND DO IT PROPERLY"
Despite taking everything he does incredibly seriously and getting serious results to boot, Eddie insists the prospect of Hollywood, like bodybuilding, is just a bit of a laugh.
"Movies are something I'd probably just do for a bit of fun if I'm being honest," he says. "I mean, The Rock is great and he's done amazing things, but I couldn't be that guy. There's no off-switch and I like having an off-switch. I think most people have an off-switch. You want to get in at some point in the evening, sit down, have a whiskey and just watch a bit of TV and go to sleep. I'd like to do it but do it in my own way and be chilled. I don't want to stress myself out and be up at 4:00 in the morning doing workouts. I'll get up at 7:30. I can manage that. Any earlier than sort of 7:00 and I struggle. I struggle to function for a few hours. I always get to bed at 10:30, 11:00 and I like to get up at 7:00, 7:30. I've got a good sleep pattern I think."
"TO BE HONEST I JUST WANT TO BANG THIS GUY OUT, BANG HIM OUT AGAIN AND THEN JUST GET HIM OUT OF MY HEADSPACE BECAUSE I'VE JUST SPENT TOO MUCH TIME FIXATED ON WANTING TO HURT THIS MAN AND I JUST NEED TO MOVE ON"
Regardless of the final outcome determined by his never-ending feud with Thor, Eddie prioritizes family time and takes pride in being good husband and father.
"On the weekends we try and go out for a meal together as a family or have a Sunday dinner," he says. "Most evenings I'll sit and have a meal with my wife, even when my diet is very strict. I always make sure I'm at every family event, but there are no after parties for me because I can't screw my food or drink up. When the kids have a birthday party and everyone's sitting there enjoying crisps, cake and whatever else, I'm stuck with my chicken, rice, and veg. I feel like an absolute Mormon. It can be hard."
HOW HAS EDDIE SHAPED UP? STRONGMAN STATS-
WEIGHT: 196KG CHEST: 62" BICEP: 24" CALVES: 25"
CURRENT STATS
WEIGHT: 158KG CHEST: 57" BICEP: 22" CALVES: 23"
HEIGHT: 6' 2.5" WAIST: 50" QUADS: 36" NECK: 25.5"
HEIGHT: 6' 2.5" WAIST: 40" QUADS: 33" NECK: 23"
If you aren't as naturally blessed as Eddie in the six-pack department, try Lony Pizarro's SIX STEPS TO A SHOW STOPPING SIX PACK