By Jack Franks
Interview by Danni Levy
Photography by Fabian Malette
It's fair to say that Mitchell Hooper callus-ridden hands possesses the midas touch. The Canadian is riding high following another successful chapter in a sporting career with his newly crowned status as the World's Strongest Man.
In 2023, he became only the fourth man in history to win the Arnolds and be crowned World's Strongest Man in the same year. It's even more miraculous given that fact it was his first and second attempts, respectively, for each of these titles. 
But Strongman hasn't always been the sport of choice for Hooper…
Everything Mitchell has done throughout his athletic life has been dramatic, and his journey to the World's Strongest Man is no exception. 
The road to World's Strongest Man…
Travel back to his late high school years, and Mitchell is on the road to becoming a different person, losing weight and gaining muscle at a frightening speed. The Ontario native was a former football player who weighed in at 110kg, before losing 20kg to try his hand at bodybuilding. 
He then made the dramatic switch to marathon running, showcasing his unearthly versatility. And in 2016, he recorded a personal best of three hours and twenty-four minutes while weighing 100kg at the Ottawa Marathon.
At the time he was also working as the head strength and conditioning coach for the professional Canadian basketball team, the KW Titans.
Hooper doesn't do anything by halves…
"I think there are a lot of qualities you can pull from every sport. You can get lower limb and foot strength from running, core strength from golf and hand-eye coordination from basketball.
"While those physical elements are important, having the experience of something like marathon running where you are challenged with taking your mind off something for as long as possible benefitted me at World's Strongest Man. You are trying to ignore the fact there is a competition going on."
"I've been training for strongman for a very long time without realizing I've been training for it."
And of course, Hooper isn't naive enough to think that it's only hard work that has got him to this point in the sport. 
Related content: Mitchell Hooper: An unknown rookie to world's strongest man contender
Built for greatness…
Hooper is humble and savvy enough to know that an element of genetic luck has been on his side, citing his "perfect height", his perfectly functioning levers, and a general kinesthetic awareness of his body. All of those aspects have helped him achieve the record-breaking success at this years World's Stongest Man.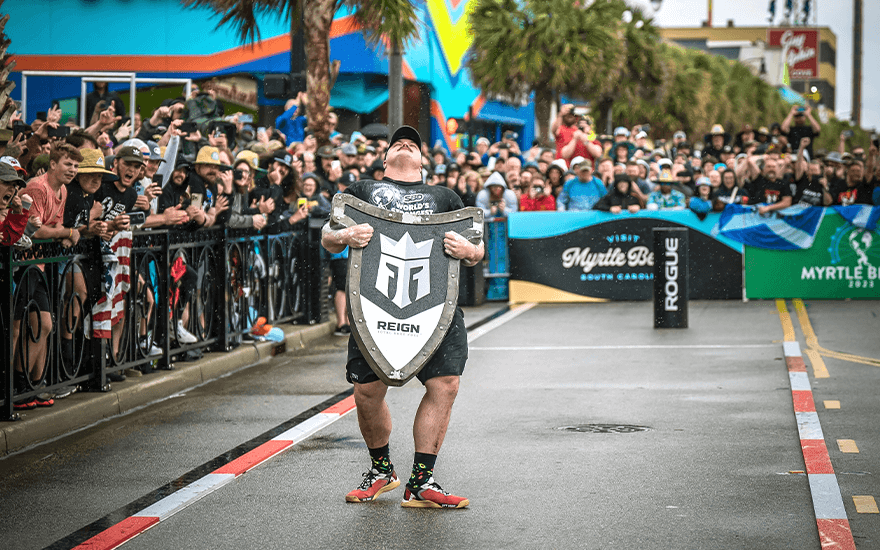 Hooper is in tune with his body, knowing what it requires and when it needs a rest, and this comes from his scientific-based approach stemming from his education.
Boasting a degree in human kinetics from the University of Guelph and a masters in clinical exercise physiology from the University of Sydney,. Hooper headed down under after he realized he "wanted something a bit more from life."
Here, he began his journey into strength sports, first as a powerlifter which caused his weight to rise again, this time to 115kg. After becoming a national champion as a powerlifter, Hooper moved into Strongman.
"I know how to push my body to its limits without it falling apart."
And for Hooper, this journey has given him the knowledge and experience to be able to better help others.
"I tell people with unique situations how to exercise every day and I need to be able to experience those things for myself.
"So, whether I get into running or I get into strength sports, there's no real deep passion for any of them, it's just I think I have a professional obligation to be able to feel what they're gonna feel."
He now runs his own kinesiology clinic in his hometown of Barrie, Ontario, a beautiful waterfront city located on the shores of Kempenfelt Bay. The western side of Lake Simcoe, where it's located, is renowned for being one of the best places to live in Canada.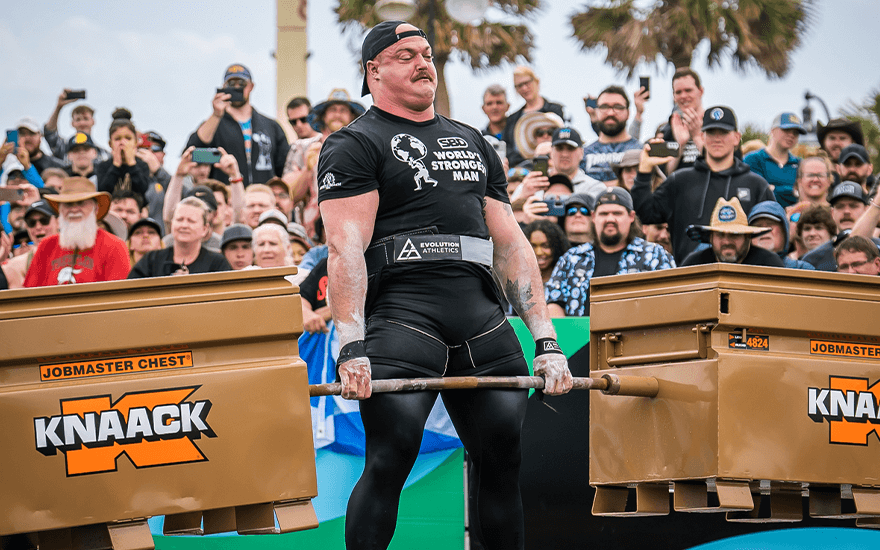 It's where Hooper played for the Wildcats at Eastview Secondary School, where he would slam dunk with a 40-pound vest on his driveway, regularly play golf at Vespra Hills, fish in the Muskokas lakes, and spend the majority of his time surrounded by dogs.
The secret to his success
His motto 'Lift Heavy. Be Kind', is deeply rooted in his upbringing, and is the real secret behind the success – not a specially brewed potion in an underground lab.
"I do a lot of normal stuff. I'm in a fortunate position to still have a full-time job alongside my strongman commitments.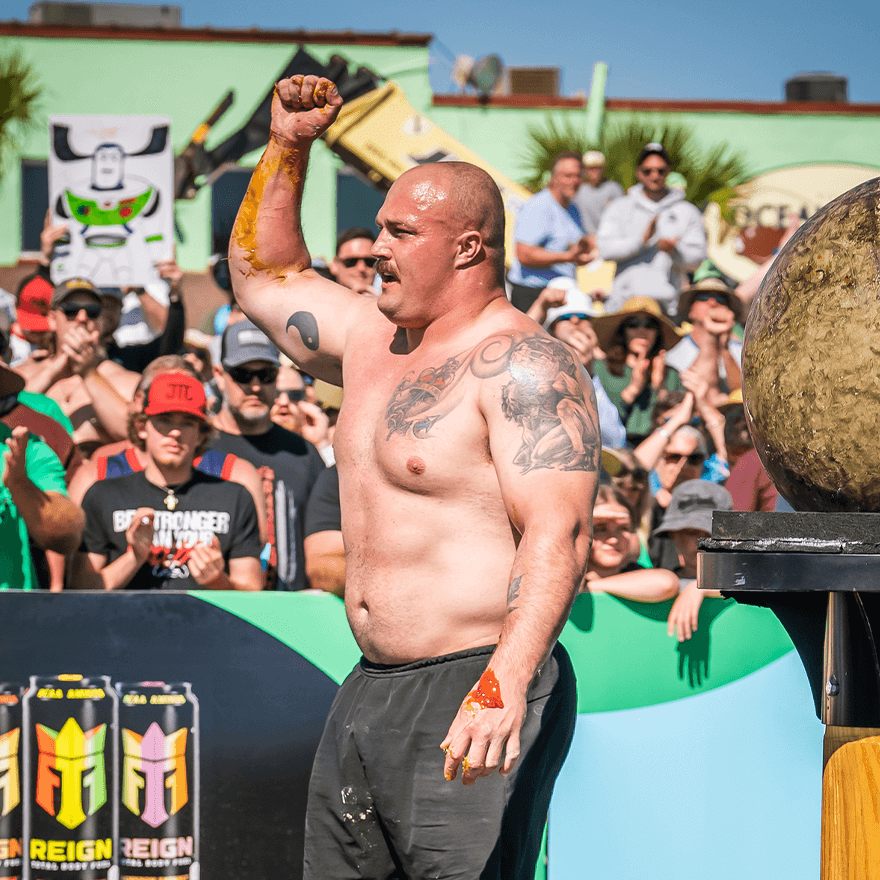 "I do a lot of things that are not directly related to my performance, and I think in a way that's highly advantageous. It's always something to fall back on.
"I make sure my food is good. I make sure my sleep is as good as it can be. I make sure my diet is good 80% of the time.

Since cruising into World's Strongest Man on 5,500 calories per day, Mitchell plans to drop ten kilos ahead of his next event.
"My next competition is Giants Live in early July, and that's in London at the Royal Albert Hall," he says. "I love that venue. I can't give that one up. And then I have the Shaw Classic in Colorado in August. In the meantime, I'll lose a little bit of weight and eat a little bit cleaner, but I'll stick at around 5,500 calories from here on out. I'll compete at around 315 pounds and I'm 325 right now"
View this post on Instagram
"Otherwise, it's a lot of physiological approaches and injury mitigation and avoidance through intelligent programming.
"It's all about consistent effort over a long period without an expectation of being great on any given day."
Not one to sit still and watch the world go by, Hooper is spinning several plates, refusing to bask in the glory of his WSM crown.
He plans to expand his kinesiologist center, Longevity Nexum, across Canada, despite only being open a year and continue to grow his online coaching business.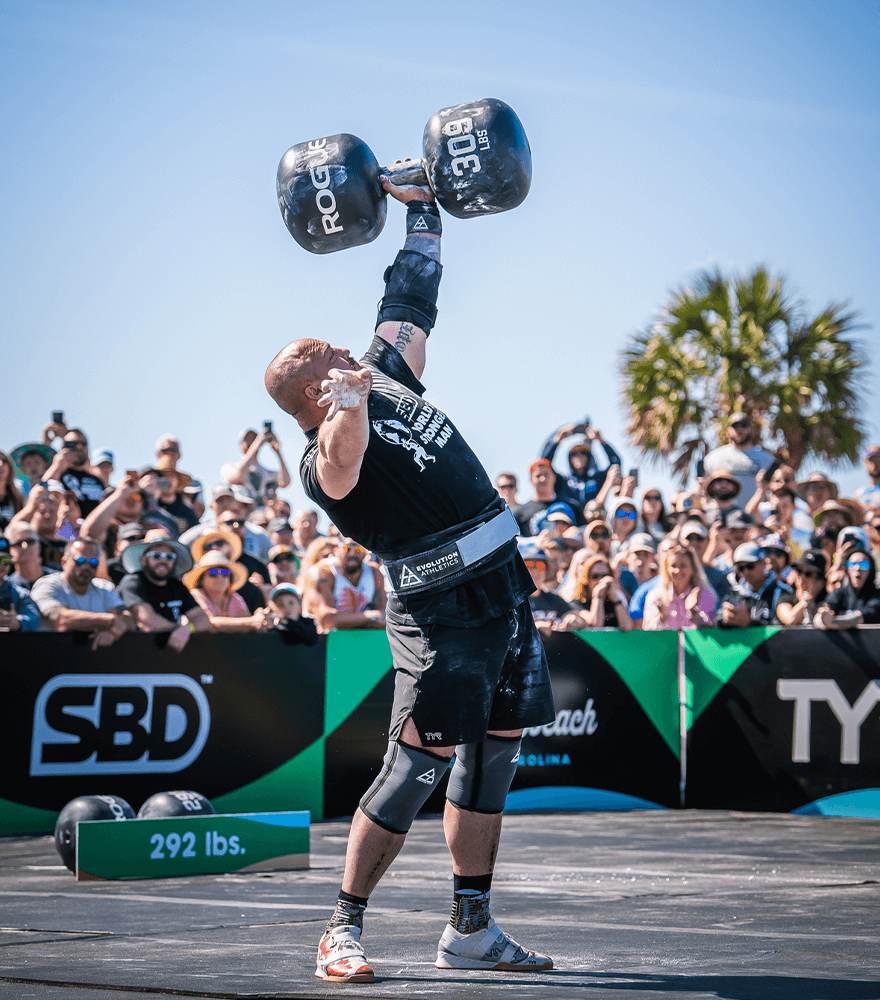 Add to that his social media and sponsor commitments, along with his 'Life Heavy, Be Kind' apparel, and Hooper does some fairly heavy lifting away from the gym.
Oh, and you won't be shocked to know he doesn't dabble in running that often now…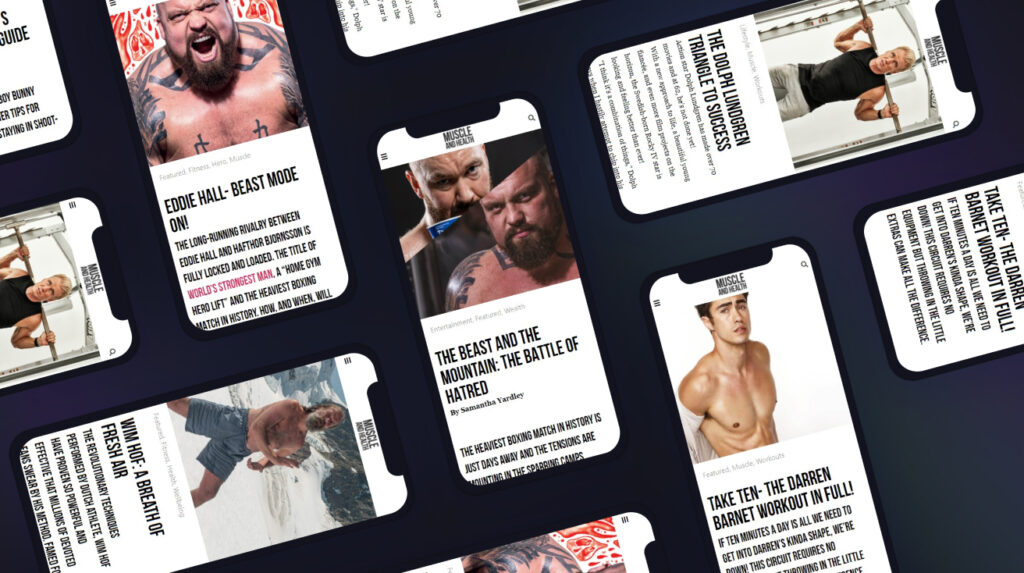 get all the latest mucle, health and wealth news delivered straight to your inbox