Image credit:  Todd Burandt – World's Strongest Man
The World's Strongest Man 2023 is over. 
We've seen some epic feats of strength, icons flexing their legendary status, and some surprises amongst the rookies, but, in the end, only one man could claim the trophy.
Muscle and Health look back over the best of the action from Myrtle Beach, South Carolina, and how Mitchell Hooper won his first-ever WSM crown.
Day One: Hooper in menacing form as a new rookie announces themselves
One of the pre-competition favorites, Hooper racked up the highest points total after the first day of events. The Canadian's score of 18 in Group Three was two better than Oleskii Novikov and Trey Mitchell, respectively, both of whom enjoyed a strong opening.
Reigning two-time champion Tom Stoltman topped Group One after three events, pipping Bobby Thompson following an epic clash on the Log Ladder, with the American unexpectedly missing his attempt on the fifth log, leaving enough time for Stoltman to lockout an event-winning time.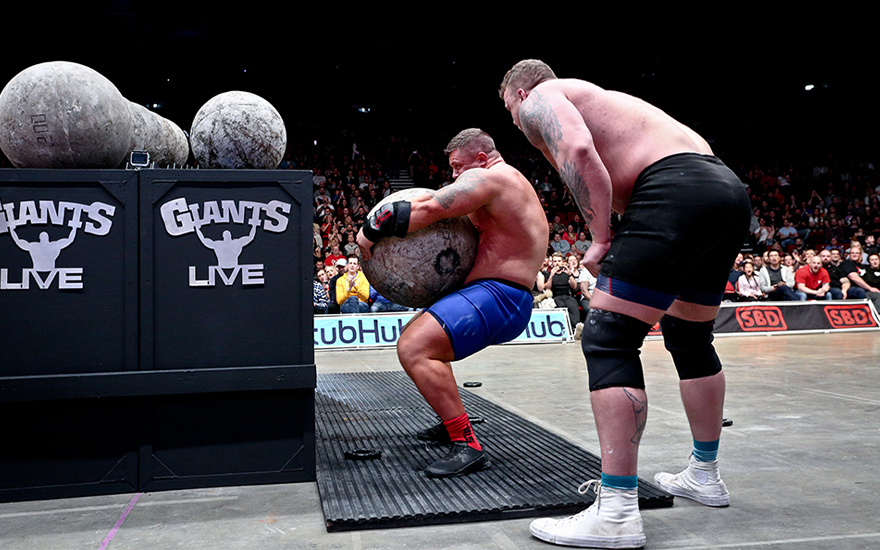 Credit: Giants Live
In the same group, Ukrainian Pavlo Kordiyaka proved to the world that his 2023 Europe's Strongest Man victory was no fluke, posting the fastest time in the field in the Loading Race, less than one second ahead of Hooper's winning time in Group Three.
Over in Group Four, a rookie took center stage. South Africa's Jaco Schoonwinkel put his name on the map, clearing all five implements faster than anyone else in his group, including four-time WSM Brian Shaw. However, veteran Shaw, bowing out of WSM after this contest, finished the day top of the section after assured Deadlift Machine and Log Ladder displays.
Thomas Evans shone in the final event, registering the fastest time in the field as the first athlete to finish sub-40 seconds, with athletes tasked with clean and pressing five logs weighing 275, 310, 350, 375, and 400 pounds as fast as possible in the 75-second time cap. He trailed Novikov in Group Two, who squeezed out one more rep on the Deadlift Machine.
Mitchell was one of four men to complete eight reps on the Deadlift Machine, propelling 379 kilograms, which put him ahead of Evan Singleton in Group Four. However, the former WWE strongman ended the day half a point away from the leader.
The standings at the end of Day One were as follows:
Group One
Tom Stoltman — 15.5 points
Bobby Thompson— 14.5 points
Pavlo Kordiyaka — 13 points
Konstantine Janashia — 9.5 points
Eddie Williams — six points
Pa O'Dwyer — five points
Group Two
Oleksii Novikov — 16 points
Thomas Evans — 14 points
Luke Stoltman — 12 points
Gavin Bilton — nine points
Kristján Jón Haraldsson — 8.5 points
Fadi El Masri — 3.5 points
Group Three
Mitchell Hooper — 18 points
Mathew Ragg — 13.5 points
Aivars Šmaukstelis — 10.5 points
Graham Hicks — 9.5 points
Spenser Remick — 6.5 points
Mateusz Kieliszkowski — five points
Group Four
Brian Shaw — 15.5 points
Rauno Heinla — 14.5 points
Jaco Schoonwinkel —14 points
Adam Bishop — eight points
Kevin Faires — 5.5 points
Gabriel Rhéaume — 5.5 points
Group Five
Trey Mitchell — 16 points
Evan Singleton — 15.5 points
Eythor Ingolfsson Melsted — 11.5 points
Mark Felix — 7.5 points
Paul Smith — 7 points
Jean-Stephan Coraboeuf — 5.5 points
Day Two: Shaw shows his class, the Stoltman duo progress and a farewell to Felix
It was a case of 'as you were' in the first event of day two, Conan's Wheel, where competitors had to carry a fixed log-shaped implement weighing 199.5-kilogram (440-pound). Results were measured in reps meant to indicate degrees, meaning one complete lap equaled 360 degrees.
Hooper won his heat, but only just, with Matthew Ragg a soul-crushing eight points away from the pace-setter, while the Ukrainian duo of Kordiyaka and Novikov secured big victories. The latter was three points from the 900-mark and opened up a gap between him and his nearest competitor, Luke Stoltman, in the process. 
The big shock of Conan's Wheel came in Group One, with Tom Stoltman finishing bottom of the standings. His score of 598 degrees would have seen him finish as low as third in any of the other four groups, showcasing the standard of strength on display in his field, but it saw the Scotsman drop out of the top two.
Schoonwinkel proved his first day at WSM was no fluke, securing a dominant first-place finish, while Eythor Ingolfsson Melsted was a late replacement for Cheick "Iron Biby" Sanou – closed the gap on Singleton and Mitchell courtesy of a 629-degree score.
Five athletes secured their respective places in the finals following the Kettlebell Toss, with Novikov able to conserve energy by completing just one throw before collecting his sole point, guaranteeing he would top Group Two.
Kordiyaka and Hooper continued their ominous momentum, easing into the final ten. However, Hooper's clean sweep was ended via Mateusz Kieliszkowski's stunning performance. The Pole became the third man in WSM history to convert all seven kettlebells, joining Shaw, Mikhail Shivlyakov, and Mitchell a few hours later.
Schoonwinkel held off the advances of Shaw, squeaking through to the final by half a point. At the same time, Mitchell's six-point haul earned him an automatic ride to the finals, avoiding the impending Stone Off, where the second and third placed in each group went head to head in the highest stakes event of the competition.
Notably, the Kettlebell Toss marked the end of Mark Felix's legendary WSM career. The hall-of-fame caliber strongman appeared in 18 WSM contests and never failed to stun the audience with how competitive he remained well into his 50s. At 57, he is the oldest strongman ever to compete at the WSM.
One at a time, athletes were required to lift and toss an Atlas Stone to the side of the other athlete – and both would continue to toss the Atlas stone back and forth – until one could no longer continue.
The Stoltman brothers both progressed, Tom defeating Thompson, who was evidently suffering from a hamstring injury, and Luke overcoming a persistent Gavin Bilton, who was unfortunate just to miss out. Ragg showed consistency under pressure to surpass Latvian Aivars Smaukstelis, while the iconic Shaw defeated Rauno Heinla in an epic clash, progressing to his 15th consecutive WSM finals.
Heinla's jaw-dropping performance pushed Shaw to his limits, with the Estonian's engine seemingly without a cap. He lifted the 200-kilogram stone a staggering six times before having to tap out. No one in the crowd expected him to press Shaw to such extremes.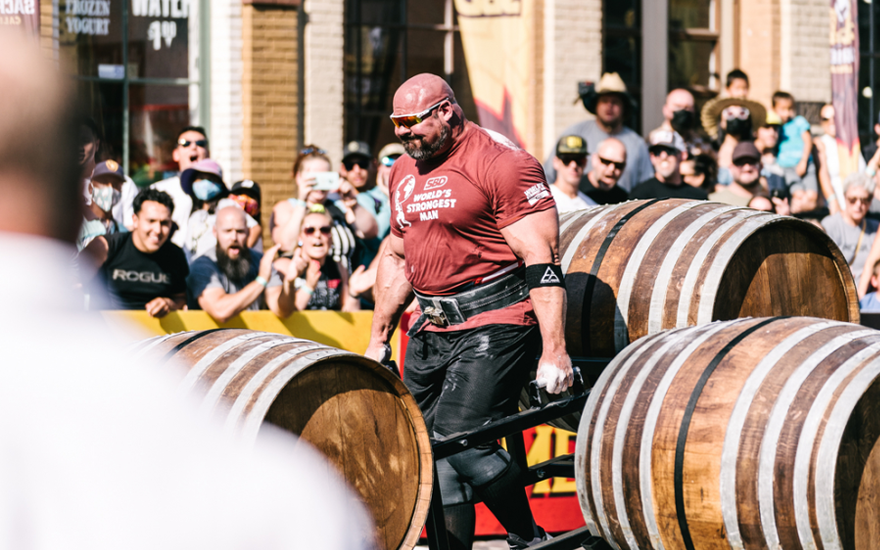 Credit:  Denver Post
Singleton declared "this is only half my dream" after securing the final top ten place. He ended Ingolfsson Melsted's journey, sealing his first career trip to the WSM Final.
The standings at the end of Day Two were as follows:
Group 1
Pavlo Kordiyaka – 25 points
Tom Stoltman – 20.5 points
Bobby Thompson – 20 points
Konstantine Janashia – 17.5 points
Pa O'Dwyer – 13 points
Eddie Williams – 9 points
Group 2
Oleksii Novikov – 23 points
Luke Stoltman – 21 points
Gavin Bilton – 20 points
Thomas Evans – 18 points
Kristján Jón Haraldsson – 15.5 points
Fadi El Masri – 7.5 points
Group 3
Mitchell Hooper – 29 points
Mathew Ragg – 22.5 points
Aivars Smaukstelis – 17.5 points
Mateusz Kieliszowski – 14 points
Graham Hicks – 11.5 points
Spenser Remick – 10.5 points
Group 4
Jaco Schoonwinkel – 24 points
Brian Shaw – 23.5 points
Rauna Heinla – 20.5 points
Adam Bishop – 14 points
Kevin Faires – 13.5 points
Gabriel Rhéaume – 9.5 points
Group 5
Trey Mitchell – 26 points
Evan Singleton – 24.5 points
Eythor Ingolfsson Melsted – 22.5 points
Mark Felix – 12.5 points
Paul Smith – 11 points
Jean-Stephen Coraboeuf – 8.5 points
Who made the finals?
The ten finalists had a day to rest and recover following a brutal qualifying stage, with Hooper and Novikov looking best places to potentially dethrone Tom Stoltman.
Stoltman, on the other hand, was seeking to claim his third consecutive title to tie the legendary Bill Kazmaier.
Rookies Schoonwinkel and Ragg were the surprise packages, while Shaw proved once again that the cream rises to the top.
Pavlo Kordiyaka

Oleksii Novikov

Mitchell Hooper

Brian Shaw

Tom Stoltman

Luke Stoltman

Jaco Schoonwinkel

Trey Mitchell

Evan Singleton

Matthew Ragg

Finals Day One: Weather takes centre stage as the real work begins
This is where the fun really began, with six events spread over the course of two nail biting days, but the weather was the first significant talking point of the weekend as the sunny conditions of qualifying were substituted with torrential downpours.
In fact, the first day of the 2023 World's Strongest Man finals was delayed due to the adverse weather conditions. Additionally, two events were rearranged and their sequence was changed to ensure the safety of the athletes and minimize the risk of injuries.
Initially, the Reign Shield Carry was scheduled to be the final event of the first day, but was subsequently shifted to the final's opener to ensure the safety of the athletes. The ten giants were tasked with picking up and carrying the 196 kilogram shield for the maximum distance possible, with Hooper continuing his stellar performances from qualifying.
The Canadian, despite struggling after only a few metres, showcased his mental toughness and persevered to cover a winning distance of 64.8 m, just ahead of Tom Stoltman, who unexpectedly dropped the shield.
Kordiyaka would have claimed top spot courtesy of a 66.59 m run, but a 20-point deduction for crossing the marked line on the pavement saw him drop to 6th, with fellow Ukrainian Novikov easing into third spot, but still significantly behind the top two front-runners.
Next up, the athletes were back to deadlifting, with a barbell loaded with two massive Knaack boxes on each side weighing 353 kilograms standing in their way of precious points. The name of the game was simple. As many reps as possible in 60 seconds.
The unstable barbell caused most participants to achieve fewer reps than anticipated, however, it was Hooper who adapted the best, achieving eight reps and gaining a considerable lead over the chasing pack.
Four athletes tied for second place in the event with seven reps, while Tom Stoltman finished with six repetitions and fell further behind Hooper in the overall rankings, however, his favourite event was up next. 
Originally planned as the first event, Fingal's Fingers closed the first day of finals competition, with athlete's required to lift and push five long poles of increasing weight to secure points, all within 60 seconds.
Tom Stoltman proved to be the fastest athlete to complete all the implements, going head-to-head with Shaw, who, despite being quickest during the first four poles, failed to complete the fifth one.
That allowed Novikov to secure second place ahead of an impressive Mitchell, who could have been faster than his time of 48.46 seconds had he not made an error on the third pole. Hooper could only manage sixth position, but still maintained a half-a-point lead at the end of Day One.
The standings at the end of Day One of the finals were as follows:
Mitchell Hooper – 25 points

Oleksii Novikov – 24.5 points

Tom Stoltman – 24 points

Trey Mitchell – 22.5 points

Evan Singleton – 15.5 points

Brian Shaw – 14.5 points

Pavlo Kordiyaka – 14 points

Mathew Ragg – 11.5 points

Luke Stoltman – 8 points

Jaco Schoonwinkel – 5.5 points
Day Two: Hooper reigns supreme following flawless display
Ahead of the final day of action, the burning question was whether Tom Stoltoman or Novikov could keep up with Hooper's relentless pursuit of his first title in just his second appearance at WSM.
As it proved, Hooper was in a league of his own.
The second day of the finals began with the Max Dumbbell event, in which the athletes had to lift a dumbbell from the floor and onto one shoulder, then perform an overhead press with one hand.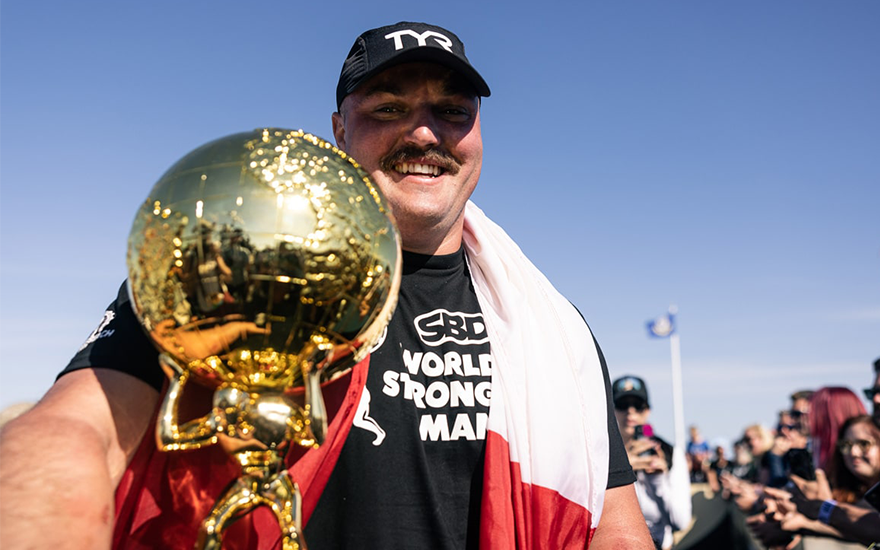 Credit: Todd Burandt _ World's Strongest Man
Two men shared the top spot, with Singleton's 140 kg press only being matched by – inevitably – Hooper, with both athletes recording failed attempts at higher weights. Four athletes shared the points in third place, among them Tom Stoltoman and Novikov, meaning the pair fell further behind top spot.
This event also saw the withdrawal of Schoonwinkel after the South African after the dumbbell he pressed fell back down onto his shoulder, signalling the end of the rookie's sterling debut at WSM.
In the second-to-last event of the 2023 World's Strongest Man, the athletes were tasked with pulling a bus a distance of 25 metres. The caveat. The weight of the vehicle was 20,000 kilograms and the time limit for this event was 60 seconds.
This proved to be a pivotal moment in the finals, with Tom Stoltman, despite finishing in second place, being forced to share the points with Singleton after the pair recorded the exact same time of 32.27 seconds. Hooper took full advantage and claimed the event win to all but secure him his first title.
One final event stood in his way. Atlas Stones. Most WSM finals conclude with this event, however, the 2023 edition featured an exceptionally heavy set of stones, ranging from 150 to 210 kilograms. Tom Stoltman was hoping for maximum points and for Hooper to dramatically falter, however, the Canadian never looked like slipping up.
Despite Tom Stoltman edging the event win, it wasn't enough to overhaul the leader, with Hooper finishing 4.5 points ahead of the now former back-to-back champion. A new World's Strongest Man was crowned.
Emotions were high during Shaw's Atlas Stones attempt, with the legendary strongman completing his final ever event to mark his retirement from the competition.
The 2023 World's Strongest Man Finals results:
Mitchell Hooper – 53.5 points

Tom Stoltman – 49 points

Oleksii Novikov – 41 points

Trey Mitchell – 39.5 points

Evan Singleton – 39.5 points

Pavlo Kordiyaka – 31.5 points

Brian Shaw – 27.5 points

Luke Stoltman – 21.5 points

Mathew Ragg – 18.5 points

Jaco Schoonwinkel – 5.5 points (Withdrew)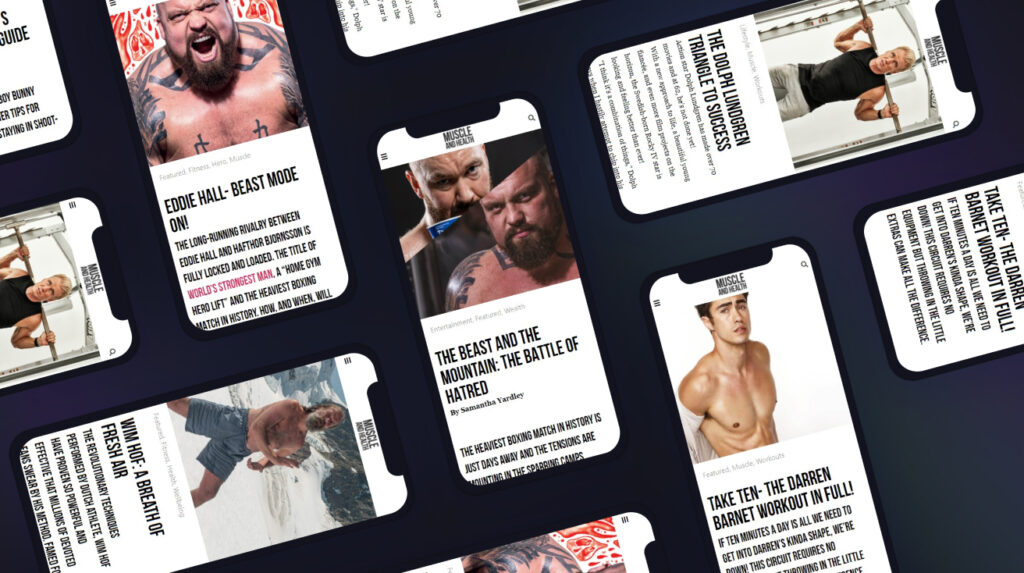 get all the latest mucle, health and wealth news delivered straight to your inbox