Alex Chamberlin By Danni Levy
Alex Chamberlin has made a serious name for himself as the portrait artist celebs are queueing up to sit for. It's easy to see why. I mean, you'd have to be a pretty special artist to serve justice to a depiction of Captain Sir Tom Moore. Having accepted the commission from the British Army, Alex, a former peacetime soldier did just that…

"I started painting at school and really enjoyed it," says Alex. "I was just getting into it seriously when I won a scholarship to go to Sandhurst with the Army. You wouldn't usually put the two careers together, but thankfully they gave me my own locker room to paint in! When I left the Army after three years, I took up painting seriously and I've never looked back.
"I started out doing landscapes, still life, that kind of thing. And then about six or seven years ago I decided to focus entirely on portraiture. Suddenly, I didn't have to worry about what I was going to paint, I just had to think about who I was going to paint, and I only painted people I was interested in.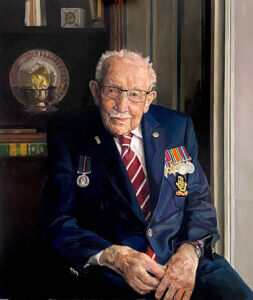 "The Army has always been a very good commissioner of the arts. They knew about me and they wanted to remember Captain Tom. Observing the fact he wasn't going to go on forever, they approached me last year to paint him as a tribute. That painting definitely brought me prominence. I was the only person Captain Tom ever sat for and the painting now lives in the British Army Museum, which is really quite special. It felt like winning an Oscar in some ways. It's a form of recognition."
Alex insists his subject must sit for him in person.
"I'm not just pulling pictures out and painting fan art," he says. "It's really important for me as an artist to have something unique to work from. I have to meet the subject, get to know them, and then take my own pictures. The photographic image I come up with is fundamental to the final painting."
"I was the only person Captain Tom ever sat for and the painting now lives in the British Army Museum"
Each finished piece takes Alex months to complete and he doesn't settle until it's perfect.
"If I were to work on just one piece at a time, I'd be looking at a solid month of 9-5 from start to finish," he says. "I tend to flip between paintings though. Right now, I've got twelve on the go. They basically sit there on the wall making me feel guilty about not working on them and then I go, 'Right, dammit, I've just got to do this painting.' I'm working on a commission of Tim Peake for the Army Air Core, he's been made an honorary colonel. I'm doing an exhibition of military veterans who've gone on to enjoy interesting secondary careers.
"I also really enjoy painting interesting and well-known people. Bear Grylls was great to paint. The finished piece is on loan to him and currently hanging in his living room. Sir Ian Botham wants his piece sent to his home in Spain, so we're under discussions and the piece of Nigel Havers is going to be displayed at the Garrick Club."
A portrait from Alex will set you back between £5,000- £20,000 and he says the face has to fit.
"James Blunt, Dame Kelly Holmes, and Kris Akabusi were some of the most interesting faces to paint and the nicest people to work with," says Alex.
"There are certain people in the world you just know will paint themselves"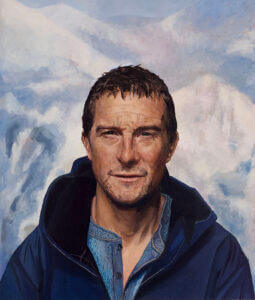 "There are certain people in the world you just know will paint themselves. They've got that kind of presence. It's always easier with people you've seen on TV because you already have that mental blueprint of their characteristics in your mind. For example, I know David Haye would make a great painting because I've seen some awesome pictures of him recently and I have an idea of how I'd like to work with him. Mike Tyson is another one I'd really love to paint."
"Bear Grylls was great to paint"
Alex insists anyone can learn to paint to a certain extent.
"If you're doing a portrait of someone, always start with the head and get that right first," he says. "Talent is just the practical ability to look at something and work out one, what color it is, and two, where to put that color on that piece of cloth that's in front of you. You've got to have good drawing skills, which you can learn, but the actual ability to open your eyes and see what you're trying to do is the hard part. It's such a cliché, but you've got to learn to see to be able to paint well. I know that sounds stupid, but it's actually a really simple process. It's literally just looking at what's there and being able to translate it into paint and putting it somewhere else.
"I tend to use quite small brushes for the most part and then bigger ones when I need to cover a large surface. I don't use conventional brushes. I use acrylic brushes and for my sins, they're the wrong ones. But I always think, 'What's the best way of sticking this bit of paint onto that bit of canvas?' Rather than, 'Am I using the one that I was told I was meant to use?' As long as the paint stays and it doesn't come off then I'm happy.
"You've got to learn to see to be able to paint welL"

"There are days I can just feel it going wrong, but I just leave it to go wrong, because I know it's going to be right in the end. I won't stop painting until it's right."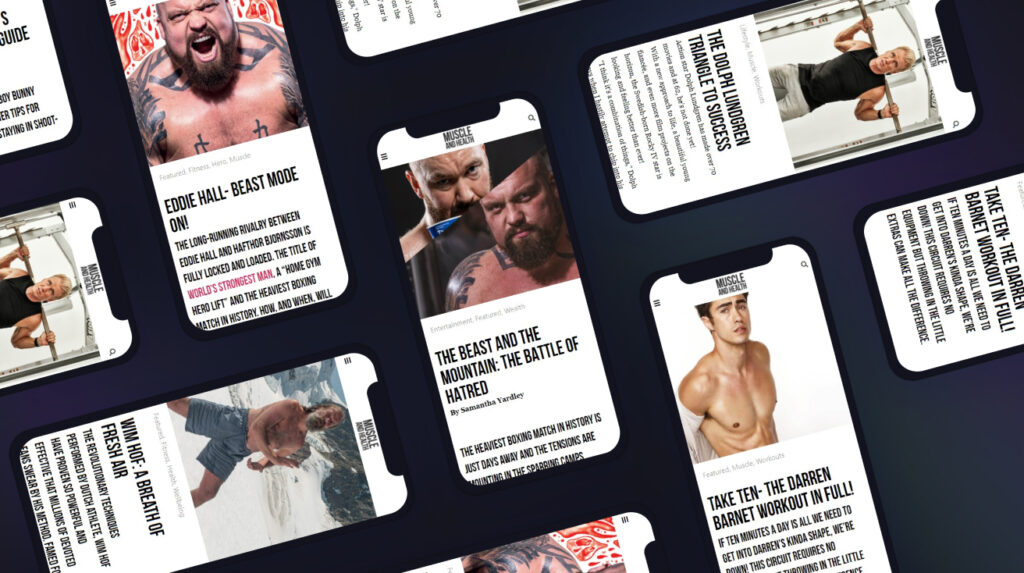 get all the latest mucle, health and wealth news delivered straight to your inbox