The emergence of the so-called "Super Shoes" is currently dominating the running world. These shoes come equipped with stacked foam, carbon plates, and a rocker design that epitomizes the latest advancements in running technology.
The hype surrounding these shoes is backed by extensive research and data, and it's no wonder they've become popular among professional and amateur runners.
Super Shoes are credited with breaking elite records and helping runners achieve faster times thanks to their technological innovations. As a result, more and more runners are opting for these shoes across various types of races, not just marathons.
But should you invest in a pair of Super Shoes? Great question. Many runners would jump at the chance to improve their performance, but understanding everything about Super Shoes before deciding whether they suit you is essential.
The benefits of these shoes go beyond breaking records, and it's crucial to take an informed approach when contemplating whether to lace up a pair.
Fortunately, we're here to lend a helping hand (or foot).
What makes a Super Trainer so Super?
Nike revolutionized the running world by introducing a groundbreaking combination: a highly stacked yet lightweight midsole cushion with a carbon-fiber plate embedded throughout its length.
This innovative design offered exceptional comfort and responsiveness and proved to be energy-efficient as well as incredibly fast. Thus, the legendary Super Trainer was born. Soon enough, other brands followed suit, and as a result, records started to tumble.
But, what exactly gives Super Shoes their extraordinary powers? No, they don't come with capes (although they pair nicely with running tights). And yes, stacked foam, rocker designs, and plates like those found in track spikes are not entirely new. But, the combination of these elements makes Super Shoes phenomenally speedy.
Midsole Super Foam:
These shoes feature a specialty midsole crafted from compressible, dense foam with exceptional performance capabilities. Despite being piled high, this foam remains lightweight, providing maximum cushioning, comfort, and superb energy return.
Carbon-Fiber Plate:
Within the layers of this super foam lies a rigid and curved carbon-fiber plate that spans the entire midsole. This plate acts as a lever or catapults, propelling the heel up and the foot forward with each toe pushed off the ground. In other words, every step you take receives an extra boost without requiring additional energy.
This powerful midsole super foam and carbon-fiber plate combination makes Super Shoes incredibly light, bouncy, and efficient. They minimize energy loss, allowing you to conserve it whether running farther or faster.
Rocker Design:
To top it off, Super Shoes also feature a rocker design that ensures smooth transitions and helps maintain a forward motion. This design element adds another dimension to why wearing Super Shoes can give you an edge on race days.
Are Super Shoes for you?
The popularity of Super Shoes extends beyond just pro or elite-level runners. Even those at the back of the pack have experienced the benefits of these speed-enhancing shoes, boosting their pace and confidence. But, before investing in a pair, there are some essential factors to consider—particularly the cost.
Super Shoes come with a higher price tag than regular racing shoes, so it's crucial to determine if the investment is worthwhile.
It's important to note that not all Super Shoes are the same, and not every Super Shoe is suitable for everyone. Everyone on the planet has unique foot structures, gaits, and running patterns, which means they have different footwear needs.
So, it's essential to find a pair of Super Shoes that feel comfortable for you rather than simply choosing a popular or recommended brand.
It's worth mentioning that slower runners may only experience a slight advantage with Super Shoes.
While the carbon plate in these shoes helps faster runners conserve energy, slower runners may exert more energy to achieve the same forward propulsion from the plate. Plus, slower runners may compress the foam less than faster runners, resulting in less spring and energy return upon ground impact.
While Super Shoes can contribute to faster and more efficient running, they should not be viewed as the sole factor in performance improvement.
Whether your shoes are super or not, consistent training, proper nutrition, hydration, and adequate sleep are all crucial elements in achieving your best performance.
Considering these considerations, if you're interested in trying out Super Shoes, you can explore our top-sellers and favorite picks – and get ready to set some personal records.
Saucony Endorphin Speed 3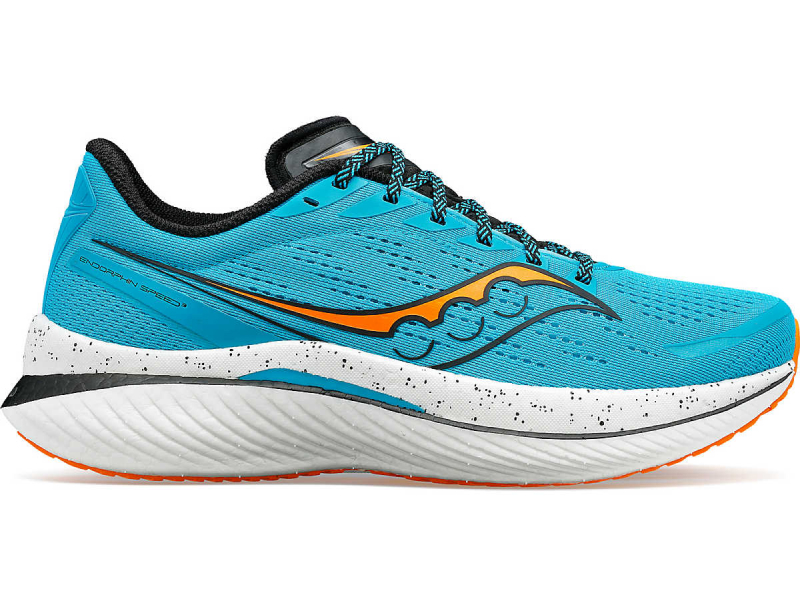 Key specs:
Type: Road
Weight: 229g
Drop: 8mm
Price: $170
Pros:
Softer and cushioned ride

Very versatile

Improved stability
Cons:
Tongue slide

Lower outsole durability

Higher end of price point
The trainer has been ruling the roost in its category for quite a while now. Picture it as the training partner to the Saucony Endorphin Pro 3, sharing many of its excellent qualities. They make quite the dynamic duo.
The midsole is where all the magic happens, featuring Saucony's PEBA-based Power Run PV foam, plus there's a nylon plate running right through the center. Saucony also infused this shoe with their SpeedRoll rocker geometry. The result? A ride that's so versatile, it can adapt to any situation—making it the most adaptable shoe on the market.
The Saucony Endorphin Speed 3 is not only comfortable for those easy runs, but it's also lightning-quick and feather-light. That means it's perfect for races and speed sessions. It's like having a shoe that can do it all—the ultimate all-rounder that caters to all types of runs. The versatility of this shoe truly shines through.
As it's been around for a while, you can often grab this Super Shoe at discounted prices. That said, it's still considered a bit pricey within its category. Sometimes, you have to stump up a little more for greatness, though.
While this shoe has proven to be durable, its grip could be better than other options. Another minor drawback is its stability, although they've improved with the Endorphin Speed 3 compared to its previous versions.
Some might find the shoe a tad unstable due to its soft build, but that's the price you pay for speed.
Puma Deviate Nitro 2
Key specs:
Price: $160
Type: Road
Weight: 9.1 oz (M), 7.4 oz (W)
Drop: 8 mm
Pros:
Versatile for all types of runs

Bouncy Pebax midsole

Lighter than the previous version

Well priced
Cons:
Less support for overpronators

Narrow toe box
Presenting a shoe that often flies under the radar but has been gaining popularity with its second version.
It's got a dual-density midsole, which means it's got two layers working together to give you optimal performance. The top layer is infused with nitrogen-infused PEBA—Puma's Nitro Elite foam —while the bottom boasts nitrogen-infused TPEE foam. 
The top layer is a bit bouncier and more exciting because of that particular material, adding a little spring to your step. To amplify the awesomeness, the shoe comes with a plate that's 70% carbon and 30% TPU plastic, forming the perfect blend of strength and stability.
Now, let's talk about the outer sole. It's thick, provides a solid grip, performs outstandingly well on wet surfaces, and can even handle light trails.
It won't break the bank, either. Puma often sells this shoe, so you can snag a pair at a friendly price. While a solid performer, the shoe might be slower and smoother than others.
It's got a bit more of a trainer vibe rather than a racer feel, so it's not the lightest shoe out there either. But, if you just want a shoe that can handle a wide range of runs and keep you comfortable, the Puma Deviate Nitro 2 is a winner all round.
Asics Magic Speed 3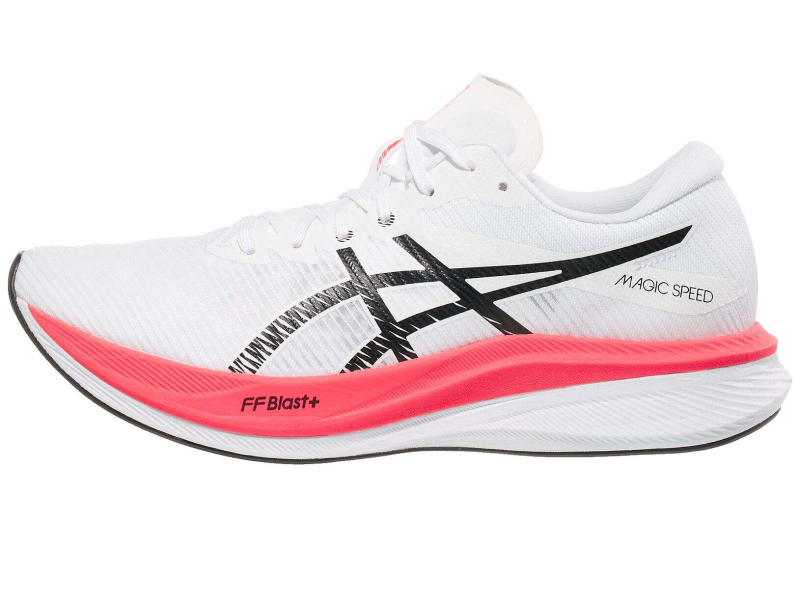 Key specs:
Price: $160
Type: Race
Weight: 221g
Drop: 7mm
Pros:
Low price tag

Propulsive midsole

Lockdown of the upper

Lightweight
Cons:
Want speed? Want to run fast? Like, really fast? This shoe is like the Usain Bolt of the running world. The Asics Magic Speed 3 is so lightweight you'll feel like you're running on air, the perfect runner for the speed demons.
While other shoes try to be a jack-of-all-trades, the Magic Speed Three is focused solely on pace. Though it may not have Asics' top-notch foam in the midsole, it's got a lightweight and pretty bouncy foam called FF blast plus technology that provides a soft, agile composition that adds positive energy to every stride.
This shoe comes equipped with a full-length carbon plate, serious performance-enhancing technology, motion wrap upper material, and a solid outsole specifically designed to keep you light on your feet and provide maximum grip.
It may not be your best bet if you're looking for maximum comfort and versatility. It's not your everyday kind of trainer, resembling a flashy sports car that you take out for a spin on race day. 
Perfect for speed sessions on the track, the shoe also copes well with longer runs, and if you're looking for a racing alternative to those pricey carbon super shoes, the Magic Speed 3 is just the ticket. It comes at a much more wallet-friendly price than some competitors. So not only will you be flying across that finish line, but you'll also be saving some coins.
Hoka Mach X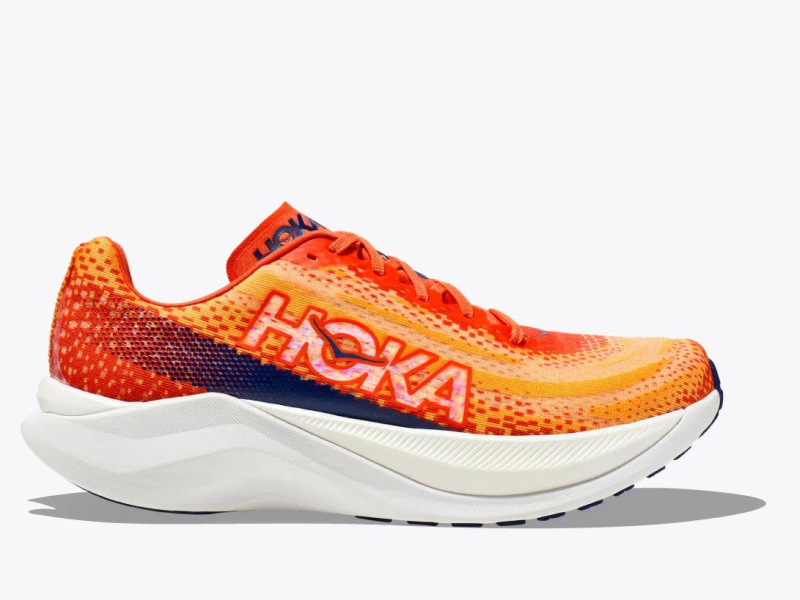 Key specs:
Price: $180
Type: Cushioning 
Weight: 266g 
Drop: 5mm
Pros:
Good energy return

Excellent lockdown

Great durability

Versatile ride
Cons:
Slightly too expensive

Runs a half-size small
This may be a traditional daily trainer, but don't let that fool you.
The Hoka Mach X orders a delicious sandwich with PEBA and EVA foam as the bread and nestled in the middle, there's a PEBAX plate that's the ultimate filling. It's like a culinary masterpiece, but instead of satisfying your taste buds, it's here to take your running experience to the next level.
Along with this mouthwatering midsole, we've got a reasonably pronounced early-stage rocker. Think of it as a transition from mid-foot to toe-off that begs you to go faster. And once you find yourself up on those tippy toes, that PEBAX plate springs into action, boosting and propelling you forward.
This shoe can handle everything regarding your daily training. It's comfortable, broad, and stable for a high-stakes shoe with a softer foam on top. But it really shines during easy and steady efforts: always reliable and never letting you down.
But, it doesn't quite have the top-end speed of some of the other Super Shoes out there, and it's pretty heavy compared to those nimble, lightweight speedsters. 
Regarding ride quality, the Mac X gives you a pleasant, smooth, comfortable experience over any distance. It's about something other than that snappy, aggressive ride you get with some other shoes when pushing the pace on faster runs.
As we mentioned, it's slower than some other shoes in this category and doesn't feel as nimble and exciting. Still, it's a versatile super trainer that's perfect for your daily runs, steady efforts, and general athletics. It may not be the flashiest shoe out there, but it's got the stability and comfort you need when pushing yourself to the limit.
New Balance SC Trainer v2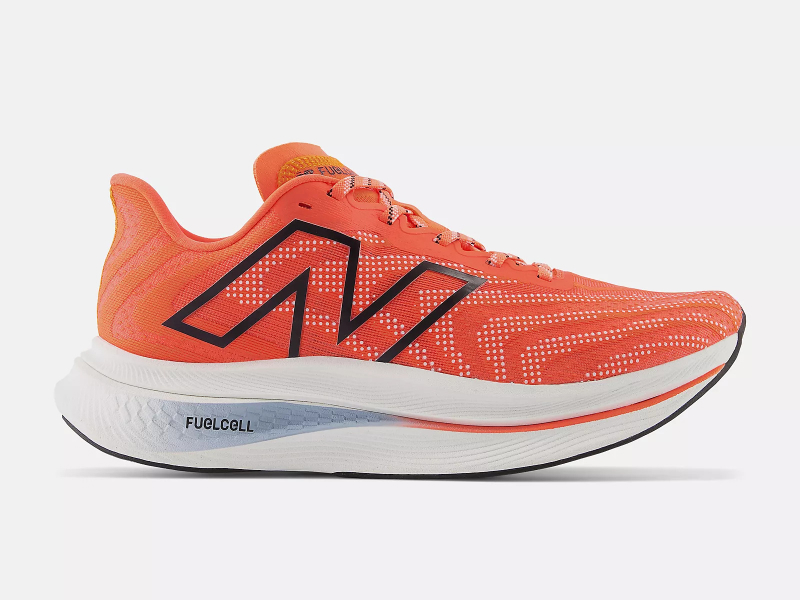 Key specs:
Price: $179.99
Type: Neutral/cushioned
Weight: 287.6g
Drop: 6mm
Pros:
Improved upper comfort

Weight reduction

Better versatility

More stable ride
Cons:
More suited to slow paces than fast paces

Less of a rockered ride

Less bouncy than v1
Here's a shoe with a super high stack, reaching heights that make other shoes look like mere mortals in comparison. We're talking over 40 millimeters of cushioning to make you feel floating on air.
This second version of the shoe bears similarities with its older sibling, rocking a carbon fiber plate and New Balance's fancy Energy Arc technology, a hollow channel smack in the center of the shoe that soaks up impact before rebounding to provide a boost. The result is a delightfully propulsive ride. In the newest form, the void is slightly wider and has more sloping walls.
New Balance has introduced a lighter FuelCell midsole foam, giving the shoe a fresh bounce, while the stack height has significantly changed. This alteration might be divisive for those who loved the original shoe—some might even consider it controversial—but sometimes change can be for good.
While it may be comfortable, it doesn't quite have that need for speed. Its transition from heel to toe can be sluggish despite all the fancy stuff in the midsole. This may not be the one for you if you're looking for a shoe that can keep up with your lightning-fast tempo runs or race-pace workouts.
And let's remember the price tag. This shoe can dent your wallet, especially in the UK, where the conversion rates can be wonky. In fact, it is more expensive than some of those carbon Super Shoes that are all the rage.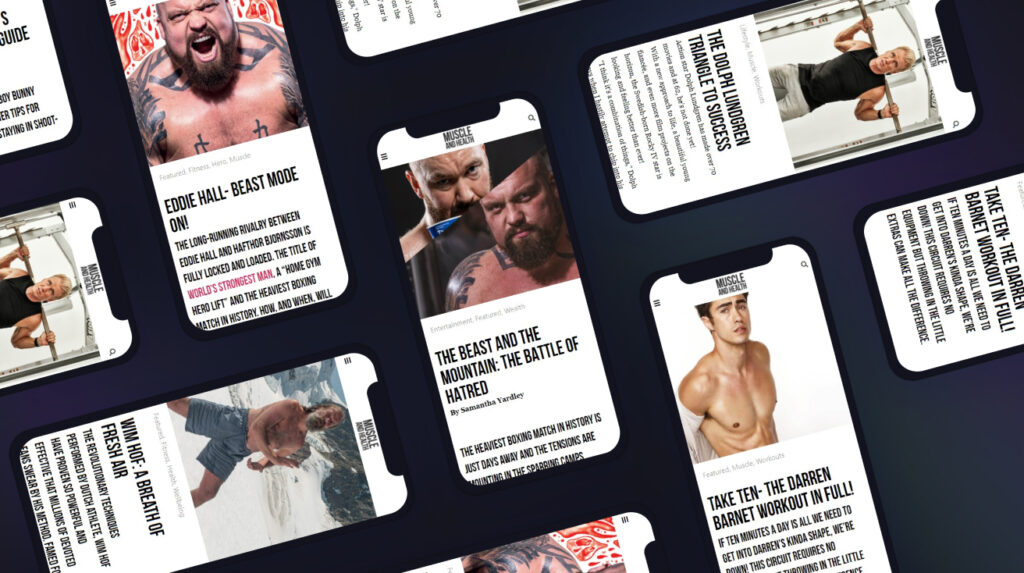 get all the latest mucle, health and wealth news delivered straight to your inbox