By Jack Franks
The power and scale of TikTok are relentless, with the #fitness on the platform boasting 44 billion views globally. 
With short-form content now the prime way audiences digest information, Muscle and Health has just dug itself out of a TikTok fitness hole to bring you the definitive list of who to follow in 2023.
Racking up over 730k followers and 750 million views, both constantly rising, Shiv Wilson's direct and to-the-point coaching tips are perfect for women looking to improve their gym performance and overall lifestyle. 
Wilson pulls no punches. "You have to stop doing stupid amounts of cardio, get in the gym and lift weights."
Her personable but authentic approach to her videos makes her relatable, and there is no bullshit here. Just pure facts. 
She's also a professional footballer for Birmingham City W.F.C. who currently plays in England's second-highest division of women's football. 
Not convinced yet? Just give her a follow, and you will be soon.
@tatemoffatt_ I feel like this 'gymtok' community has fallen into a place that we need to hit the gym for revenge or to get back at someone who broke our heart… man I just go to the gym to work on myself and because it brings me so much happiness… This whole idea of a "villain arc" has gone to far bro. Make life simple and just go to go, not go for revenge. And before y'all say it I know half of the people are joking and I get that but some people actually think and wanna be a villain… why just be the good guy fr fr 🫶 #gym #tatescontent #fitness ♬ original sound – EX7STENCE™

Prepare to be inspired. Tate Moffatt is an Australian TikTok creator aiming to spread motivation and positivity across the online fitness community. Don't expect to see workout tutorials or form tips here. Instead, expect epic visuals and slick editing combined with goosebump-inducing narrations.
Tate Moffatt is the account for those who shiver at the thought of a 5 am rise while the rest of the world slumbers. For those who love nothing more than training chest but forget they have legs that need some attention. For those who want to take their gym life to new heights, it's time to give this rapidly rising creator a follow.

This one is for runners. Nico Felich is a college student with a passion for fitness, with his channel predominantly focusing on running tips, daily eats in which he shows what he consumes in a typical day and…hairstyle tips? 
You may not be interested in getting the perfect Felich wavy flow, but there are loads to learn here, whether you're a seasoned pavement pounder or a beginner looking to start clocking up miles.
It's easy to see why this channel has almost 400k followers. Felich puts himself on a level ground with his audience. He's humble and modest. 
In one of his videos on training for your first race, he says, "I'm not a pro runner, I'm just a regular guy who's done a couple of these races." Felich is a breath of fresh air in an online ego-dominated world.

'I like fitness and being weird. Mostly weird'. Aussie fitness fanatic Zac Perna brings humor and fun. His channel has loads to learn about and enjoy, with a blend of training and mindset tips, eye-opening calorie comparison shorts and comedic sketches.
There's something for everyone here. Within two weeks, Zac uploaded a blindfolded challenge with his girlfriend, what 500 calories look like, and a superbly well-edited and executed gym sketch that parodies the hit Netflix show 'You'. Lift, laugh, love?

If you aim to get big and shredded, then this is the man you need to follow. Having amassed over 620k followers on the platform, Thomas already boasts a healthy following who consistently tune in to his killer tutorials.
There's so much to pack here, with full upper-body workouts, circuits and high-intensity sessions aimed at sculpting a well-rounded physique. These are complemented by a series of muscle-specific workouts, focusing on the chest, arms and shoulders. Looking to get in the best aesthetic shape of your life? All the tools are right here.

With the overarching theme of empowering women who lift, Abby Adamski appeals to a younger audience of girls who want to get into the gym and elevate their lifestyle. She does this by answering questions sent in by her audience, with her level of interaction one of the channel's most vital assets.
There's lots of food and nutrition advice for good measure, including daily protein, caffeine and calorie intake, how to make air-fried chicken nuggets and the key to making healthier French toast. Lots on offer here!

An account that has likely already helped thousands of people, Jason Christo is a diabetic fitness coach who creates tips for how people with the same condition can work out safely and witness the same results as bodybuilders. 
Looking at the engaged audience who regularly comment and interact with the content creator, the rawness and openness of Jason (there is one video in which he is visibly shaking in the gym due to low blood sugar)  is the real winner here.
Jason's educational videos will encourage those who suffer from diabetes and are hesitant to hit the gym to eradicate potential problems and find solutions while working out. Is creatine safe for diabetics? Jason has the answer. Struggling with fat loss? Jason has the answer. Bravo.

If you're on a weight loss journey and looking for some motivation, look no further than Courtney Lynea. Through the medium of TikTok, she has been documenting her journey since August 2021, going from 215 lbs to 197 lbs, with that number continuing to drop.
Courtney is proud to be, in her own words, a "thick fitness influencer", and is keen to grow the space on the platform. Expect to be entertained with gym vlogs, regular weight check-ins, challenges, weight loss meal suggestions and inspirational words for those in the same headspace.

Are your gym workouts becoming stale? 
Then Kerim Workouts could be the man to inject some life back into your routines. Offering a bible of tutorials, tips and muscle-focused workouts, there is something for everyone looking to gain muscle here.
The best part is how easily structured and presented they are. It's straight to the point, with very little in the way of fluff or overkill. There's also some handy advice and myth-busting wedged in between the plethora of routines available at your fingertips.

Expect brutal honesty from this one. Vinny Cole is as ruthless as they come, but that doesn't make him unlikeable. Quite the opposite. His sense of humor, blended with his tips on how to naturally bulk and gain size without the use of enhanced substances, works. 
If you're easily offended, then maybe give this one a swerve. If you're not, then join the other 415k followers basking in Vinnie's content. 
Please go and watch his 'Top five reasons why no one likes you part one' video immediately if you fall into the latter category.
Related Articles
Fall Asleep Quicker With These TikTok Hacks
Vanilla Berry French Toast Recipe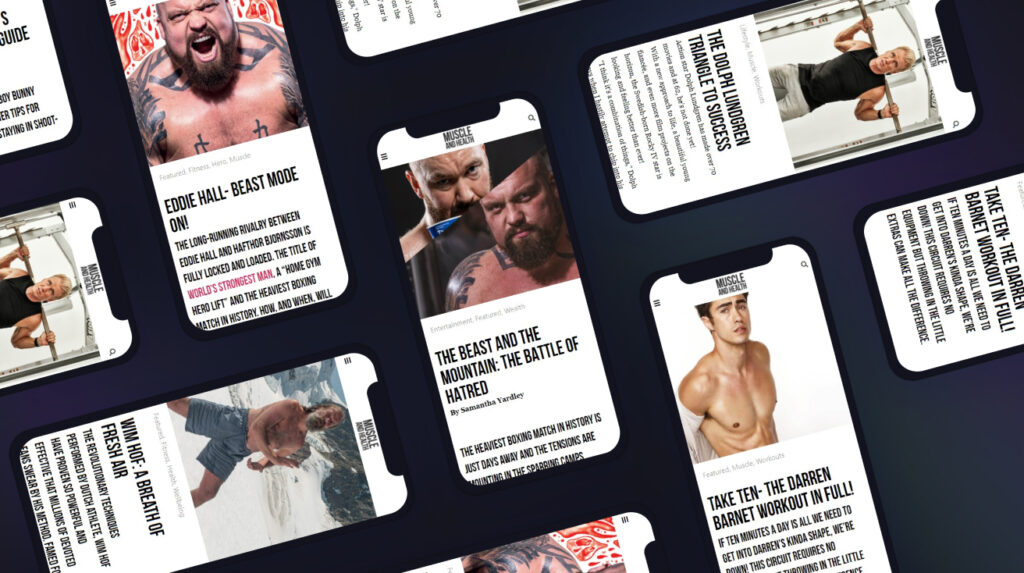 get all the latest mucle, health and wealth news delivered straight to your inbox