WWE hall of famer Torrie Wilson connects to our Zoom interview mid-stretch in her home gym, looking immaculate, having just completed a workout and still full of infectious energy that soon makes us forget the time zone difference that meant we would usually be winding down for bed.
Hailing from Boise, Idaho, growing up, Torrie describes herself as "painfully shy." Despite this, she battled the desire to shy away from opportunities by existing outside of her comfort zones. "From a young age, I pushed myself to do uncomfortable things."
In a strike of luck that would set a precedent for a chain of reactions to kick off her formidable career, she was discovered by a modeling agency. However, the encounter sparked an eating disorder that Torrie would battle for several years.
"I was told to lose five or ten pounds and became anorexic and lost much weight. The anorexia started to morph into bulimia, but I found it hard to throw myself up.
"The anorexia started to morph into bulimia, but I found it hard to make myself throw up"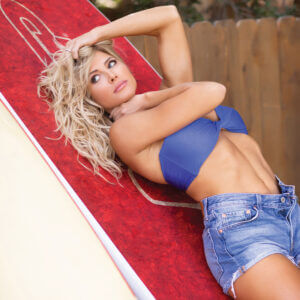 "Because of the bulimia, I started gaining weight, and that's what forced me into fitness and trying to build muscle. I realized I might not want to look like a super thin model. The curvy athletic body is just beautiful."
When attending a wrestling match, Torrie found herself once again propelled into a new world with yet another discovery.
"I moved from Boise to LA to pursue acting and fitness modeling. It was there that I was discovered by somebody in the WCW (World Championship Wrestling). They asked me if I would be interested in doing a storyline. I was like, I don't want to wrestle, but I'd love to be on TV. It snowballed fast, and I soon traveled the world, learning how to wrestle and throw women around.
"I found myself traveling the world, learning how to wrestle and throw women around."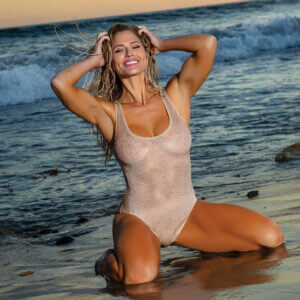 "I always used to say that it was like angels looking out for me, taking me out of Hollywood, because I was such a green, innocent girl. Who knows what would have happened if I had stayed in that scene."
Torrie threw herself into her new career, creating a path for women to shine in a once male-dominated sport.
"Female wrestling has evolved so much. But, at that time, we were there to be the sexy part of the show. We would push to have little segments where we could show that we were athletes too."
Torrie's wrestling career went from strength to strength, moving into the WWE.
"I was wrestling for nine years. and in 2019, I was inducted into the hall of fame. A lot of other great opportunities came along then. I am passionate about helping women, especially over 40, who want to lose weight and feel good."
Torrie has developed a six-week program to help women reach their fitness goals. "It's pretty immersive, I do a video every day, so participants feel like it's more intimate."
TORRIE'S DIET
View this post on Instagram

7:00 am: Fresh pressed celery juice, 20oz
7:30 am: Coffee with Pruvit keto kreme and 1 scoop vital proteins collagen creamer + 1 tsp raw manuka honey
9:30 am: Avocado toast, 1 slide Dave's bread "white done right" with 2 eggs (or scrambled vegan eggs, depending on mood) + arugula with balsamic vinegar
10:30 am: Pre-workout Pruvit keto nat drink (ketones)
10:45 am: Workout
12:15pm: Post-workout  1 apple +. 2 tbsps Justin's almond butter
3:00 pm: 2 chicken tacos: 2 flour tortillas, organic chicken, beans, olives, avocado, lettuce, onions, tomatoes
5:00 pm: Snack: 2 handfuls vegan black bean chips + homemade green juice (celery, spinach, kale, lemon, beet)
7:00 pm: Halibut with ginger soy sauce, potato with plant-based butter, broccoli (raw and usually eaten while cooking)
9:00 pm: Coconut milk ice cream bar.
Torrie ensures exercise is an integral part of her day-to-day routine.
"I wouldn't say it takes a lot of work to build muscle."
However, the impetus of constant falls and trauma from wrestling eventually took its toll on Torrie's back, and she underwent invasive surgery to replace a disc in her spine.
"Since I've had back surgery, I try not to kill myself. I refuse to let it slow me down. I know if I'm going to do something like weighted glute raises or deadlifts, it will hurt for a few days, but it also hurts when I don't do anything, so I choose which hurt I want."
"Since I've had back surgery, I just try not to kill myself."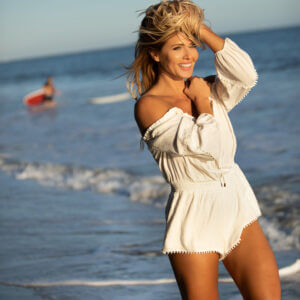 Torrie used to follow a diet plan of six meals a day, but these days adopt a more flexible approach to her nutrition "I go for the 80% rule of healthy. I'm now more focused on eating whole, natural foods that have a lot of nutrients to help me feel good from the inside out. I'm anti-strict eating because of competing and being anorexic.
"If I had to choose between exercise and diet, the exercise would be my number one. You can have a little more leeway with your diet by having muscle. When it comes to being lean, that's always been my motto."
At 45 years old, Torrie could easily pass for someone half her age, and we can't resist quizzing her for her secret to her seemingly eternal youth "exercise, getting enough sleep and probably not having kids," she laughs. "I'm not afraid of Botox and skin peels. People might say that's self-absorbed, but it makes me feel better, like having hair extensions and not being pasty white. Those are the little tweaks that make me feel better mentally. The world sometimes sends mixed messages, like there's a fine line between being too overly self-absorbed, but I think I have a good balance."
"The world sometimes sends mixed messages, like there's a fine line between being too overly self-absorbed, but I think I have a good balance."
Torrie eloped a year and a half ago and credited her past relationships to being able to appreciate the bond she found with her husband, Justin. "I was married to a wrestler, Pete Gruner. We've been divorced for a long time", following their
split, she had a high-profile relationship with J-Lo's current beau, Alex Rodriguez.
"I had different relationships that didn't pan out, but I consider them incredible life lessons in self-love. They led to me meeting and appreciating the guy I am with now.
"The older I get, I still don't have that burning desire to have children. I haven't closed the door. I've had my eggs frozen, just in case".
Discover more about Torrie's FITTENSITY app or follow her on insta to keep up with the WWE superstar's daily exploits.
Related Articles
The Secret Behind Torrie Wilson's Phenomenal Physique
Eddie Hall x Muscle and Health
Quickfire with Snowpiercer's Garfield Wilson
Mike Tyson x Muscle and Health – Full Interview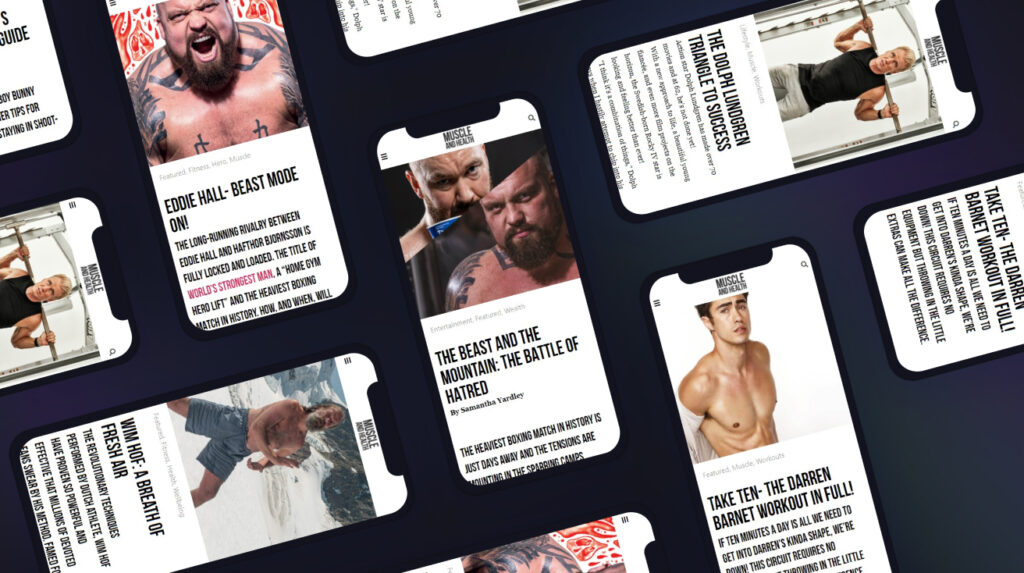 get all the latest mucle, health and wealth news delivered straight to your inbox