by Danni Levy
Having starred in Wonder Woman as butt-kicking Amazonian warrior Penthiselea, Elite CrossFit competitor Brooke Ence knows a thing or two about being a female boss!
Brooke's Naked Training App is a global hit. The synchronicity of beauty and brains inspired me to delve deep into the past, present and future of the girl who is seemingly unstoppable. Speaking from her home in Santa Cruz, CA, Brooke spoke in a cool, soothing tone that created the perfect dichotomy between power and inner-peace.
"Initially, I launched an eBook with my partner Jake which was a transformation program and that naturally grew into an app," she says.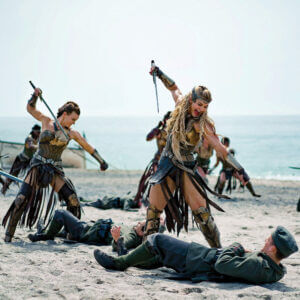 "You can move freely through the programs and there are home bodyweight and dumbbell programs available, so you can switch between gym and home. It's been a lifesaver during lockdown and it's great if you're traveling. The app is for men and women. We all have the same muscles and don't need to train differently- it just depends on your goals and starting point." A self-confessed macro machine, Brooke insists dietary data is of primary importance in order to support a consistent training program.
"Macro diets have become very popular and there's a reason for that, but a lot of people don't actually know what macros are and just jump on the bandwagon," she says. "This is how macro diets first became a trend. Realistically, all you're doing is hitting a certain number of carbs, proteins and fats in order to structure your caloric intake. This is what helps me best to maintain my body composition and performance. We need data and that's what macros are for. It's much easier for a coach to look at hard data and make changes rather than trust someone's word. 99% of the time as a coach you'd predict someone was 'accidentally' lying because if you need help, you've not been doing it correctly and likely have been doing things mindlessly.
"Even as a professional athlete, I always enlist a coach to help calculate and monitor my macros. I was never over-consuming, but I am a total snacker, I love snacks, so to get someone to sit down and pay attention to what they're eating helps to work on habits, and change not only what you're putting in your body, but the way you feel about certain types of foods. There can be a lot of underlying connections or emotions attached to certain foods and we need to dig down and identify those by using data. It doesn't matter whether your goal is to gain weight or lose weight. It's very empowering for someone to know they can control the physical outcome of what they're putting into their body. It can be so scary to feel you're out of control with food and you need help. Consistency and slow changes give you the power and the understanding you need to change your diet for good."
As a former figure competitor, Brooke has since made a name on the CrossFit circuit and adapted her food intake accordingly.
"I first tried CrossFit when I was in college in 2009, I was 19," she says. "It was when the sport was first getting big. I found a CrossFit gym because I'm from Utah and had been asked to audition for a circus show in Vegas as a performer- I sang and danced growing up and wanted help brushing up on my gymnastics skills. A friend told me this gym might be able to help me. When I tried CrossFit for the first time, it totally crushed me. I'd tried the bodybuilding and bikini world and won two figure competitions, but I had learned it was very hard to have your worth in sport be so subjective to whoever was judging you in that world. It took a long time to not look at myself and judge my body purely on aesthetics. By contrast, CrossFit was all about what you can do- not what you look like or your age. I liked that.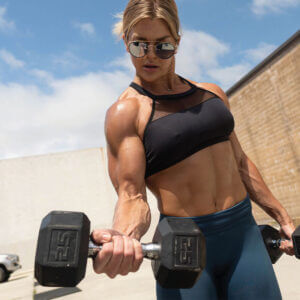 "Even as a professional athlete, I always enlist a coach to help calculate and monitor my macros."
"I was teased a lot growing up for my strength and my arms and I was finally in a community where it was celebrated- not for my looks but for my ability. There's so much equality- men vs women, it's such a wonderful space and I've been doing it ever since!
"When I compete (in CrossFit), I eat a lot more, because I'm training a lot more," she says. "I don't need to consume a ton of food in comparison to some of the other CrossFit girls. The most I've ever eaten was 2,000 calories a day. My coach said no-one going to the CrossFit games should be eating less than that. I was strong and my weight went up 4-5 pounds, but I didn't feel good for that little bit of extra weight. I perform and compete better when I feel good, so my coach got rid of the idea that I had to eat that much and I sat between
1850 and 1950 calories. I wish I could eat more but I just didn't need to. I was around 152-155 pounds at 5'6" 1/2. Now I'm not competing and I don't eat that many calories. I sit at 149 pounds and I enjoy wine with friends. My lowest weight has been 146."
Brooke's CrossFit Prep Macro Split
150-160g protein 175-190g carbs 50- 65g fats
"These could alter depending on where I was in my training. I'd carb load if I had a load of running or biking ahead of me. My body functions better with low fat because I don't digest it super well," she says.
Despite being hugely successful on the circuit, Brooke has put the games on hold and instead decided to focus on her business projects and television work.
"Before quarantine, I was training to compete at the West Coast Classic," she says. "I planned to compete again just to enjoy it and for everyone who enjoys watching me compete, because it's been a long time. It got cancelled and gyms closed. It was very hard because I live by myself, but I quarantined with my two best friends at my home. I had just gone through a divorce that took its toll on me and my focus was on the competition and my training so it was rough, but I got through it.
"Now I have my YouTube up and running and I'm working on my vlog with a new videographer. I'm filming a new TV series and working on another new secret project that's been coming to fruition for four years. I'm not training to compete but I'm training to be ready for anything.
"I am starting a new female-owned business for women too that I'm super excited about. It's a monthly subscription and I've been thinking about it for so long. I'm an ideas person and I finally have time to launch this one which is going to be awesome. I'm a real entrepreneur.
"From a young age I always wanted to do everything. I'm the youngest of four and my parents always pushed us 100% to do any sport we wanted to so long as we gave it our all, or they'd pull us out!"
Now that Brooke has time to focus on aesthetics, she focusing on developing certain muscle groups.
"At the moment I'm committed to getting my butt bigger," she says.
"I have big hamstrings and strong legs and I'm adding in butt exercises whenever I can!"
Brooke's Top 3 Booty Building Exercises
• Squats
• Bulgarian split squats
• Barbell hip thrusts
"I love this booty band trio of exercises," she says. "It can be performed as a finisher, or in-between weighted sets or banded kickbacks and hip extensions. Great for home workouts!"
• Sit on a bench with the band below the knee and your butt down. Take feet slightly wider than hip-width. Lean back and do abduction with your knees, rolling your feet out. Keep tension on the band. Do sets of 30.
• Sit up straight and do 30 sitting upright.
• Lean forwards and do 30 with your chest above your legs.
You can find Brooke on instagram: @brookeence and if you want to train to look good naked check out her app here.
For more body fat torching advice, turn to the 
battle ropes
 for a calorie-burning sweat session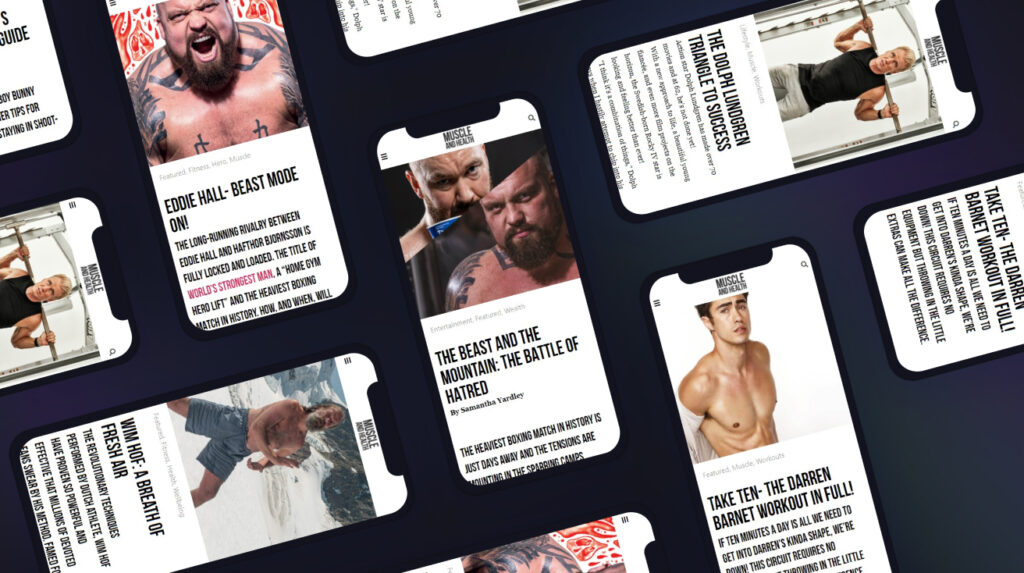 get all the latest mucle, health and wealth news delivered straight to your inbox