Words By Danni Levy
Photography By Peter Svenson
"I feel like chilling with you in the chilly weather," grins Tyson, whose warm and inviting aura makes me feel as if I'm visiting an uncle from across the pond. He's joined by his business partner, CEO of Tyson 2.0, Adam Wilks. 
As chief brand officer, Tyson launched the new cannabis line in December 2021 in California, fast expanding across the nation into 19 US states and Canada. 
'Mike Bites' are proving the most popular item on the menu. The ear-shaped edible sweets are shaped exactly like Evander Holyfield's lughole after Tyson infamously chomped into it in 1997. They contain 10g THC and have gone viral, selling out across all locations. 
"We have three different flavors, and they're just out of this world," Tyson tells me. "We can't keep them on the shelf. I'm very proud of my corporation for producing this."
An unapologetic recreational cannabis user, Tyson gives me a run-down of the personal benefits he's reaped from the green stuff. 
"Cannabis has cured me of my bipolar-ness," he says. "It's everything; it really is everything. Just ask my wife and kids whether they'd rather have me on cannabis or off cannabis. Right away, my kids would say, 'No, daddy needs to smoke,' because I'm totally a different guy without it, a totally different person. Not too friendly either."
Tyson started smoking cannabis at just nine years old. He continued through to the age of 17 before taking a twelve-year break.
"I used to smoke from nine to 17, and that's when I stopped," he explains. "Then Tupac had a celebration of his life, and I started smoking again."
Tyson feels he lost out, having gone cold turkey during his major boxing years, but admits his rage-fuelled personality helped to create the ear that's now bringing in the millions. 
"I just wish I was smoking back when I was fighting," he confesses. "I really lost out there from an athlete's perspective. On the flip side, I can now regain what I lost because I've been so successful with Mike Bites and other ear-related merchandise. It's like making lemon out of lemonade when you think about it. Because I got severely fined for the ear bite, and all these years later, it's turned into a blessing. People see it almost as slapstick comedy. I've been making hundreds of thousands of dollars just from images of biting people's ears. It's just incredible, and I'm very grateful. It could have turned out really bad."
Never shy of a sample, Tyson and Adam try each and every Tyson 2.0 product for themselves before it goes to market. 
"I'm blessed and fortunate to get to hang out with Mike at least once a week to try new products," says Adam. "We have new cookies, new beverages, our five-pack pre-rolls, about a dozen different strains of flower. There are so many cool items in the range, the most popular being the Mike Bites. We can't keep up with the demand for them. We have sour apple, watermelon, and black raspberry."
Despite having only been in business for five months, the duo has been presented with an abundance of international propositions and plans to take the world by storm within the next year. 
"Mike Bites were actually Mike's idea," reveals Adam. "We've also put the ear on a stick and made a lollipop ear containing 25 milligrams of THC. It's the same shaped ear that we have in the Mike Bites put onto a hemp stick. In addition to that, we have chocolate ears, which I'm really excited about. We have milk chocolate, dark chocolate, white chocolate, and a fun little mix. And the ears will have a filling when you bite into them."
There was only one thing for it, I had to take a bite for myself. The innocent-looking black raspberry sweet tastes as good as the lads claim. So good in fact, I could easily devour the entire bag. 
"Cheers to the ear!" Tyson exclaims as we tap sweets before chomping down on them. 
"The year of the ear!" 
I'd only taken a nibble, but Adam and Tyson had already downed their first ear with ease.
"Don't be a chump!" Tyson tells me in jest. "Don't be a wanker. Just drop it in your mouth."
I begin to laugh uncontrollably whilst working my way through my very first edible. Later, I was thankful Adam discouraged me from going in for a second. 
"You're making England look bad, have another one," Tyson insists.
"Oh my goodness," says Adam in my defense. "This is her first time trying an edible." 
As I regain my poise, I contemplate the effects to come. I understood the THC would kick in around 30 minutes after ingesting. I'd enjoy a nice afternoon nap at the very least.
"We're trying to bring plant-based medicine to the masses and pull people away from using things like sleeping pills," Adam explains.
Still at the Top of his Game…
When he's not working on his cannabis range, Tyson continues to perform in the gym at an extremely high level. 
But is another big match in the pipeline?
"Listen, if the price is right, I'll fight the lot of you," Mike tells me. "The only thing they have to do is write the appropriate cheque, and I'm there. My time has to be compensated for it. 
"In the gym, I'm doing a lot of rowing, treadmill work and abs. I keep myself close to ready, but nothing gets really serious until contracts are signed. Because once before, I got in top shape, got the fight thing going, and then I burnt out. Then I had to start back over again.
"I hover at a sustainable level. I'm in shape for wanting to get in shape. If I decided to fight today, I'd need three months before I'd be fully ready to step into the ring. I want people to see me back fighting. I love the entertainment aspect of it. That's my life."
As he bites into his third Mike Bite, Tyson reveals he's close pals with Bruce Willis and loves running around with guns on set. 
"I've just finished filming Vendetta with Bruce Willis," he says. "We didn't have the chance in our movie to interact personally, but we're good friends. I was acting alongside Thomas Jane, who played the lead role in The Punisher. I got to play with some really fun guns.
"I've also been working on a Bollywood movie. I'm a stage, and I like being on stage. I could even belly dance if someone taught me!"
Tyson's Podcast Hotboxin' has proven a huge hit with fans around the world. Celebrities, athletes and fascinating minds come together in a room full of smoke to 'change the way we see the world'. Anyone who's anyone has entered Tyson's chat room, from Kevin Hart to Eminem. 
"The sky's the limits with my podcast," says Mike. "I'd have to say Alex Jones was my favorite interview so far. I also loved chatting with Joe Rogan. Most people have a smoke with me whilst we chat but some athletes can't for contractual reasons, so I let them off."
Tyson's members' club serves as an addition to his open podcast chats, allowing fans to connect with him personally. 
"I don't know what other people see, but I see the real me, and I see myself being very successful in the endeavors in which I'm thriving," he says. "This is just what I do. I compete. I hate to use that word, but that's who I am. I want to be the best in the world at whatever I do."
"I think authenticity is a huge part of it. Mike's as authentic as it gets," Adam adds. "There are lots of celebrities throwing their names behind stuff, but they're just not authentic about it. Mike is the real deal. You're watching him eat the edibles here. It's as real as it can be."
Peak Partnership…
Despite having been the brains behind much of the Tyson 2.0 range himself, Tyson explains exactly why Adam is proving a vital partner.
"If I'm the smartest guy in the room, I'm in the wrong room," he says. 
Wise words, indeed. The more Tyson talks, the more impressive his ethics appear to be. 
"My kids are all top in their chosen sports," he says. "But I don't push them into anything. I merely introduce them. 
"Rocco plays golf, and Milan plays tennis, to which my wife Kiki introduced her. Once they show some aptitude, it's up to them where they want to go with it, but we're very supportive as parents."
I loved Tyson's family values and became even more impressed when he admitted they're not shy of a takeout! 
"My wife's a good cook, but she'd rather order a DoorDash," he laughs, as Adam corrected his first explanation, dubbing the service 'dashcam'. "You can order anything from a filet mignon to a Nobu, so we keep it healthy."
I wanted to see Tyson in action in the gym but questioned whether pre-consumption of THC edibles or copious amounts of pot deemed him fit for purpose.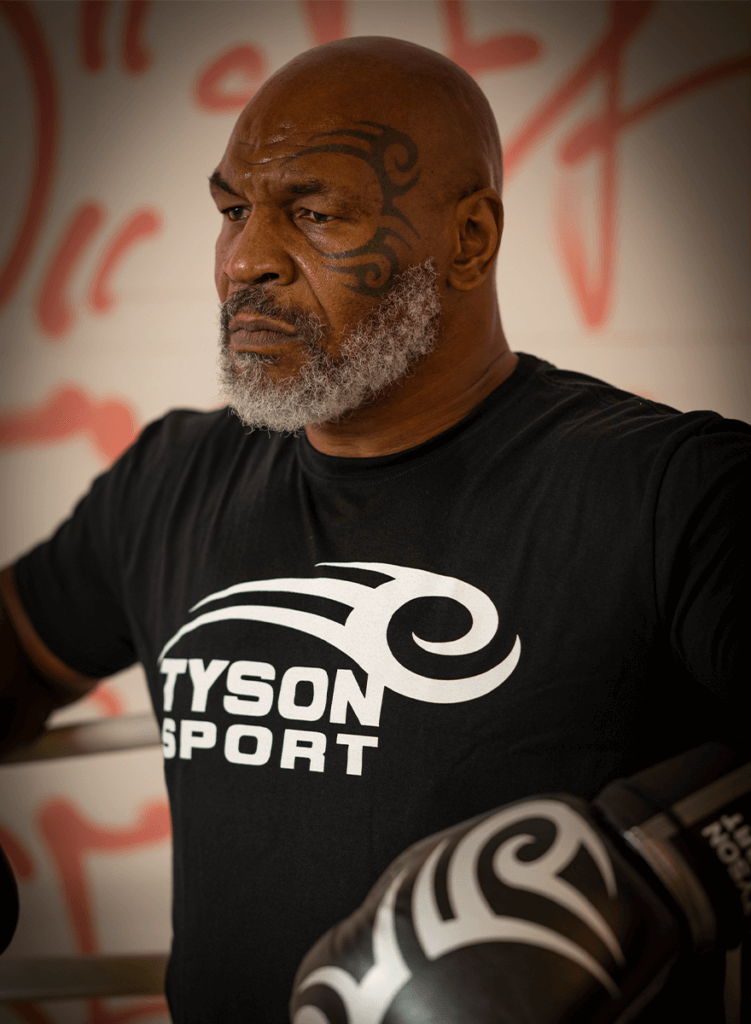 "Cannabis is good to workout on for me," he insists. "I also like taking mushrooms and smoking before fighting. I take psychedelics every day, mushrooms. I'm not a fan of microdosing, though. I want to go there real fast. I don't want to take five or six hours to get there. It's really relaxing, and I believe I'm speaking with God. Adam, here is microdose, and I'm macrodose!"
Whilst praising mushroom use, Tyson confesses you may need your wife on hand to keep track of time! 
"With mushrooms, I know something; you miss time," he says. "I'll say to Kiki, 'Hey, where's Rocco at?' And she'll reply, 'You just dropped him off at school.' There's something about mushrooms, and that missed time, because it always happens. If I took shrooms all day, and then my wife said, 'Hey, let's go somewhere and drop Rocco off,' I'd go drop Rocco off, and when I got back home, I'd say, 'Where's Rocco at?' It's a good thing I don't pick my children up from school because I would not go. They'd be late for school. Holy God."
Thankfully, a typical day for Tyson doesn't have a set agenda. 
"Right now, I'm doing whatever it takes to make Tyson 2.0 the biggest company in the world," he says. "I'm working day and night to expand worldwide and become the biggest cannabis brand there is. We have a very vast demographic of consumers. We have heavy-hitting products, like a two-gram blunt that has half of a gram of this live rosin inside of it. That'll fuck you up. It'll put you on your arse. That's for the heavy cannabis consumer. Then, for the lighter dosing people, we have a seltzer, a beverage that's only fives milligrams, a super-low dose. We call it the soccer mom beverage because it's a starter."
One thing is for certain, the future is bright for one of the greatest boxers ever to grace the ring. In his final statement, Tyson seals out the chat with a statement I just cannot argue with! 
"If I'd smoked during my boxing career, I probably wouldn't have been so aggressive, but now, I'm happy I bit that motherfucker's ear off, or Mike Bites wouldn't exist," he says.
@miketyson
@itstyson20
miketyson.com
tyson20.com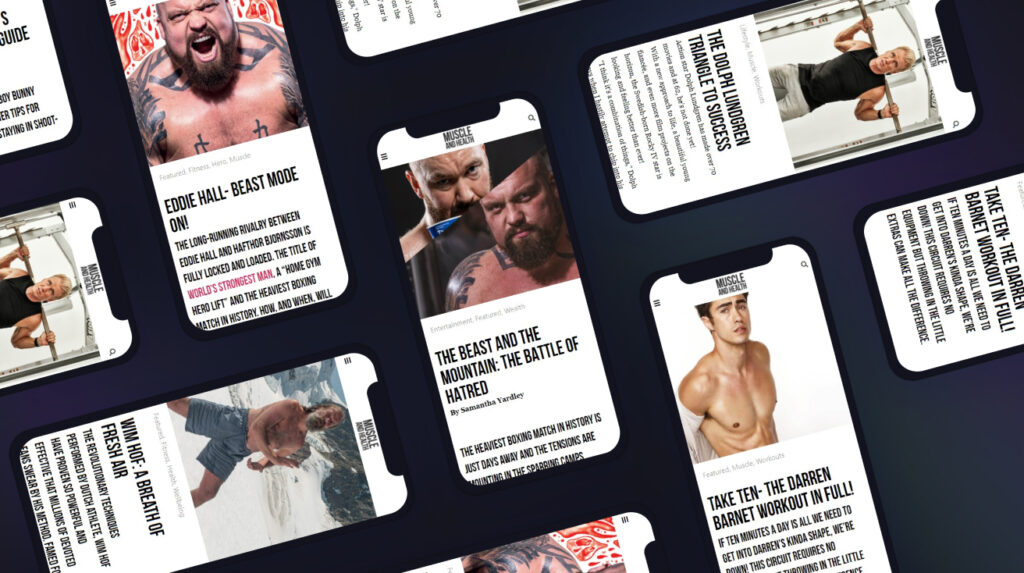 get all the latest mucle, health and wealth news delivered straight to your inbox