The popularity of documentaries has soared in recent years, with audiences gripped and intrigued by astounding real-life stories, eye-opening behind-the-scenes footage and meeting interesting – and at times peculiar – individuals.
Ever since the release of The Last Dance on Netflix back in 2020, arguably one of the finest sports documentaries to be made – there has been an influx of powerful and insightful features within the sporting realm. All of these are available to watch on streaming platforms right now.
But with a plethora of these stories floating around in the sports documentary abyss, which ones deliver that satisfying punch and leave you wanting more?
Before moving on, let's lay down some fundamental ground rules for this list.
We are using the term sport broadly on this occasion, so if the documentary involves some form of physical, mental or emotional tie to sport, it's in.
Feature film documentaries pass, but biopics dramatizing the life of sporting icons do not make this list.
Without further ado, here are the best sports and fitness documentaries to stream today!
The Fittest (2020)
IMDb score: 7.4
If you haven't heard of CrossFit yet, where have you been!?
The concept of performing a wide variety of functional movements at high intensity, CrossFit's popularity in the fitness community, has skyrocketed since its roots in the US spread globally across 120 countries.
The Fittest, a 2022 documentary directed by – you guessed it – a pair of CrossFitters, was the first standalone feature documenting the CrossFit Games following mass staff cuts at HQ of around 100 people in 2019.
Showcasing the lengths that elite CrossFit athletes go to to compete for the ultimate prize, this story of the 2019 Games provides a more intimate and personal touch, going behind the scenes with the iconic pair of Matt Fraser and Tia-Clair Toomey.
Of course, a hefty dose of slow-motion action sequences is also sprinkled amongst the athlete journeys. Expect barbells to be slammed to the floor, pecs and biceps to ripple, and shirts to be removed mid-workout.
This documentary truly portrays the pinnacle of modern-day fitness.
Where to stream: Amazon Prime Video, Apple TV
Icarus (2017)
Rotten Tomatoes score: 92%
The beauty of Icarus is its unpredictability. Early in the story of Bryan Fogel's quest to uncover the truth about doping in sports, a chance meeting with a Russian scientist signals a seismic shift in the tale.
Without wanting to lift the lid on what is a maddening and frankly unbelievable story, let's say this documentary addresses and has a direct impact on the corruption in sports at the highest echelons.
A winner of seven accolades, including Best Documentary Feature at the 2018 Academy Awards, Icarus combines sport, politics, journalism and power into the perfectly blended cocktail of documentary goodness.
Is anyone for a doc-tail?
Where to stream: Netflix
14 Peaks: Nothing Is Impossible (2020)
Rotten Tomatoes score: 91%
Two words. Nirmal Purja. You will know him as Nims by watching this epic documentary, which genuinely displays the strength of human will, grit and desire.
Released in November 2021 on Netflix, 14 Peaks takes an impossible challenge and makes it look like a stroll along the beach.
The documentary benefits from excellent editing, which is made even more admirable considering it was compiled from over 100 hours of footage from climbs and interviews stretching from April to October 2019.
Nims' quest is simple (ish) in this uplifting and inspiring story. To climb all 14 eight thousand peaks within a record time of under seven months.
Combining loveable characters, a stunning backdrop and a phenomenal music score, you will be googling your nearest mountain hike within seconds of the credits rolling.
Where to stream: Netflix
The Last Dance (2020)
Rotten Tomatoes score: 97%
Often considered the G.O.A.T when it comes to sports documentaries, you likely greeted Mondays in lockdown with glee when Netflix dropped two episodes per week throughout April and May 2020.
The Last Dance is the story of the iconic Chicago Bulls, predominantly focusing on the life and career of Michael Jordan, but with frequent additions from a stellar cast including Scottie Pippen, Phil Jackson and the eccentrically bonkers Dennis Rodman.
The action regularly flips between the 'Present Day' of the 1997/98 season, the highly successful period which preluded the last hurrah, and never-before aired footage of Jordan's rise to worldwide icon status.
Perfectly chronicling and intertwining an inspiring journey of teamwork, grit and emotion. The biggest compliment you can pay The Last Dance is that the development of the characters away from the court is just as entertaining as watching one of the Bulls' more unsung heroes, Steve Kerr, sink the winning shot against the Utah Jazz in Game Six of the 1997 Finals.
Add to this a soundtrack that starts with a bang and never lets up throughout the 500-minute plus runtime, famous cameos, slick editing and…..right, that will do.
Just go and watch it.
Where to stream: Netflix, ESPN
Free Solo (2018)
Rotten Tomatoes Score: 98%
At times jaw-dropping. Occasionally hilarious without intention. Frequently emotional. It is always gripping.
Even after multiple watches of Elizabeth Chai Vasarhelyi and Jimmy Chin's Oscar-winning documentary, there is a strong chance your Fitbit will alert you of an elevated heart rate as the quirky Alex Honnold, the star of this climbing epic, attempts an unthinkable feat of bravery and skill.
Honnold's unique personality and stance on life's essential values could win an Oscar. But throw in his scaling Yosemite National Park's El Capitan without a harness, rope or any other equipment, and it's easy to see it collected the Best Documentary Feature at the 91st Academy Awards in 2019.
Props must go to Chin and his team of experienced climbers. After visibly battling the ethical ramifications of the worst outcome captured during filming, they shot over 700 hours of footage on 12 cameras. The result is one of the most harrowing, visually stunning and mind-blowing documentaries, which is guaranteed to disintegrate your fingernails and blow your mind.
Where to stream: Disney +
Untold: The Girlfriend Who Didn't Exist (2022)
IMDb score: 7.2/10
If you've ever seen the 2010 documentary/indie film Catfish, you may get deja vu when watching. This story's protagonist, Manti Te'o, see's his career plunged into disarray following an online relationship with a woman he never met.
Initially, Te'o takes us through his journey of how an aspiring American footballer from Hawaii went on to being drafted by the San Diego Charges in the 2013 NFL Draft via Notre Dame.
During this period, he struck up a relationship with 'Lonny Kekua' on Facebook, which blossomed over time. However, this documentary came into the spotlight when, in September 2012, it was revealed that 'Kekua' and his grandmother died on the same day.
Without wanting to give the whole story away, your jaw will likely have to be removed from the floor during particular scenes and reveals. The sporting world has witnessed countless high-profile scandals over the years, but this is one that likely slipped under the radar, until now.
Where to stream: Netflix
Bobby Robson: More Than a Manager (2018)
IMDb score: 8.1/10
A poetic and heartfelt love letter to one of England's most loved and decorated football managers, More Than a Manager perfectly bottles up the man that was Sir Bobby Robson, releasing his story in a flowing and moving documentary.
Following the same format as The Last Dance, we follow the life of Robson, native to County Durham but who managed in five different countries during his time in Spain with Barcelona in 1996.
Key flashpoints and milestones in his personal life, playing career and highly successful stint in the dugout are pieced together, peaking with his run to the semi-finals of the 1990 World Cup with England.
Featuring appearances from Pep Guardiola, Alan Shearer, Ronaldo (the Brazilian one) and Jose Mourinho, this doc is a must for football fans. The final line from Mourinho perfectly sums up the tone.
"A person only dies when the last person who loves him dies."
Where to stream: Amazon Prime Video
Related Articles
The best shows to watch on Netflix in January 2023
The 5 Dance Fitness Trends You Need to Check out in 2022
An Emma-pire to Be Reckoned With
New Research Reveals England's Unhealthiest Areas
THOR BJORNSSON: "EDDIE'S CLAIMS ARE HILARIOUS! WHO'S BETTER? OBVIOUSLY ME!"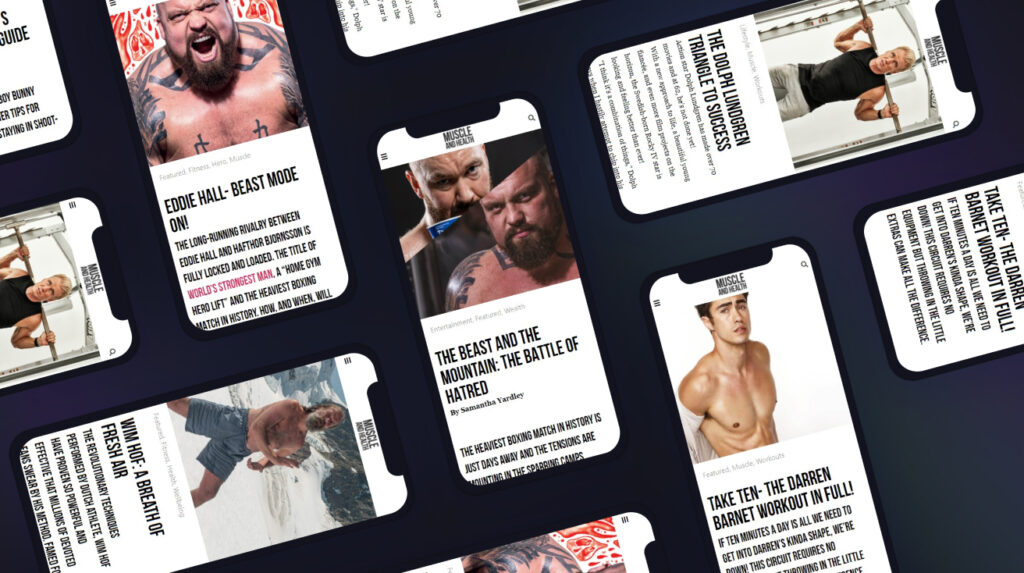 get all the latest mucle, health and wealth news delivered straight to your inbox