By Danni Levy
When Eddie Hall tore his bicep in training, the heaviest boxing match in history took a back seat. Disappointing for many, not least for his opponent Hafþór Björnsson, who will have to wait at least another six months before facing his biggest rival.
Sure, someone had to fill Eddie's boots, but when Devon "No Limits" Larratt stepped into the ring, viewing the prospect of fighting a 6'9" giant as a chance to "grow as a human being", the sports world was left speechless.
My recent chat with Eddie was nothing short of hilarious. His lifelong penchant for taking down the man he "genuinely hates" is no secret, and I'd expected Thor to throw an equally unapologetic punch. Cue an afternoon Zoom with the Icelandic Game of Thrones star to talk all things Devon, Eddie, and getting into the most impressive shape of his life.
"I've been in Dubai for almost five weeks ahead of my fight on September 18th," says the former World's Strongest Man. "This will be my third official fight in preparation for my main opponent and the reason I started this boxing journey- Eddie Hall.
"When Eddie announced he'd torn his bicep and we had to postpone the fight until 2022, of course I was disappointed. I've been training so hard for that specific fight, but there's nothing we can do, he's injured, so we had to move forward and reschedule.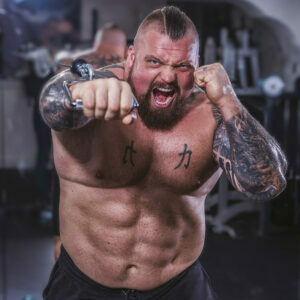 Catch up on Eddie's original candid interview in EDDIE HALL: BEAST MODE ON!
Click here to grab a free digital copy of Muscle and Health, including Eddie's cover shoot.
"On the plus side, I can now train more, prepare more, and get more experience under my belt. I opted to keep my fight date for September 18th to gain additional competitive experience. When you spar, you're not really competing. You learn far more from stepping into the ring in front of the crowd, and I've always performed well under pressure- I thrive on the audience. After a competition, you can also analyze your mistakes and rectify them in training so that next time you're in the limelight you can perform better."
Thor's commitment was admirable, but I questioned whether a fight against a man 14 years his senior who literally only fights with his arm could really be viewed as a serious event.
"I take any fight seriously," says Thor. "I don't care who my opponent is, I'll always bring my best game to the table. Obviously, Devon doesn't have a lot of experience, but I've only been boxing for a year and a half. I appreciate I've had a lot more time to prepare than him though, including having fought two experienced fighters in the ring.
"Regardless, Devon is a serious athlete. He's willing to go all in and bring whatever it takes to be as good as he possibly can on the night.
"I think this match is going to be great for me because with Devon there really are no limits. I've had no insight into his training or ability whatsoever. He could be great, he could be okay, or he could not perform well at all. I really have no clue. I don't know his style. I don't even know if he's right-handed or left-handed. And that's the beauty of it."
Fighting a rookie blind is one thing, but I couldn't help but question Thor's public desire to fight the
king of the ring
, Tyson Fury.
"I know I'd get my ass beaten against Tyson Fury today, but if I was offered that opportunity, I would not turn it down," he says.  "The opportunity to fight someone that great would be an honor for me and I just couldn't say no to that."
"But I would get my ass beaten, that's for sure. I'd need far more experience and a few more years under my belt to stand a chance against someone that good."
At 6'9" tall, Thor towers over his opponent and currently weighs around 149kgs.
"I don't really weigh myself, but the last time I did, I was 149kgs," he says. "I'm not getting heavier, that's a fact. I don't really have a plan for fight weight. I just want to be in good shape, feel good, and obviously be able to last the full six rounds if necessary.
"Boxing is a lot about technique. I'm sparring against a guy called Martin Bakole here in Dubai. He's ranked number 14 in the heavyweight division currently. Martin has sparred with guys like Joshua. I'm lot stronger than him, but he's beating the living shit out of me in training. Strength can get you so far, but technique and footwork are what gets you over the line."
STACKED UP- THOR'S PLATE
"When I was competing in the World's Strongest Man I was eating six to seven meals a day and hitting around 10,000 calories,"
"My meals were big, very big. I ate a lot of fatty cuts of steak and a lot of rice. I would use tricks like adding dextrose or butter to my rice to increase the calorie and fat content, or grind my food up to make grilled patties that were easy to chew and pack into my system. It was all about getting immense amounts of food into my body without suffering too much."
Thor insists that despite the colossal amounts of food his stomach was forced to endure, he maintained a healthy lifestyle whilst competing as a strongman.
"I would think about my diet a lot," he says. "I was on the Vertical diet when I was doing Strongman, the diet founded by Stan Efferding, a great guy. There was a lot of steaks involved and a lot of rice and greens with each meal. I was eating plenty of things like spinach, carrots, peppers. And I felt okay, but because of my body weight, I never really felt great. No one feels great at 205kgs! It doesn't matter if you're strong or whatever. Just being that heavy takes a lot of energy out of you. I gained weight very fast."
"I would eat so many calories to try and gain weight that I would often eat and then fall asleep on the table. I would pass out. I was just that exhausted from eating and training."
"Of course, having transitioned to boxing, my diet has changed a lot. I'm eating a lot less, very clean."

Thor's Daily Food Intake
Meal 1: Two whole eggs, 50g oatmeal, 50g blueberries, 220g chicken. 
Meal 2: 220g steak, 140g white rice, 100g spinach or another green veg. 
Meal 3: 230g chicken, 200g potatoes, 100g beans. 
Meal 4: 230g salmon, 100g rice, 100g greens.
Meal 5: Thor's own brand Skyr yogurt, 30g peanut butter, 1 scoop protein.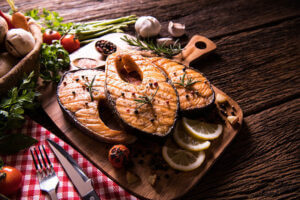 HOW DOES THOR'S MENU ADD UP?
CALORIES: 2,604
PROTEIN: 300g
CARBS: 187g
FATS: 85g
Cutting his calorie intake by almost 75% seemed a breeze for the Icelandic champ, as did making the necessary adaptations to his training regime.
"My training changed a lot throughout my Strongman career," he says. "My coach changed my plan every six to twelve weeks. I was always able to make my lifts and never failed during training. There was a lot of super-heavy, low rep work involved. For off-season I'd add more reps to my lifts. I'd work from two reps to a maximum of ten.
"I used to do all my PBs on competition day. I'd break all the records in the competition. Some people perform well with the crowd, some people perform well without the crowd. I love the crowd; they help me to gain so much more confidence. That's probably why I was so dominant and won show after show. Very few strongmen can say they literally won every single high-profile event, but I did.
"I never thought I'd start boxing in a million years. I guess it's something that happened because I wanted to beat Eddie Hall up, as well as finding a way to move on from Strongman. I was happy with my career, but I'd spent more than a decade in the sport and won everything I could. I wanted to start thinking about my health and ensure I would be there for my children in the future. I knew for a fact that weighing 205kgs wasn't great for my heart. When I was given the opportunity to fight Eddie Hall, I thought to myself, 'Well, if the money is right, and if he's down, I'm definitely down.' Things started to move, and we got the fight.
"I'd never boxed before in my life, but I'm a fast learner. Right now, I'm mainly focusing on boxing technique and endurance work. I'm doing no lifting whatsoever, because I don't need more muscle, I don't need more strength. I need to learn how to box better. I need to learn how to move better in the ring. I need to learn how to just get better as a boxer. That's why I'm spending so many hours in the ring, not in the weights room. I'm surprised I've maintained such an athletic muscular physique, because I'm not lifting at all. I just do push-ups and sit-ups. I've lost a lot of weight, but I still have muscles on me, which is great."
Having documented Eddie's doubts over Thor's ability to win World's Strongest Man in the absence of his retirement, I wondered what the man himself would have to say.
"The whole world knows Eddie and I don't get along," he says. "Some people just don't get along in life and that's okay. I don't need to get along with him. And that's fine, but I don't necessarily hate the guy, I wouldn't go that far. I mean, I do dislike him. He said some nasty things towards my team and my family. I do really dislike the guy and I really want to knock him out. But to hate someone, you have to go really deep and that would just take energy from me. I'm not thinking about the guy every single day, I'm just doing my thing; training and focusing on myself. If I'm too worried about him and hate him too hard, that's going to just take energy from me. And then he's winning. I don't want that.
"Eddie's claims are hilarious. Let's look at his career and let's look at my career. How many titles internationally has he won? One. He competed for almost a decade, so why only one? Why didn't he win any other prominent show? How many times have I won in my career? More than I can count on two hands. Who's better? Obviously, me.
"His question mark over my world record deadlift is also laughable. I mean, I have more records than he could ever have. There's no need for me to prove anything. Everything was filmed, everything was weighed. There was a high-class referee there. The reason why it happened under controlled circumstances was because of the COVID pandemic; it was out of my control. I was supposed to fly to Dubai and perform it at the competition, but that got cancelled. When I was offered to do it on home turf, I thought to myself, 'Well, I'm going to entertain the people. I'm going to do what I can,' but I still wanted it to be sanctioned. We had four times World's Strongest Man Magnús Ver Magnússon refereeing the lifts. People could see everything. It was live streamed throughout the world with millions of people watching. We could be seen weighing each and every plate, because I wanted to make sure that it would be an official record. It's now in the Guinness World Record Book as the heaviest lift ever. So that's that."
Thor has a reach advantage over Eddie, but stands by his rival's claims that technique could surpass that in the ring.
"Reach is not everything, but combined with the right technique and footwork, it definitely helps," he says.
"Initially, I thought I would fight Eddie and then wave goodbye to boxing. But the longer I stay in the sport, the more I'm enjoying it. In the beginning it was extremely hard because you get punched in the face during sparring and it's extremely painful at times and I wasn't used to it. You get black eyes and a runny nose. But the more you do it, the more you get used to it. For the first six months my hands were sore every single day. I thought my fingers were going to break. And my wrists, oh my God. I was constantly asking my coaches why they hurt with every single punch."
Click here to find out what Eddie had to say in your free digital copy of Muscle and Health.
Having dominated the movie scene with ease, Thor says he wouldn't rule out merging his new-found passion for boxing with a renewed film role.
"Hopefully, whenever I decide to move on from boxing, I can begin a new career as an actor," he says. "Combining performance and serious sport is not easy as both careers are physically and mentally time consuming. Sometimes you're filming for twelve hours and then you have to train. For that reason, I've turned down a lot of movie opportunities, but that will change. I did Game of Thrones, because I felt like I just had to. I couldn't say no to that opportunity. If something huge like that came up again, it would be very difficult for me to say no, but right now I don't want anything to disturb me prior to my fight against Eddie. Sometimes you must focus on one thing at a time to in order to be able to perform at your best.
"After the fight with Devon on September 18th, I'll go home for a week to celebrate my son's birthday. He's going to turn one on September 26th. I'll go home for a week, celebrate his birthday with family and friends and then go back to training."
Thor has made the ultimate pledge to help see as many people get fit and healthy as possible.
"I would love to inspire as many people as possible and to be a good influence. That will begin with my new yogurt range and who knows what the future holds."
Instagram: @thorbjornsson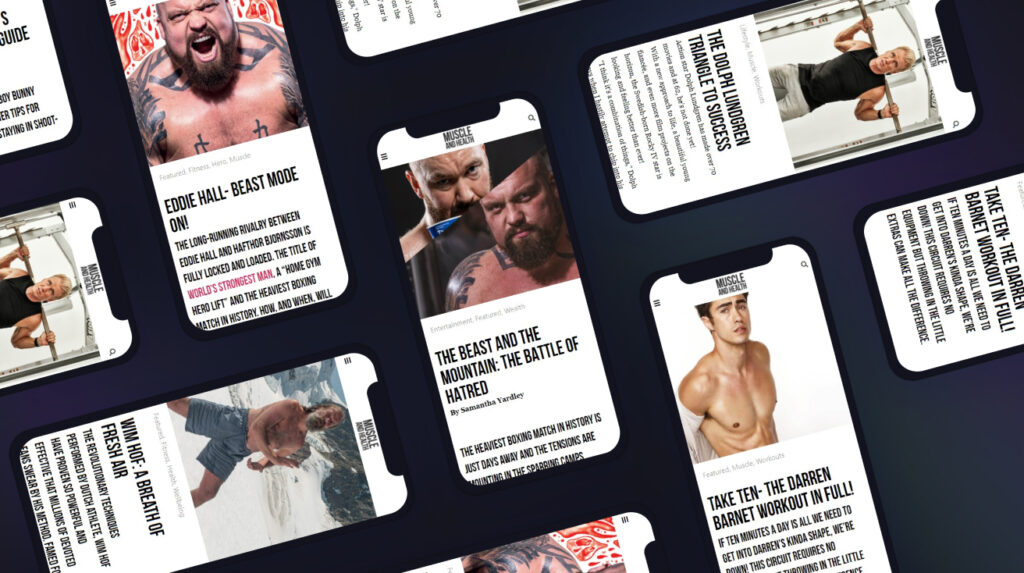 get all the latest mucle, health and wealth news delivered straight to your inbox