Sorry to break the news. Summer is over.
But, in Fall's crisp embrace, a new sensation sweeps through the air. 
The season of transformation is here, where nature's palette reveals its most dazzling hues, leaves dance in the wind, and a new chapter emerges on the horizon: the fall sports season.
For those who embrace the euphoria of running, autumn presents an opportunity to conquer new horizons, push personal limits, and bask in the breathtaking beauty that engulfs the world. In other words, there's no better time to stomp the pavement and go outdoors.
But, to embark on an autumnal assault of mileage, budding runners must first equip themselves with the best autumn running gear the market offers.
In this ultimate fall running gear guide, Muscle and Health will explore the essential clothing, shoes, and accessories that will ignite your passion for running, propelling you toward greatness as the year trickles into its final months.
Best Running Clothing for Autumn 
Every stride and every breath requires comfortable athletic clothing that resonates with the pulsating energy of the earth beneath your feet.
To truly get the most from your fall running, your choice of clothing must embody performance, comfort, and style. It doesn't hurt if it looks good too!
Thermal Compression Base Layers
Gauging the temperature during unpredictable autumn months can be tricky. Hence, as autumn's gentle embrace gives way to fleeting gusts of icy wind, insulating yourself with thermal compression base layers is essential.
Crafted with innovative technology, these garments safeguard your body from the potentially chilling bite of the season while enhancing blood circulation for unrivaled performance.
Here are some of the best thermal compression base layers you can use now.
Falke Long Sleeve Top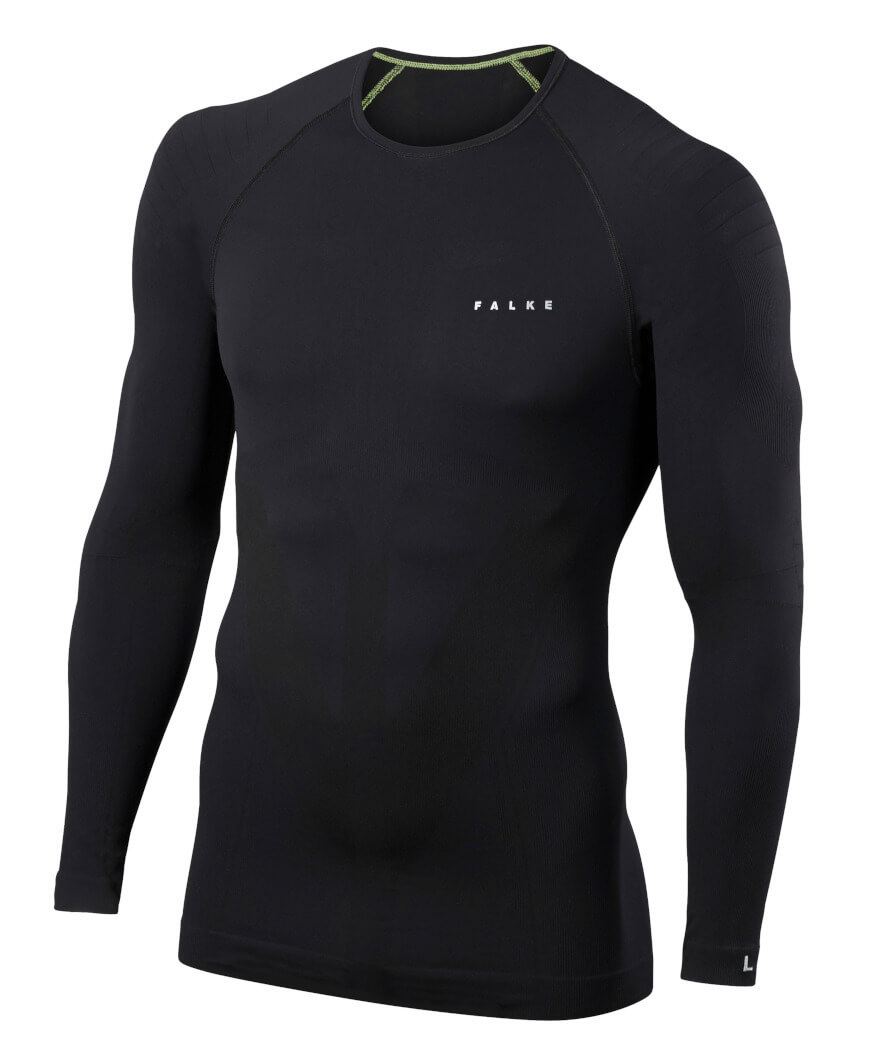 German brand Falke describes itself as a daydreamer, something it's unquestionably proud of, emphasizing high-quality materials and handcrafted perfection.
Among its range of socks and hosiery, underwear and snowsports attire, Falke offers an awe-inspiring mix of comfort and performance within their base layers, all of which will elevate your experience to new heights, providing the perfect foundation for your sporting conquests.
The carefully crafted blend of 69% polyamide, 26% polyester, and 5% spandex presents a close-fitting garment that balances unrestricted movement and compression.
Plus, its remarkable temperature regulation capabilities elevate the sporting experience to new heights, keeping any autumnal athlete comfortably warm while preventing the appearance of cold sweat patches. In turn, you can enjoy uninterrupted focus throughout your runs.
Montane Dart Thermo Zip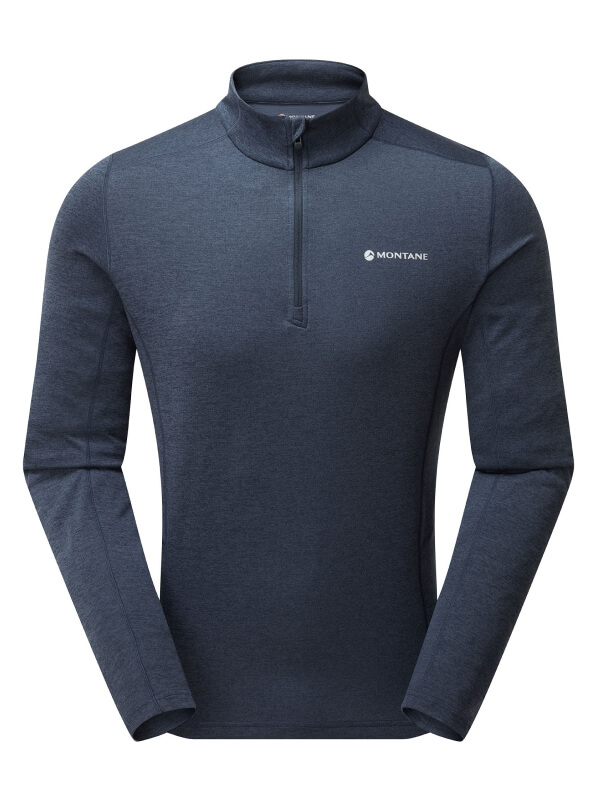 Buy here
The Dart Thermo Zip Neck serves as a perfect winter base or standalone layer between seasons, utilizing the brand's Apex Thermo Ecox—a remarkable combination of recycled nylon (88%) and spandex (12%) fabric, to provide both eco-credentials and durability that are equally impressive.
But the unrivaled level of comfort sets this garment apart from the rest. The luxuriously soft brushed interior feels gentle on the skin, and the fit was impeccable for our testers, sitting closely against their skin without feeling too tight. The arms and torso's length are generous, and the seams are flat-locked to prevent irritation, ensuring unfettered movement.
It's relatively warm, making it a perfect garment for running in single-digit temperatures. It's also an excellent foundation for running in sub-zero conditions with an outer layer. The snug fit of the arms and collar prevents cold air from sneaking in. If you feel hot, the 1/4 zip is a helpful feature to ventilate and regulate your body temperature.
Soar Merino & Silk Base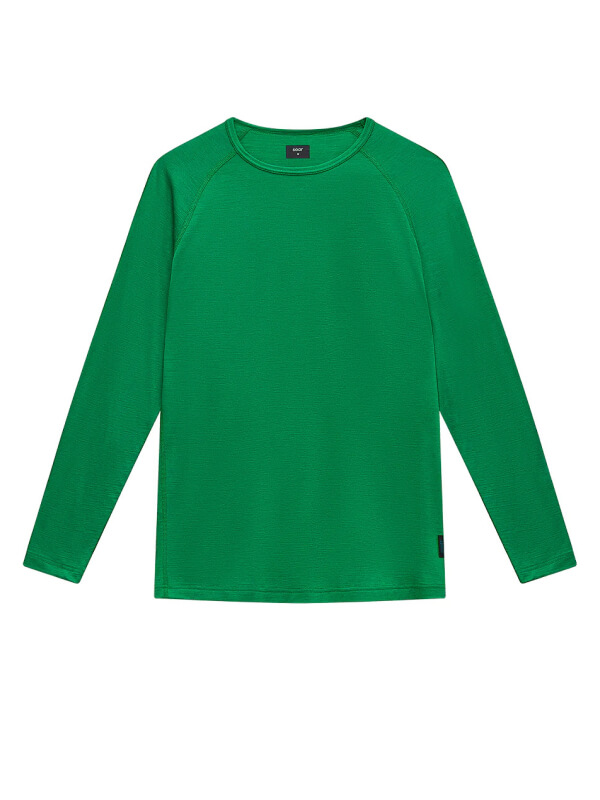 Buy here
The base layer created by Soar boasts an astounding blend of Merino wool and silk fabric, delivering an unparalleled level of comfort that feels even better than it sounds. The high-quality Merino wool fabric's natural resistance to odors and wicking properties remarkably keep sweat away from your skin.
Soar offers this base layer in a T-shirt, and a long-sleeved shirt so that you can select one that fits your preference, and the fit isn't too snug, enabling you to use it as your sole layer during milder weather. 
Overall, this base layer embodies comfort, function, and versatility, making it the perfect option for athletes seeking optimal performance.
Moisture-Wicking Fabrics
Sweat is the enemy of runners during all seasons, and autumn is no different. Opt for moisture-wicking shirts and shorts that whisk away perspiration this fall, keeping you dry and focused throughout the miles. 
With every stride, these fabrics become your armor against the relentless forces of nature.
Adidas Terrex Agravic Pro Trail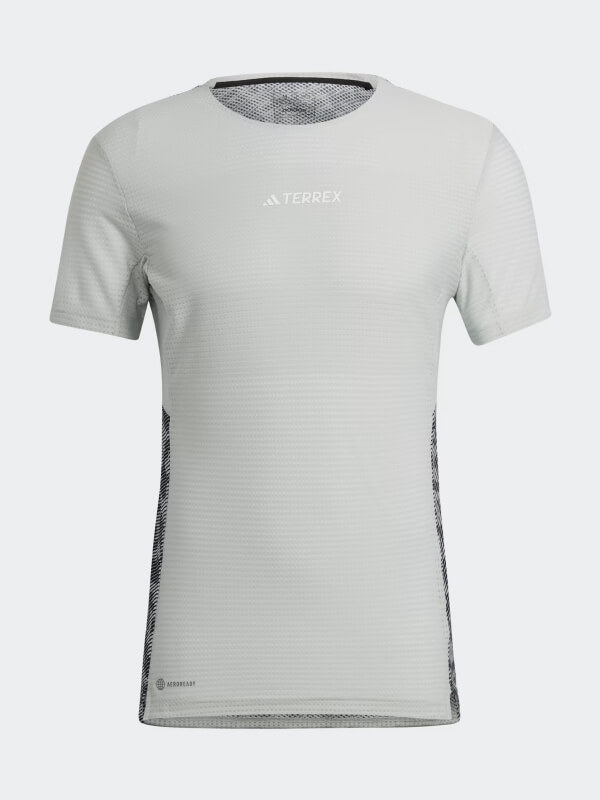 Buy here
Adidas introduces a sustainable gem with this t-shirt, proudly crafted from 100% recycled polyester mesh, championing its environmental commitment. This innovative fabric comprises 50% Parley Ocean Plastic sourced from beaches and coastal communities before it can harm our precious oceans.
Designed specifically for trail running, this t-shirt is exceptionally lightweight and boasts outstanding breathability, ensuring you stay relaxed and comfortable throughout your adventures.
Adidas has also incorporated a lighter fabric on the back, strategically facilitating airflow, even when wearing a running bag or hydration pack. This thoughtful feature enhances ventilation, preventing overheating during intense workouts.
For a sleek and streamlined appearance, the t-shirt features a slimmer fit. Adidas has thoughtfully included reflective detailing across the chest and lower back to prioritize your safety in low-light conditions, ensuring you always remain visible to others.
2XU Aero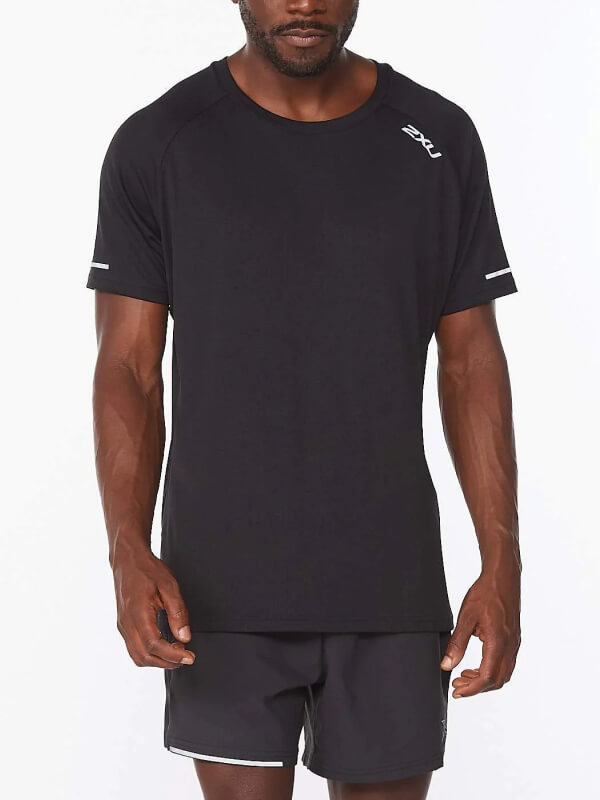 Buy here
2XU, a performance clothing specialist from Melbourne, Australia, is renowned for its triathlon and running gear expertise.
The Aero t-shirt by 2XU is ingeniously crafted to keep you cool and comfortable during workouts. Utilizing innovative double-knit technology in the main panel, the shirt effectively wicks sweat away from the skin with its inner layer. In contrast, the outer layer disperses moisture across the fabric's surface.
The Aero shirt features a strategically positioned mesh back panel to enhance breathability, fostering optimal airflow.
With raglan sleeves, this shirt offers a seamless and chafe-free experience around the shoulders. This ergonomic design proves invaluable during intense gym workouts, running with a pack, or any exercise involving rigorous arm movement.
Running enthusiasts will appreciate the thoughtful addition of reflective detailing across the back, chest, arms, and sleeves, providing 360-degree visibility and providing safety in low-light conditions.
Impeccably designed to cater to your performance needs, the 2XU Aero t-shirt is a reliable companion for athletes seeking high-performance gear with attention to comfort and functional details.
Montane Dart Lite

Buy here
The Dart Lite by Montane earns our eco-conscious admiration as it is made entirely of recycled polyester, and we are impressed with its outstanding performance.
The shirt's fit is true to size, but there is minimal slack around the midriff. The lightweight fabric was an excellent cooling companion, keeping us comfortable during warm runs. The comfort factor was further enhanced by the flatlock seams.
While the moisture-wicking and drying speed of the shirt is reasonable, we have experienced quicker drying in other comparable products.
It's worth mentioning that hygiene odor control is an added bonus, shining a light on the brand's attention to detail and functional features. The Dart Lite is a reliable option for those seeking comfort, performance, and eco-consciousness in their activewear.
Lightweight Waterproof Jackets
When the heavens open—signaling the arrival of autumn showers—donning a resilient, lightweight waterproof jacket within your wardrobe is essential.
Here are three of the best to shield you from the inevitable downpours without sacrificing breathability.
Inov8 Ultrashell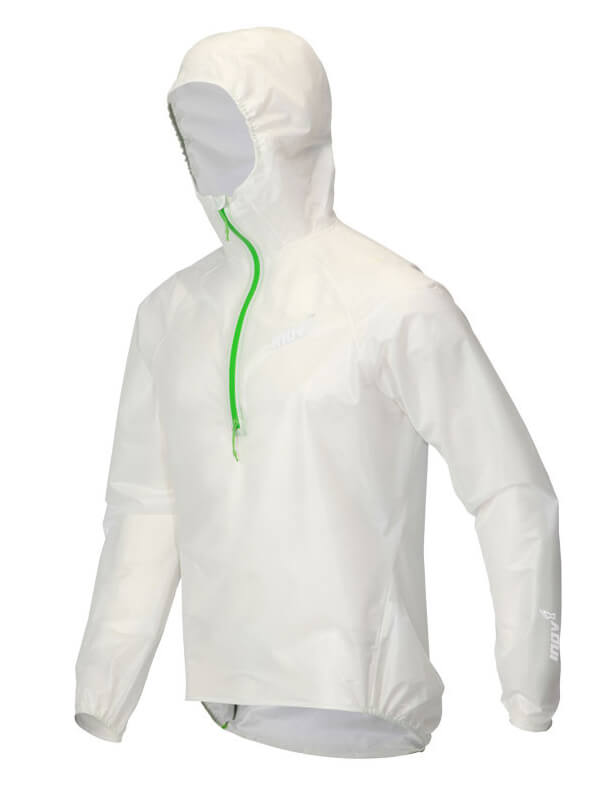 Buy here
Weighing in at under 100g, the Ultrashell impresses with its exceptional packability. Crafted from a 2.5-layer fabric with taped seams, this jacket is waterproof and breathable. Its central zip opens at both ends, allowing for cooling air intake when needed. The see-through construction of the coat ensures your race number remains visible at all times.
While its primary focus is meeting pre-race requirements and accommodating necessary items, the Ultrashell is made to an exceptionally high standard. Surprisingly, it folds up to nearly nothing, making it easy to carry, yet it still offers a reasonable storage capacity when worn.
Ideal for race situations and meeting regulations, the Ultrashell combines functionality, practicality, and high-quality construction, ensuring you're race-ready while keeping your gear lightweight and compact.
Montane Minimus Stretch Ultra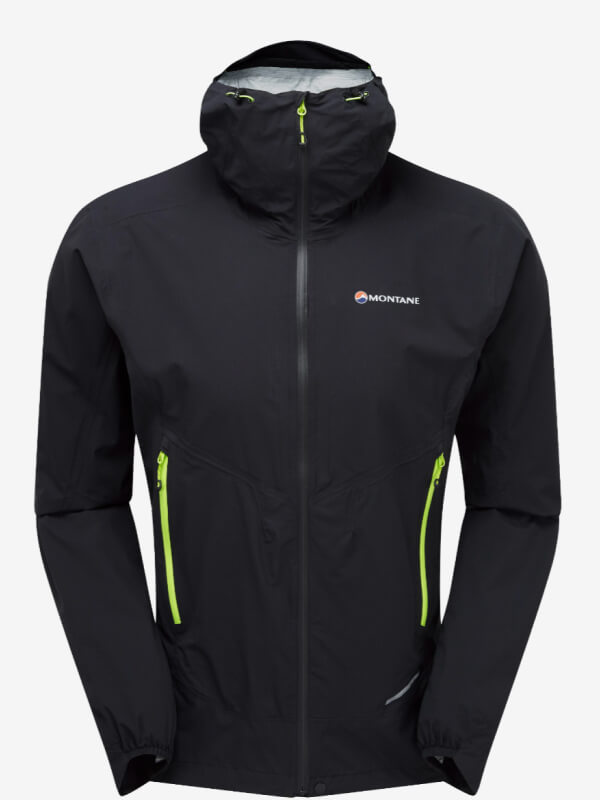 Buy here
Montane jackets are renowned for their top-of-the-mountain design, and this one is no exception. Crafted from a 20 Denier Pertex Shield 2.5-layer fabric, it strikes the perfect balance between lightweight construction and complete waterproof protection, making it an ideal companion for exploring in harsh weather conditions.
Functioning as an excellent ventilated barrier against any weather elements, this jacket can withstand whatever nature throws your way. It conveniently stuffs into its own hand pocket, making it incredibly easy to store and carry while you're on the move. Also, it boasts excellent reflectivity for enhanced visibility. Despite its impressive performance, it weighs approximately 200g, ensuring it won't weigh you down.
The Montane jacket is the epitome of versatility and durability, designed to provide optimal protection and comfort during outdoor adventures at the mountain's peak.
Salomon Bonatti Trail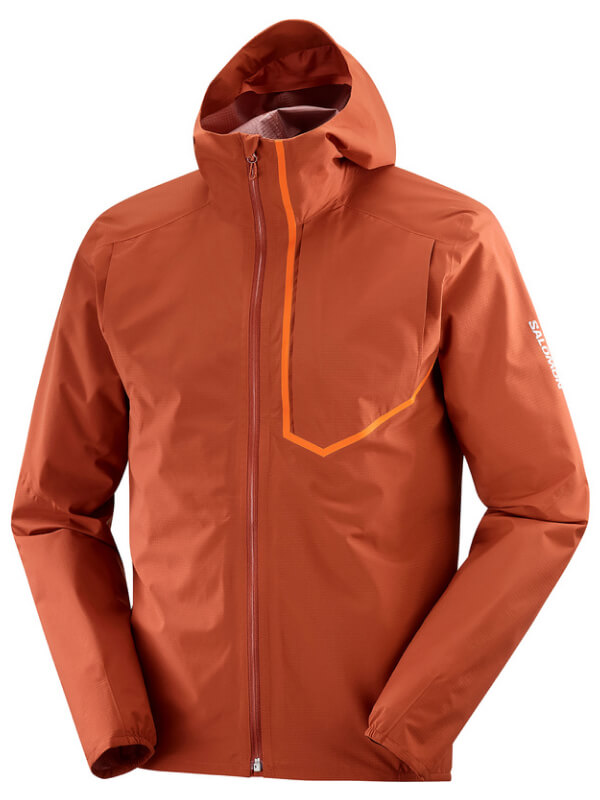 Buy here
Equipped with Pertex Shield 2.5 20k/20k technology, this jacket offers unrivaled protection against extreme weather conditions. Thanks to the efficient airflow system, you'll experience a dry and breathable sensation on the inside. 
Despite its robust performance, this lightweight jacket easily packs down, conveniently fitting into the palm of your hand.
You get complete temperature control at your fingertips, including a full zip and vents on the back. The overall fit of the jacket is quite impressive. But, we must note that this garment is not primarily designed as a waterproof jacket. Instead, its main focus is shielding you from harsh winds for optimal comfort.
The combination of advanced technology, compact portability, and wind-resistant properties makes this jacket a reliable companion for outdoor adventures. So, you can enjoy your activities while keeping the elements at bay.
Best Running Shoes for Autumn 
Autumnal trails and routes are ready to be conquered—you only need the appropriate footwear to keep you in top form.
To stride towards new frontiers and unleash your true potential, your feet must be shrouded in running shoes that blend innovation, support, and unrivaled comfort. Here are some of the best for this time of year.
Saucony Peregrine 13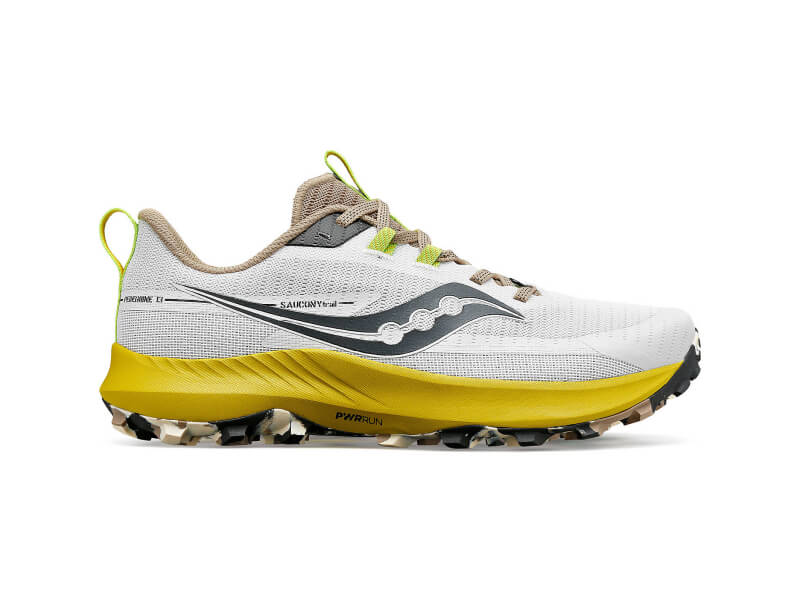 Buy here
With a long-standing reputation in the trail running world, the Peregrine is undoubtedly one of the first shoe choices for off-road enthusiasts. Its proven comfort, agility, and outstanding traction have earned popularity, making it a reliable option for tackling a wide range of terrains.
What sets the V13 apart from its predecessors is its upgraded midsole foam, which provides an even thicker slab of cushioning. This enhanced feature takes its capability to new heights, making it ideal for leisurely days, long endurance runs, and even competitive races on challenging terrains.
The Peregrine v13 is the epitome of a versatile and high-performance trail running shoe designed to deliver optimal comfort and support for runners who want to conquer any course.
La Sportiva Mutant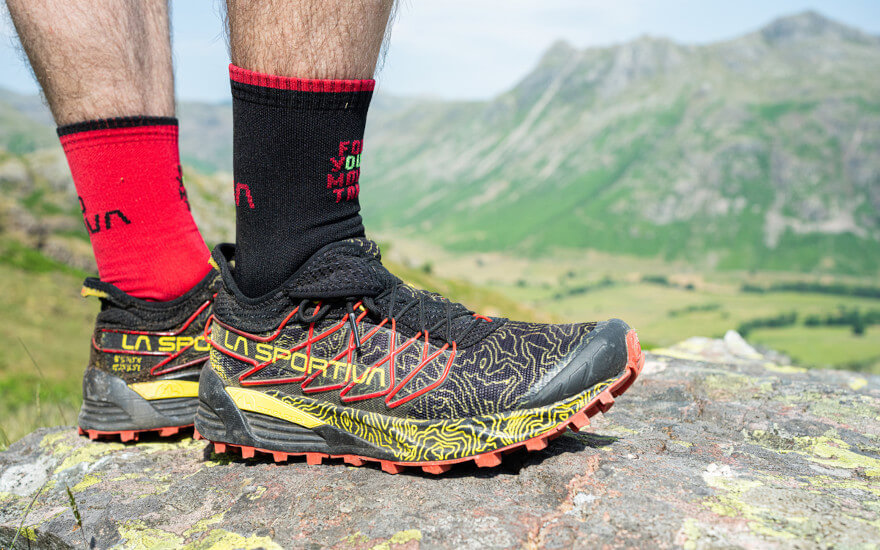 Buy here
Designed for stability and versatility, this trail and fell running shoe is suitable for tackling various off-road terrains—from muddy hills and mountains to fields and parks. The ultra-sticky rubber sole, equipped with well-spaced 6mm deep lugs, optimizes grip on slippery surfaces such as mud and scree.
But, if you anticipate wet or muddy conditions, you might benefit from deeper studs like those found on the X-Talon or Mudclaw G260. Conversely, a less aggressive sole like the Mutant might be more comfortable for mixed terrain or summer hill running in dry conditions. Plus, it's worth noting that shoes with "sticky rubber" or softer rubber outsoles provide excellent traction on wet rock, making them a wise choice for such conditions.
Whether you're an experienced off-road runner or just starting, this shoe's superior stability, traction, and versatile design make it an excellent choice for confidently tackling various terrains.
Nike Pegasus Trail 4 GORE-TEX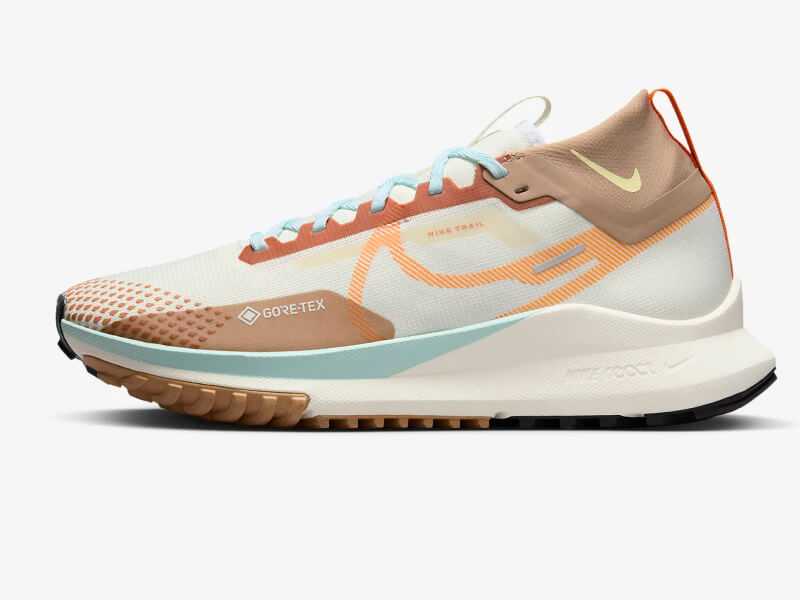 Buy here
No matter the weather conditions, the Nike Pegasus Trail 4 GTX is the ultimate waterproof trail shoe that ensures dryness and comfort during your daily runs.
It offers a perfect balance of responsiveness and support, ensuring your feet stay energized without experiencing fatigue. This running shoe offers style and agility and features a waterproof GORE-TEX layer and ankle gaiter to ensure your feet stay dry throughout your run. There's no need to avoid puddles, as this shoe empowers you to fearlessly run through any wet obstacles that come your way.
Plus, if you're seeking a shoe that seamlessly transitions from road to trail, the Pegasus Trail 4 GTX from Nike is the ideal choice.
Best Running Accessories for Autumn
In autumn running, accessories serve as critical components for a successful transformation.
From smart watches to reflective gear, all the equipment we have carefully selected is designed to offer you the final touches to create the perfect running conditions.
Coros Pace 3 GPS Running Watch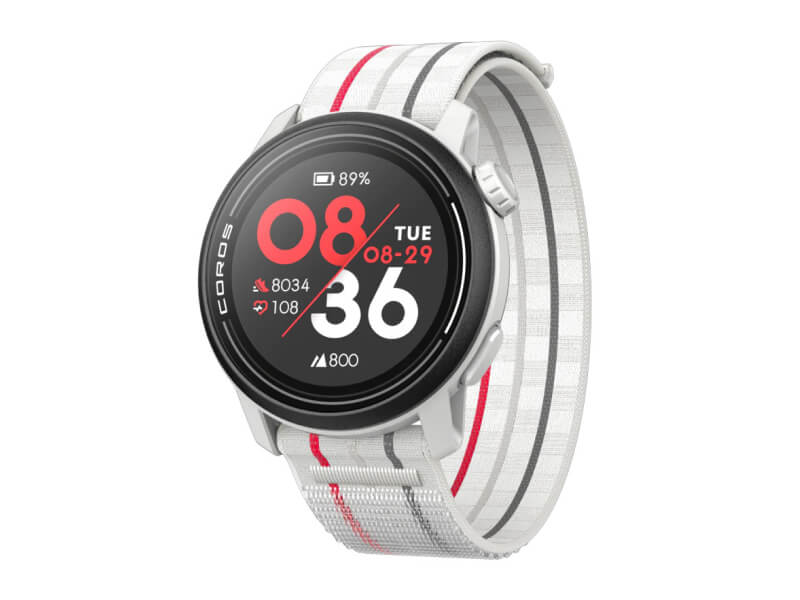 Buy here
After three years of anticipation, the latest model of the Coros Pace 2 has finally arrived, bringing a host of exciting upgrades. One notable improvement is the enhanced heart rate reader, now equipped with 5 LEDs and four light-detecting photosensors that function similarly to cameras. 
Here, the battery life has been significantly extended, offering 28 days of daily use and 40 hours of continuous GPS tracking (compared to 20 days and 30 hours in the Pace 2). 
The Coros Pace 2 boasts dual-frequency GPS, a feature typically found in higher-end Garmin watches and the Apple Watch Ultra. The timepiece also incorporates a barometric altimeter and a blood oxygen measurement sensor for accurate elevation detection.
Beyond these enhancements, the Pace 3 also introduces a touchscreen display (although buttons remain an option), updated navigation and route planning features, and support for music playback during phone-free running. Also, storage capacity has significantly increased from 64MB to 4GB.
Darn Tough Quarter Ultra-Lightweight Running Sock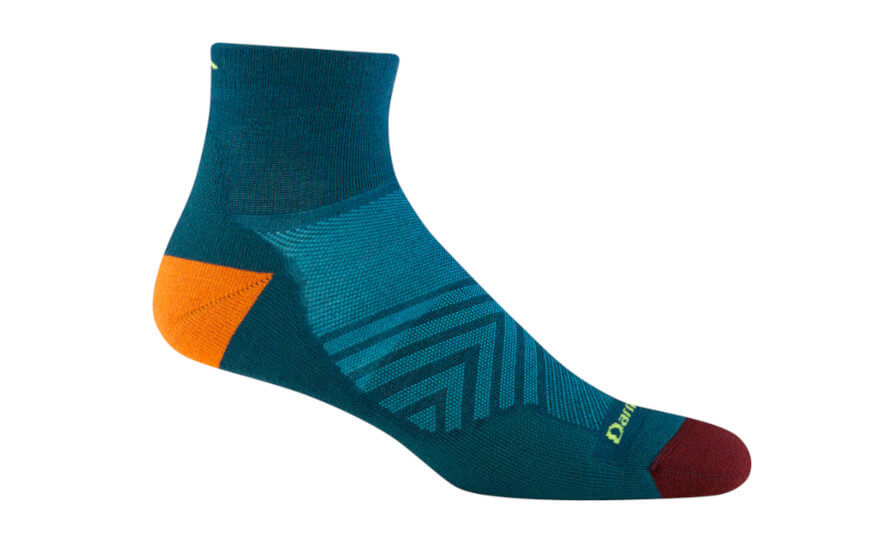 Buy here
We often attribute painful blisters and overheated feet to our shoes, but the real culprit is usually the socks we wear. Choosing breathable and sweat-wicking socks, such as the Ultra-Lightweight Running Sock from Darn Tough, is essential to combat these issues. 
These socks keep your feet dry and cool, even on scorching pavement.
Crafted from nylon and Merino wool, these socks offer a premium fabric that feels silky and cool, avoiding unpleasant, sweaty sensations. Not only that, but this unique blend also possesses antimicrobial properties, ensuring that every pair stays fresh and odor-free even when you're too tired to wash them right away.
By selecting the right socks, like the Darn Tough Ultra-Lightweight Running Sock, you can enjoy comfortable and blister-free runs while keeping your feet dry, calm, and free from unwanted odors.
Current Nylon Runner Hat

Buy here
Regarding hats, the dad cap falls short in scorching 95-degree weather. Instead, opt for the all-nylon run hat from the Bandit running label by ikyky for superior sun protection. This hat is crafted with high-density nylon that repels sweat, ensuring you stay dry and comfortable.
With an internal mesh sweatband, stray beads of sweat are effortlessly absorbed.
Not only does this run excel in performance during long runs, but it also offers a more convenient and stylish fit. The back bungee and cord stopper provide a secure and adjustable closure, surpassing the hassle of a traditional Velcro strap.
Plus, this lightweight cap boasts a sleek and fashionable design that will turn heads and elicit compliments when you throw it on.
Combine this run hat with your sunscreen and shades, and you'll be fully equipped to tackle the sun's rays while enjoying a stylish and functional accessory from the Bandit collection by ikyky.
The North Face Sunriser Run Vest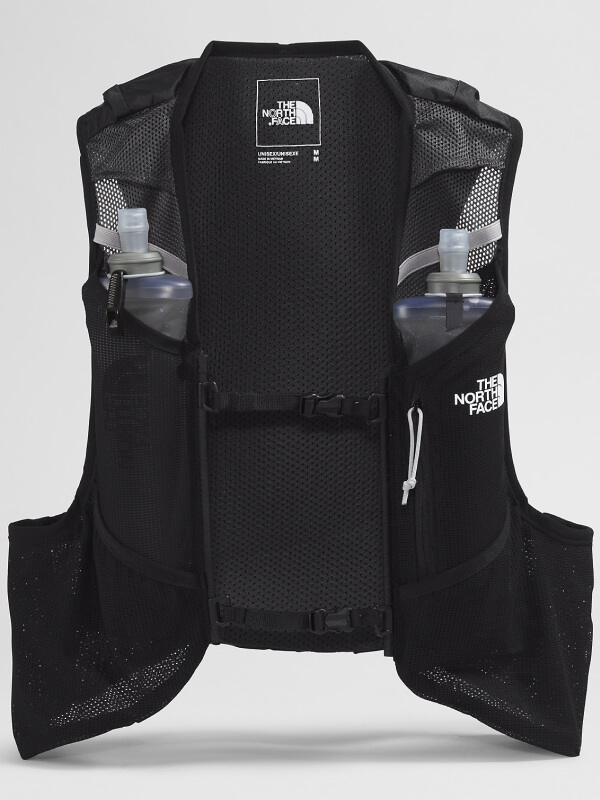 Buy here
Preparing for a long run requires a reliable hydration pack that can accommodate your water needs and provide space for essential gear and fuel. Enter The North Face, a trusted leader in the world of hydration packs.
Their Sunriser Run Vest, equipped with dual hydration bottles, offers ample liquid storage and multiple pockets, making it an ideal choice for ultramarathoners and endurance athletes.
Pro tip: It's important to note that filling the built-in water bladder with Gatorade is not recommended. Opting for plain water or other suitable hydration solutions will ensure the best performance and longevity of the pack. Stay hydrated and organized with The North Face Sunriser Run Vest as you embark on your long-distance running adventures.
Nathan QuickSqueeze 18oz Insulated Handheld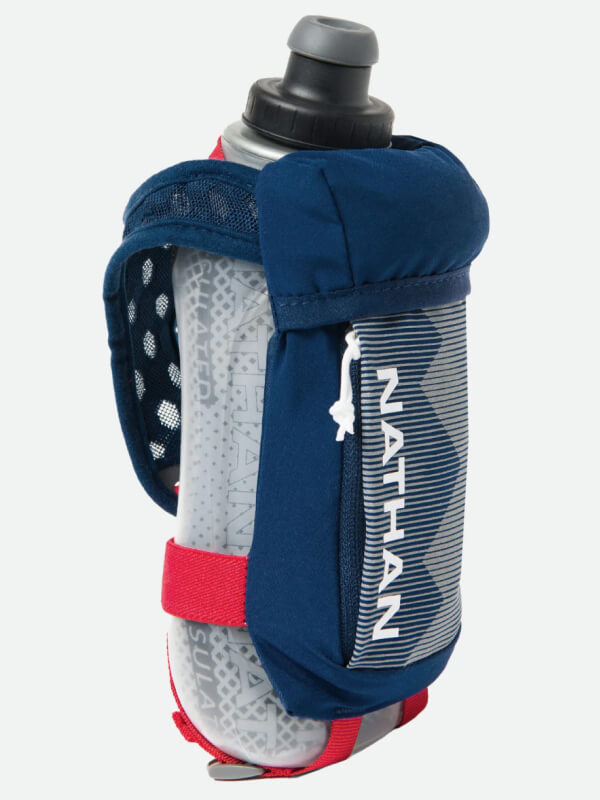 Buy here
As temperatures rise and staying hydrated becomes essential, more viable options exist than infrequent water fountains. Instead, consider carrying the Nathan QuickSqueeze 18oz Insulated Handheld Water Bottle, a reliable solution for on-the-go hydration. This innovative bottle utilizes a cycling-inspired design, allowing for convenient aim-and-squeeze hydration.
The QuickSqueeze features a soft carrying strap with an adjustable ratchet system, eliminating the need for a tight grip. This ensures a comfortable and secure hold while running. Plus, the bottle has an extra pocket that can hold keys or fuel, providing added convenience.
For those wanting to keep their drinks cool, the QuickSqueeze also includes an insulation pack. This feature helps maintain the temperature of your drink, ensuring refreshment throughout your run.
The Nathan QuickSqueeze 18oz Insulated Handheld Water Bottle lets you stay hydrated and organized, even when water sources are scarce.
We hope you're all revved up ready for the fall and to help you put one foot in front of the other with confidence, here's our beginner's long distance running guide for your reading pleasure.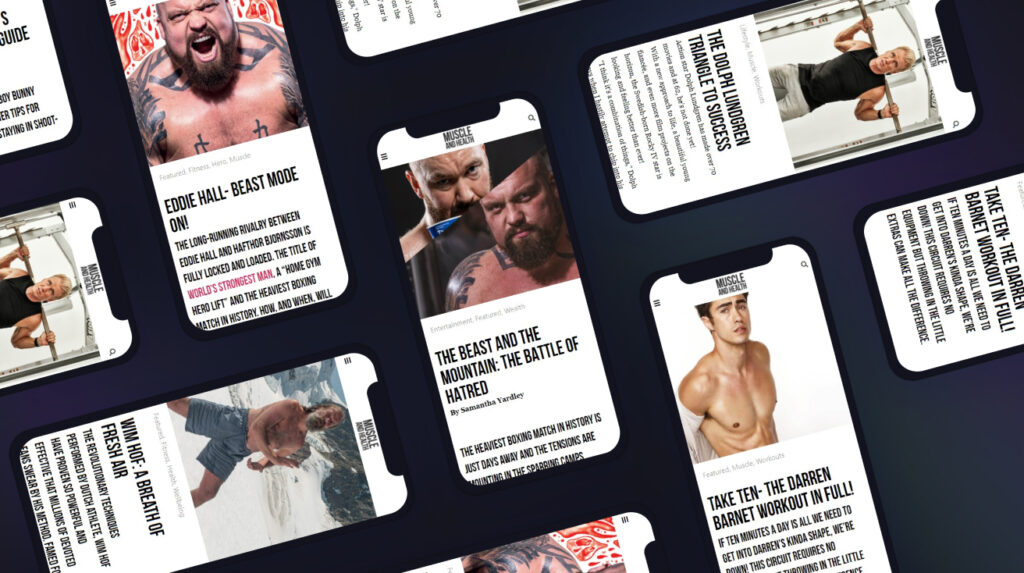 get all the latest mucle, health and wealth news delivered straight to your inbox