Words by Jack Franks
Travel and technology go hand in hand in 2023.
How often do you travel through airport security without witnessing an endless stream of people placing their broad range of electronic devices into separate trays?
Gadgets and tech devices are now as important as swim shorts and sunglasses in a society requiring constant stimulation, so companies provide the goods.
From headphones that offer protection from the screaming baby across the aisle to language barrier-breaking implements, it's crucial to pack the best tech to suit your needs.
Muscle and Health delve into some of the most popular categories of holiday gadgets, highlighting the best products you can buy right now.
Portable Chargers: Never Fear the Red Battery Icon Again
We've all been there – you're in a foreign city, your phone's about to die, and Google Maps is your lifeline. Enter the portable charger, your new travel BFF. No more frantically searching for a random cafe to charge up. With a trusty portable charger in your pocket, you'll be fully charged and ready for selfies, directions, and endless Instagram stories.
Power banks come in many different sizes and speeds, with the simple rule being: the less you spend, the lower the capacity and slower the bank will charge up. Depending on your budget, there are three options on the table; cheap and small, mid-range, or expensive and powerful.
Juice 3 Charges: Solid and dependable
Dubbed a "three-charge model" in the past, this compact power bank's moniker might have aligned with the days of smartphones sporting 3,500mAh batteries. However, in an age of 4,800mAh powerhouse phones, the label might be a tad ambitious. But fret not, for this nifty little power bank still shines. Compact and featherlight, it slips into your pocket effortlessly, and despite its size, it's armed with enough juice to keep you fueled throughout a weekend getaway.
Charging options are a breeze – it plays nice with both micro-USB and USB-C. Speaking of USB-C, its input port discreetly resides on the side, avoiding any tangles. And here's a bonus: the power bank's multitasking skills are on point. It graciously charges two devices simultaneously, a true savior when juggling gadgets.
While it's not the speedster of chargers, this power bank is more like the dependable tortoise in the race – steady and consistent.
PowerAdd Slim 2: Low-cost travel essential
Meet the PowerAdd Slim 2 – a power bank about simplicity with no frills attached. It is the plain white tee of power banks, essential and straightforward. It's armed with a micro-USB input and a USB-A output, although it's worth noting that it doesn't play nice with any fast-charging standards. When it comes to speed, it leans more towards a stroll than a sprint.
The PowerAdd Slim 2 boasts many advantages that might make it a worthy addition to your tech arsenal. Firstly, it's all about size – compact and measuring just 10.5cm in length. Its tube-like design effortlessly slips into your pocket, bag, or trusty handbag without any fuss. Secondly, let's talk budget. At a mere £15, it won't burn a hole in your pocket. And lastly, durability is its ace card. This little trooper has proven solid and reliable, standing strong through years of on-again-off-again usage.
Elecjet PowerPie: Need for speed
Need to satisfy your need for speed? Look no further. This power bank is built for quick and efficient recharges, ensuring your gadgets are ready to roll in no time. With a robust 20,000-mAh capacity, it's a true multitasker, capable of simultaneously juicing up your laptop and phone. The USB-C port is where the magic happens, offering an impressive 45 watts of power, while the USB-A can deliver a respectable 18 watts.
But that's not all – it's not just about power but also versatility. This powerhouse supports PD PPS, a fancy acronym for fast-charging severe capabilities. Samsung users rejoice – you can turbo-charge your smartphone at 25 watts. Even the mighty iPad Pro can't resist, as it can bask in the glory of 30 watts of charging goodness.
Noise-Cancelling Headphones: Tune Out, Zone In
As far as holiday gadgets go, quality headphones are up there. Whether on a long flight, on a noisy train, or just trying to escape the hustle and bustle of a new city, noise-canceling headphones are your golden ticket. Slip them on, and suddenly the world transforms into your peaceful oasis. It's like having volume control for the chaos around you and no screaming children—just you in a personal bubble.
The key elements you need to focus on are; comfort, noise cancellation, sound quality, battery life, multipoint pairing and bonus features. Our selection contains no earbuds, purely focusing on the over-ear and on-ear options which provide the best experience and offers.
Bose QC45: Classic modern comfort

Bose's QC45 headphones mark a triumphant return to their roots, sporting a design that's strikingly similar to the QC35II, and that's fantastic news. Their lightweight build and ergonomic design make them a dream to wear, even for extended periods. The oval ear cups sit snugly without causing any ear fatigue, and let's be honest – Bose has mastered the art of comfort.
But the goodness doesn't stop there. Unlike their Noise Canceling Headphones 700 siblings, the QC45s come with a foldable design, a travel-friendly feature that is always a win.
Bose didn't just stick to the classics; they've subtly enhanced their active noise cancellation game and excited the battery life to a satisfying 24 hours, an upgrade from the previous 20. And here's the kicker – the QC45s proudly sport a USB-C port, a sleek update from their predecessor's Micro USB connector. A transparency mode allows you to engage in quick chats or stay aware of your surroundings without missing a beat.
Sennheiser Momentum 4 Wireless: Marathon listening pioneers

Let's dive into the numbers first – 60 hours. Yes, you read that right. The Sennheiser Momentum 4 headphones have incredible stamina, boasting 60 hours of playback on a single charge. If endurance is your game, these headphones are the undisputed champions. But don't be mistaken; they aren't just a marathon runner; they're also here to win the race in sound quality and comfort.
Speaking of sound, the Sennheiser Momentum 4 doesn't disappoint. The audio quality is terrific, immersing you in rich tones and crisp notes. Comfort? Oh, they've got that in spades too. Designed for long listening sessions, these headphones prove their worth over extended periods without discomfort.
Sony WH-1000XM5: The all-rounder

Sony's WH-1000XM5s take a bold step in a new design direction, setting them apart from their predecessors. These changes translate into unparalleled comfort, ensuring they're your go-to choice for those marathon sessions – whether on a long flight or during those extended office hours.
The sound quality is a symphony of detail and balance that outshines the older 1000XM4s. While the low-end maintains its signature punchiness, it's now more controlled and refined, leaving behind the overly boomy echoes of the past.
But that's not all – the M5s have unlocked a new realm of voice call prowess in the 1000X series. These headphones can also juggle connections with two devices at once, so you won't miss a beat on your phone whether you're buried in your laptop or engrossed in your tablet.
Travel Routers: Conquer the Wi-Fi Struggles
Ah, the joys of unreliable hotel Wi-Fi. A travel router saves the day if you want something to replicate your home speed. Turn that sketchy connection into your personal Wi-Fi haven. Connect multiple devices, share files, and watch your favorite shows without a glitch. It's like having a Wi-Fi wizard in your pocket, a must-have holiday gadget.
Travel routers function just like your typical home Wi-Fi router. The only difference is that they are more compact and portable, making them perfect for travelers.
Netgear Nighthawk LTE Mobile Hotspot Route: Mobile hotspot king

Searching for a travel router that's your perfect mobile Internet companion? Well, say hello to the Netgear Nighthawk LTE Mobile Hotspot Router! This compact router isn't just your ordinary travel companion – it's a true marvel. It's among the pioneers of hotspot routers that support LTE, ensuring you have a speedy and dependable internet connection wherever you roam.
With the Nighthawk LTE Mobile Hotspot Router, your LTE Internet speed gets a turbo boost, accompanied by advanced Wi-Fi technology that can seamlessly connect up to 20 devices. And here's the security scoop you've been waiting for: Netgear's Nighthawk LTE boasts a robust security program that wraps you and your data in a protective shield.
This clever device comes with multiple cellular antenna ports that can sniff out signals even in the farthest corners of the map. So, whether in the heart of a bustling city or a remote hideaway, Netgear's Nighthawk LTE has got you covered.
Huawei E5576-320: Affordable and easy to use

Looking for a budget-friendly mobile travel router? Look no further than the Huawei E5576-320. Unlock a travel router's perks without breaking the bank using this straightforward gadget. It's your ticket to connectivity across most UMTS and LTE networks in Europe; it's versatile and supports various frequency ranges to keep you connected.
The Huawei E5576-320 keeps things simple and user-friendly. While it might not boast a laundry list of extra features, it does one thing remarkably well – it brings the Internet to your fingertips, wherever you are.
With its sleek and lightweight design, this router easily slips into your pocket or bag, ready to join you on your adventures. And don't let its budget-friendly price fool you – it can deliver a dependable internet connection with speeds reaching up to 150 Mbps.
GL.iNet GL-MT1300: The ultimate travel router

Behold the travel router that's the ultimate multitasker – it can handle up to 40 wireless devices simultaneously! Picture this: the perfect companion for group travels or the digital nomad juggling a tech arsenal.
Meet the GL.iNet GL-MT1300, a powerhouse equipped with OpenVPN and WireGuard protocols right out of the box. This means easy-peasy connection to virtual private networks (VPNs) for your online safety. It does not stop there; it also comes with Cloudflare DNS-over-TLS support to shield your DNS queries and a firewall that protects against unauthorized access.
This champion of a router boasts a built-in VPN client that supports a range of protocols and servers, putting your secure and private network setup on the fast track. Plus, it's pre-loaded with software gems like Tor, ad-blocking, and parental controls, giving you a comprehensive toolkit to enhance your browsing experience.
Smart Luggage: Tech-Enhanced Travel Essentials
Get ready to meet the James Bond of suitcases. Smart luggage has nifty features like built-in chargers, GPS tracking, and weight sensors to keep you within those pesky airline limits. It's like having a high-tech butler who anticipates your every travel need.
Heys SmartLuggage 26″ Hardside Airline Approved Spinner Luggage: The intelligent choice
Imagine a suitcase that's not just a suitcase – it's app-controlled, yes, you read that right, app-controlled! Wrap your head around this: the Heys SmartLuggage app gives you the power to handle some seriously cool interactive features embedded in the suitcase itself.
Think unlocking and locking your roller without laying a finger on it (thanks to the nifty Bluetooth smart TSA-approved lock!). And there's more – an alarm that's got your back when you stray too far from your luggage, plus a clever handle that doubles as a scale. Now that's what we call a technological marvel!
The Andiamo Classico: Peak aesthetic
If you've got that flair for the retro-trunk style, the Andiamo Classico suitcase is your winning ticket. Picture this: dazzling, high-gloss finishes and a zipper-less frame that turns heads. And if we're talking colors, the "royal sapphire" option is nothing short of eye-catching.
Now, onto the intelligent tricks up its sleeve. Guarding your privacy, the RFID-blocking technology pocket makes sure your sensitive stuff stays secure. There's even a handy USB port, though you must bring your detachable battery. It's a bit weighty for a carry-on, and it might not be the Einstein of bags, but boy, does it look good. And according to the reviewers, it's getting all the love it deserves.
Away Travel Bigger Carry-On: Sleek, smart and the Choice of Influencers
Away has solidified its cult status as the go-to choice for smart luggage enthusiasts. Its sleek design, an array of sizes, and functional features made it the trailblazer in winning over the influencer crowd. And let's be honest; it's not just brilliant; it's one of the finest suitcases overall – the intelligent tech is just the icing on the cake.
Conceived by former Warby Parker executives, Away marries style with practicality, ensuring your gadgets stay charged throughout your journeys. Take the Bigger Carry-On, for example. It boasts a compression bag that maximizes your packing room while fitting neatly into overhead compartments. And hey, if you ever need to check your bag, the battery pack comes out instantly. The exterior, built to resist scratches, stands firm. And if by any chance something's not right with your Away, relax – the lifetime warranty has got your back.
Language Translation Devices: Break Down Language Barriers
Need help with translation? Not anymore! Language translation devices are here to bridge the communication gap. These little wonders can translate your words on the spot, helping you navigate conversations, order food, and ask for directions like a local. Say goodbye to awkward language mishaps.
Timekettle WT2 Edge/W3 translator earbuds: The pinnacle of on-demand translation

TimeKettle's earbuds are in a league regarding cutting-edge translator devices. They stand out as a top-notch bidirectional real-time translator, boasting an impressive array of over 40 supported languages.
But here's where TimeKettle goes the extra mile – it's not just about translating; it's about nailing the nuances of language. With a whopping 95% accuracy rate and the ability to recognize more than 93 accents, this brand ensures crystal-clear communication.
Linking up to 15 global servers, the TimeKettle translation earbud leaves lag in the dust. What's more, it flaunts four distinct communication modes. The "simul" mode is your go-to for in-person one-on-one chats. Then comes the "touch" mode, empowering you to steer the conversation and precisely translate your sentences to multiple listeners.
You can also choose between speaker and listening modes, allowing you to seamlessly translate your partner's words through your phone's speaker. This earbud-phone duo transforms a broadcast into a multicultural experience, breaking down language barriers with flair.
Vasco Translator V4: Speak like a local
With a staggering support for 108 languages, this device is your ultimate companion for navigating new territories without those pesky language barriers.
Embrace your inner wanderer and explore the world with newfound confidence, thanks to the Vasco Translator V4. It's your key to unlocking seamless communication in a whopping 200 countries. Plus, it's not just about speaking – you can also translate text for a mind-boggling 90 languages and enjoy voice translation for 76 distinct dialects. So, when you're faced with that indecipherable restaurant menu on your next international escapade, Vasco Translator V4 has your back.
With support for learning the vocabulary of 28 languages, you can enhance your linguistic prowess on the go. Engage in effortless conversations, immerse yourself in new cultures, impress your international business partners, or shine at foreign universities – Vasco Translator V4 ensures language barriers never hold you back again. Get ready to break down walls and build connections like never before.
Fluentalk T1

Equipped with a vibrant 4-inch touchscreen and boasting an impressive resolution of 540x1080P, this device is all about visual clarity and user-friendly ergonomics. Your touches are effortlessly detected, making interaction a breeze.
Under the hood, the Flunettalk T1 packs a punch with its high-performance quad-core 12nm CPU and exclusive software. This dynamic duo results in lightning-fast voice encoding speed and exceptional speech recognition capabilities.
Gone are the days of language barriers – with a single click, you can converse effortlessly with individuals speaking different languages. The T1's multi-microphone array, enhanced by an EDC noise reduction algorithm, is primed to capture speech accurately. What's even more astounding is its ability to respond within a mere 0.2 seconds, courtesy of the revolutionary Streaming ASR Technology and a robust network of 150 servers spanning the globe.
Hope you enjoyed the rundown of our best holiday gadgets you might find useful on your next trip away!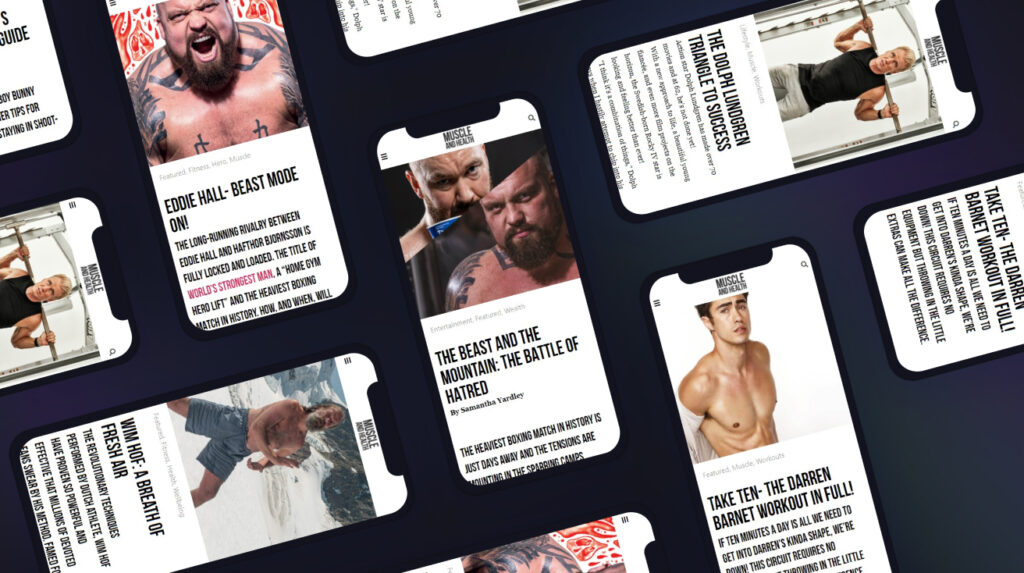 get all the latest mucle, health and wealth news delivered straight to your inbox