We have found you the best wireless earbuds and headphones for your workout. You need that extra boost to get you motivated and working to the max when you're working out. And there's no better alternative to having a fitness coach yell in your ear than to stick on headphones and blast out your favorite workout beats. 
There are plenty to choose from, and it's clear from the changing designs in recent times that headphone manufacturers have become all too aware of the demand for a decent pair of buds for gym goers. 
We've narrowed it down to a list of quality wireless headphones that should be on your shopping list if you're looking to purchase some, and whether you're an "over the ear" or "on the ear" kind of person, there's something for you.
 The Best Wireless Workout Earbuds
No need to worry about getting tangled up in wires – these are some of our favorites for 2023.
Cost: $49.99
View this post on Instagram
These buds have become increasingly popular over the years and, interestingly, have been improved by the manufacturers almost annually. 
The new premium Pro pair is undoubtedly the best yet. The sound quality is precisely what you'd expect from JBL, and it is waterproof and dustproof. 
You can take these hardy earbuds anywhere, and they'll stand up to the job. Perfect for most sport-related tasks and with a sleek design, they look pretty cool too.
Cost: $249
View this post on Instagram
The award-winning Bose buds are likely to prove a popular choice in the gyms this year, despite not being aimed at the sports market. 
Winner of the "Best wireless earbuds over £200" category at the What Hi-Hi Awards last year, they faced stiff competition and won. Considering who they were against and the competitive nature of this market, that was some mean feat. 
Still, Bose has long been associated with quality sound systems, and it's no surprise that their venture into the earbud market has been highly successful. 
These premium earbuds are arguably some of the best wireless headphones for working out, sound amazing, and Bose has raised the bar again. They're a comfortable fit, have a sharp sound quality and even have a noise cancellation range so you can choose how much of the outside world you'd like to hear while your music or podcast is playing. 
It's important to note that while they're not aimed at gym-goers, they're waterproof and resilient enough to take on most sporting demands. They're obviously at the higher end of the pricing bracket, but if you have the budget, you'll be glad you chose these.
Cost: $99.99
View this post on Instagram

Sony comes to mind when you think of top-quality headphones that are a bit out of your price range. The good news is they've thought about this and have come up with the WF-C500, a more affordable set of beat blasters that shouldn't burn too big a hole in your pocket. 
One of the main issues with headphones in this price bracket is low battery life. Not the WF-C500! Battery life is a highly competitive 10 hours from the earbuds themselves and another ten from the charging case. Not bad at all. 
The sound is very close to high-res and can be used with Sony's Headphones Connect to give added features and controls. Undoubtedly one of the best value sets around.
Cost: $199
View this post on Instagram

No wireless earbuds list would be complete without Beats. And let's face it- the Beats Fit Pro will undoubtedly feature on most lists. 
Styled for the workout, they have the brilliant active noise canceling feature you've come to expect from the brand, and the new wingtip design offers a more secure fitting. 
They're so lightweight you'll hardly know you're wearing them, and a comfortable set of headphones are essential for working out. No one wants to stop halfway through to adjust their headset because their ears are stinging. 
The Beats Fit Pro oozes quality and will help you sail through even the most challenging workouts.
The Best Workout Headphones
Fancy a more classic over-the-ear fit for your workout headphones? 
Here are our top picks for classic workout headphones with a wireless twist. 
Cost: $199
View this post on Instagram

As far as over-the-ear workout headphones go, they must be secure and not too tight that you end up with burning ear syndrome. These headphones won't burn your ears or a hole in your pocket; they are water resistant, so there's no need to worry about sweat. 
They won't support multi-device pairing, but that shouldn't be an issue in the gym. 
It's a simple design, but they are robust enough to endure the most challenging workouts. There's a decent battery life, too, with around 20 to 30 hours of charge, and the noise reduction is good too. It also has an ambient mode that allows you to hear your surroundings. 
Top-quality waterproof headphones with the best sound quality.
Cost: $59.99
View this post on Instagram

For those not looking to spend within the higher price brackets, the Anker Soundcore Life Q20 Wireless sport headphones, often touted as the best headphone for gym users, should do nicely. Just because they're at the lower end of the market doesn't mean the sound quality isn't excellent. 
It's sharp, and the noise-canceling feature is first-rate too. The battery life is 32 horse which puts some of the pricier headphones to shame. 
They're easily adjustable and will fit snugly around your ears. These will do the trick if you're looking for a less-pricey option for the gym.
Cost: $399
View this post on Instagram

It's horses for courses when choosing the best workout headphones for you. Some will be perfect for a sweaty gym workout, while others are better suited to lighter forms of exercise. 
The WH-1000XM5 is definitely in the latter as they are not 100% waterproof, but they are perfect for walking, jogging, yoga and most forms of light, non-sweaty exercise. But it's still important to keep them clean and dry to ensure you'll get longevity out of them. 
So for those who can handle the fact that they are not waterproof, there's some great news- these are a top-quality set of headphones at a reasonable price. The audio is superb, giving you an excellent balanced sound and some extra bass should you need it. 
The dual noise sensor also does an outstanding job of blocking background noise. These are for you if you want to block out distractions and concentrate fully on your exercise.
Cost: $79.99
View this post on Instagram

Another set of headphones with impressive sound quality. They are one of the best value sets on the market. 
You can turn up the bass, or if you'd rather listen to something different, the excellent Soundcore app gives you a customizable equalizer and over 20 presets. 
They are great for those who prefer over-the-ear headphones for running as they are an exceptionally comfortable fit. They also have an impressive forty to sixty-hour battery life. 
Choose your wireless headphones or earbuds.
Your headphone choice will come down to personal preference, but there are options for a wireless workout, no matter your budget.
Related Articles
They're Here at Last! The Apple Airpods Max
Lace-up in style: The best workout shoes for men
Mike Tyson World Exclusive: "I'm happy I bit that motherfucker's ear off, or Mike Bites wouldn't exist"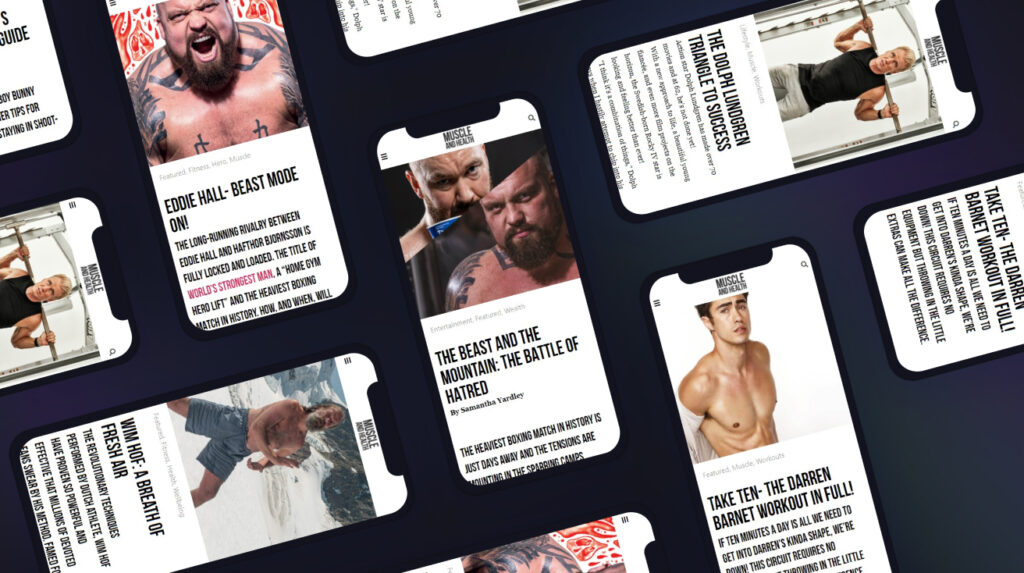 get all the latest mucle, health and wealth news delivered straight to your inbox