Words by Jack Franks
Mirror, mirror on the wall, who's the fittest of them all?
In 2023, there are few home gym pieces you can't buy, with many fully converting to getting it done within the comfort of their four walls.
From revolutionary smart bikes to water rowers and futuristic curved treadmills to fully immersive digitally weighted home gym equipment set-ups, the home fitness market is constantly growing and looking for new and innovative ways to catch the eye of the consumer.
The issue for many is limited floor space, too, with apartment dwellers particularly needing more square feet to safely land a jumping jack, never mind installing an Olympic lifting rig.
That's where smart mirrors project themselves onto the scene.
What is a fitness mirror?
Fitness mirrors work by displaying a professional trainer on a screen to lead you through a workout. Some options act as mirrors that allow you to see yourself and the trainer as you exercise, allowing you to self-correct your form. Other options aren't mirrors but give you AI-powered form recommendations, among other smart features.
Most of all, smart mirrors are practical and require little space compared to the robust aforementioned traditional gym equipment. With the option to mount on a wall or stand, you can utilize the wall space that would have otherwise been occupied, allowing you to take a yoga class, smash some HIIT, or lift weights without the fear of tripping over a dumbbell.
These smart devices offer an immersive audio and visual experience with personal trainers, classes, and more. By bringing the energy of a gym and the guidance of a trainer right into your living room, a smart fitness mirror is as close to having a live-in personal trainer as you can get.
When did fitness mirrors hit the market?
The story of fitness mirrors began in 2018 when the aptly named 'Mirror' took social media by offering a previously never seen concept and making it a reality.
Mirror' dominated fitness influencers' Instagram pages and was plastered on New York City subway ads, offering fitness enthusiasts an option to train at home in on-demand workout classes in a pre-pandemic world.
The interactive full-length mirror was priced at $1,495, plus a $39 a month subscription fee, offering thousands of on-demand classes to try, including cardio, strength, boxing, barre, Pilates, yoga, stretch, pre and postnatal, and cardio dance, all lasting between 15 and 60 minutes long.
While it was not explicitly marketed as a smart mirror upon its release, 'Mirror' lit the fuse for a growing market, laying the foundations for developing the product category.
While virtual workouts existed before the COVID-19 pandemic, the use of mirrors predictably skyrocketed during that period, with consumers' fitness habits now more focused on accessibility and comfort. The demand for the best fitness mirrors and mirrors has increased more than ever before, driving the market's growth at the global level during the pandemic.
Such was the popularity of the first fitness mirror, created by a company donning the same name; yoga wear specialist Lululemon capitalized on the growing trend and purchased the company to the tune of $500m. However, recent reports have suggested they are looking to sell due to decreasing sales.
Are fitness mirrors worth the money?
Workout mirrors don't come cheap, with the highest-priced gadgets at around $3,000, which doesn't factor in the monthly subscription price. 
If you can't just go to the gym and lift weights to the sound of music, a workout mirror can make getting in shape way more motivating. Most fitness mirrors emulate the vibe of a studio-style workout class with a pro trainer, guided exercises, and high-energy music.
If you're the type of person that pays (or would pay) hundreds per month to take a class in a fitness studio, a workout mirror will save you tons of money in the long run.
Many have questioned the high price tag due to the existence of smart televisions and phones, both of which can be utilized similarly, albeit without the immersive experience workout mirrors offer. 
The question of value for money is entirely subjective. It will vary depending on your lifestyle and fitness preferences. Still, if the price puts you off, most mirrors offer financing options where you can pay monthly for your mirror for anywhere between 12 and 48 months — no credit card required.
Which is the best fitness mirror?
Plenty of fitness mirror options are available on the market, all boasting unique features, price points, workout classes, and personal training methods.
The Lululemon Mirror range – the market pioneer – still holds up as the leading light in the fitness mirror industry, but numerous competitors are challenging its title.
The workout mirrors we have researched and selected are based on various reviews, feedback and tests. 
Best overall: Lululemon Studio Mirror
Price: From $995
Specifications:
Delivery and installation: $250
Mount type: Stand or wall mount
Touch screen?: No
Monthly membership: Yes, $39/month (one-year minimum commitment)
Included accessories: Mirror stand, lens cap
With a modern and sleek design, over 10,000 classes, and a host of smart features which adapt to your training progress, the Lululemon Studio Mirror remains the outstanding workout mirror. A simple unboxing, set-up process, and seamless connection to smartwatches and apps allow users to undergo interval training within minutes of the mirror's arrival.
Whether looking for a quick fat burner before a busy day at work or an hour-long session with a trainer targeting specific movements, Mirror memorizes your preferences and recommends new classes weekly. Its crystal clear high-definition display offers immaculate presentation and helps it double up as a perfectly functioning regular mirror when you're not sweating in front of it.
There are currently four packages available ranging from $995 to $1450.95, with the highest priced product, the 'Mirror Family,' with heart rate monitors, studio weights resistance bands, reversible mats, yoga blocks and a double foam roller. Mount it on your wall or lean it for a more rental-friendly option; this remains the undoubted champion of workout mirrors.
Best aesthetic: FORME Studio
Price: From $2,495
Specifications:
Installation: $250
Mount type: Stand or wall mount
Touchscreen?: Yes
Monthly membership: Yes, $49/month
Included accessories: Premium yoga mat, heart rate monitor, cleaning cloth, camera covers
Despite possessing apparent similarities to Lululemon in a fitness class, production, navigation, and trainers, the FORME Studio workout mirror stands out for its futuristic aesthetic, pitching itself as the most immersive smart gym on the market. Its 4K screen and fully immersive sound system bring your trainer to life, transporting them into the room and creating a sense that your living room is a makeshift fitness studio.
The FORME is larger and more elegant than its Lululemon counterpart on the exterior, and it boasts a touchscreen, but there is a catch. It's more expensive by $1,000, so the Lululemon Studio is the way to go for the best bang for your buck. However, if you have the extra cash to spend and want a vast, elegant touchscreen mirror in your workout room, the FORME is for you.
If you have even more cash, you can turn the FORME into a Tonal alternative by adding the Lift or Barre packages — complete with integrated digital weights and a detachable ballet barre for pilates and barre classes. The FORME Lift will run you $4990 total ($1,495 more than Tonal's system), while the FORME Barre package will run you $2,790.
Best for lifting and strength training: Tempo Studio
Price: From $1,695
Specifications:
Delivery and Installation: Standard delivery and assembly is $150, white glove delivery and installation is $250
Mount type: Freestanding
Touch screen: Yes
Monthly membership: $39/month
Included accessories: Workout and exercise mat, two dumbbells, 75 pounds of weight plates, and four collars
Tempo is a smart cookie. Acting like a personal trainer in your living room, the studio promises to empower your workouts in real time with weight and form coaching. Its smart weights and mats are automatically recognized by Tempo's 3D sensors and mapping technology, providing real-time feedback on squats, presses, curls, and other movements.
The perfect companion for those easily intimidated in the gym, the included AI technology checks your form during each workout. It offers modifications to prevent potential injuries and get the best out of each exercise. 
Tempo offers three packages. You get the mirror, a 5-millimeter workout mat, two 7.5-pound dumbbells, four weight collars, 75 pounds of free weights, and the Starter bundle. Other options include the Plus for $750 more (which comes with a small weight bench, a foam roller, and heavier weights) or the Pro for an added $1,500 (which has a weight rack for the bench, plus more small accessories to round out your home gym). Even better, all of these accessories can be stored in the Starter's built-in cabinet.
Best for toning: Tonal

Price: $3,995
Specifications:
Delivery and installation: Required, usually $295 but varies by location
Mount type: Wall mounted, requires studs
Touchscreen: Yes
Monthly membership?: Yes, $49/month
Included accessories: None with the basic package
LeBron James is powered by Tonal (apparently), so it must be pretty good!? Doing what it says on the tin, Tonal targets those more interested in getting toned, accumulating in an all-in-one smart version of a traditional cable machine.
With its high-end construction and impressive library of classes, including basic workouts, Theragun massage routines, and even cross-training for golfers, it's no surprise that the Tonal mirror comes with a hefty price tag. However, there's a reason for the lofty cost: Tonal's offers personalized recommendations based on your health, wellness, and fitness goals, upping the mirror's value even more.
Tonal is a high-tech, luxury product, but purchasing the Smart Accessories add-on is essential to get the most out of its services. In terms of workouts, the usual suspects are in there, but there are some more niche offerings such as Sports Performance, Meditation and Pre and Post Natal.
Best on a budget: Echelon Reflect

Price: From $749.99
Specifications:
Delivery and installation: Free delivery, no installation
Mount type: Wall mounted
Membership: $39/month, $399.99/year, or $699 for two years
Touch screen: No
Included accessories: None
It may be the smallest of packages of the bunch, and its screen may not be touch-enabled, but the Echelon Reflect makes up for that by offering all the fundamental and critical features at a more affordable price. Featuring a library of over 2,000 live and on-demand classes, you don't need to download any apps due to the easy-to-use, sweat-proof, and Wi-Fi-enabled display.
Up to 40 new live classes are also added to the app daily so that you can do the same workouts. If you already have another connected Echelon device, you can use the same account to access classes on the Reflect.
Note that the Echelon Reflect price doesn't include installation, so be prepared to bust your drill and measure tape out.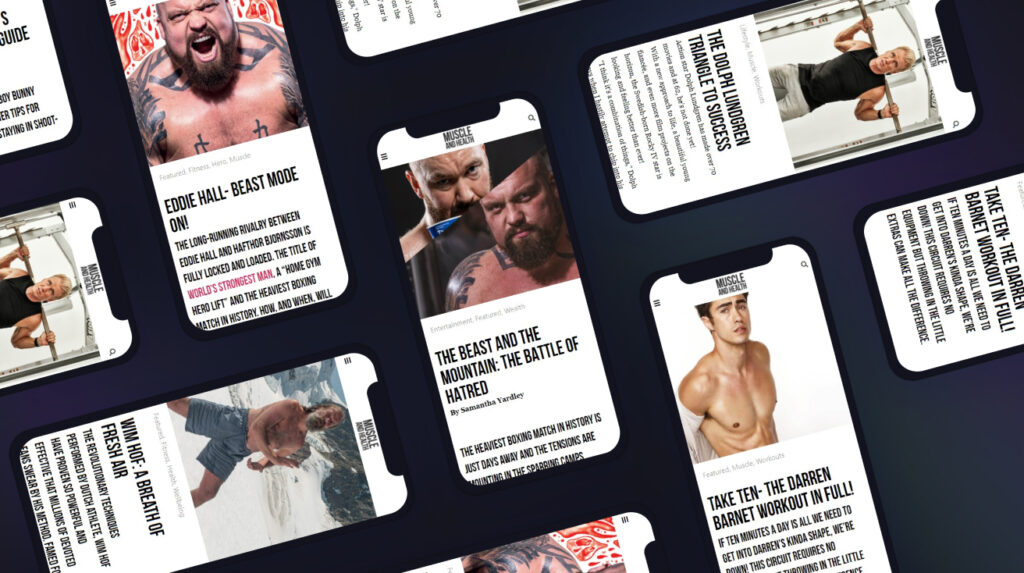 get all the latest mucle, health and wealth news delivered straight to your inbox