Words by Jack Franks
We've seen it all down the years when it comes to carving out abdominal muscles to form the perfectly formed six-pack. We look at some of the best ABS Machines and equipment to get that perfect six-pack at home.
Lizzo – along with countless other celebrities – looking like a lab experiment during an electrical muscle stimulation treatment springs to mind. 
Soccer legend Cristiano Ronaldo once endorsed the 'SIXPAD,' expensive Japanese device experts said 'does nothing to give users' rock-hard abs'.
It's impossible to quantify the sheer amount of information, tips, workouts, and general volume of abs-related content out there. On TikTok alone, one million videos with #abs in the title have been posted, while there has been a mindblowing 28 billion views worldwide.
The numbers say it all. We are obsessed with our cores and have been since the Renaissance Era, a period in European history from A.D. 1400 to A.D. 1600. six-pack abs were the epitome of physical beauty for three centuries, but that trend gradually died out.
Ripped bodies didn't appear regularly in pop culture until the 1980s, fuelled by the impact of Arnold Schwarzenegger and the idea that you needed to be lean in order to be deemed healthy.
While the perfect six-pack isn't as desirable to many as it was ten years ago, it's practically impossible to scroll Instagram and not come across an Adonis-like figure sporting a body few achieve in their lifetime.
Largely, it comes down to nutrition. Generally, experts say that a man has to get down to about 10 percent body fat in order for his abs to show. For women, the number is closer to 15 percent fat. And that's not even for fitness-model-level definition.
But that isn't to say you should stop those core exercises. With more equipment than ever on the market, the idea of proudly exposing your stomach could be closer than ever before.
With that being said, Muscle and Health has picked out the best abs machines you can buy today to help carve out the six-pack of your dreams.
Perfect Fitness Ab Carver Pro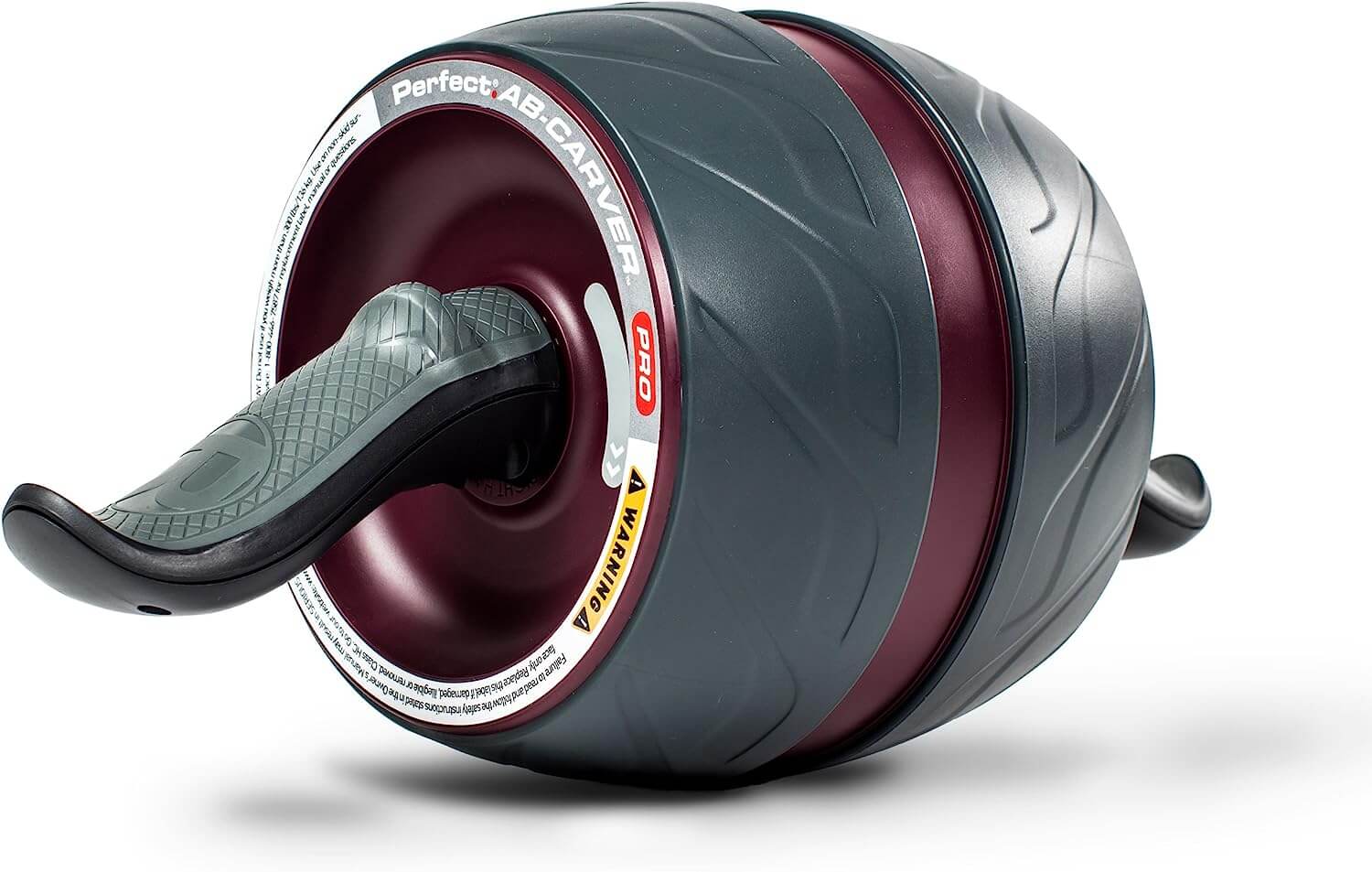 Type: Roller
Specifications:
Dimensions: 9 x 7.9 x 9 in.
Maximum Weight Recommendation: 275 lbs.
Item Weight: 4.6 lbs.
Perfect for: Not-too-tall beginners
Price: $49.11
Simplicity often reigns supreme. Enter this low-cost ab roller, a humble yet highly effective tool. This nifty gadget operates on a basic principle: extending your body into a plank variation engages multiple core and upper body muscles. And when you pull the wheel back toward your body, it provides the resistance needed to return to the starting position.
Give the ab roller a spin if you're seeking a straightforward yet powerful tool to amp up your core workout. It's simplicity and innovative features will help you sculpt and strengthen your abs like never before.
Buy here
UrbnFit Exercise Ball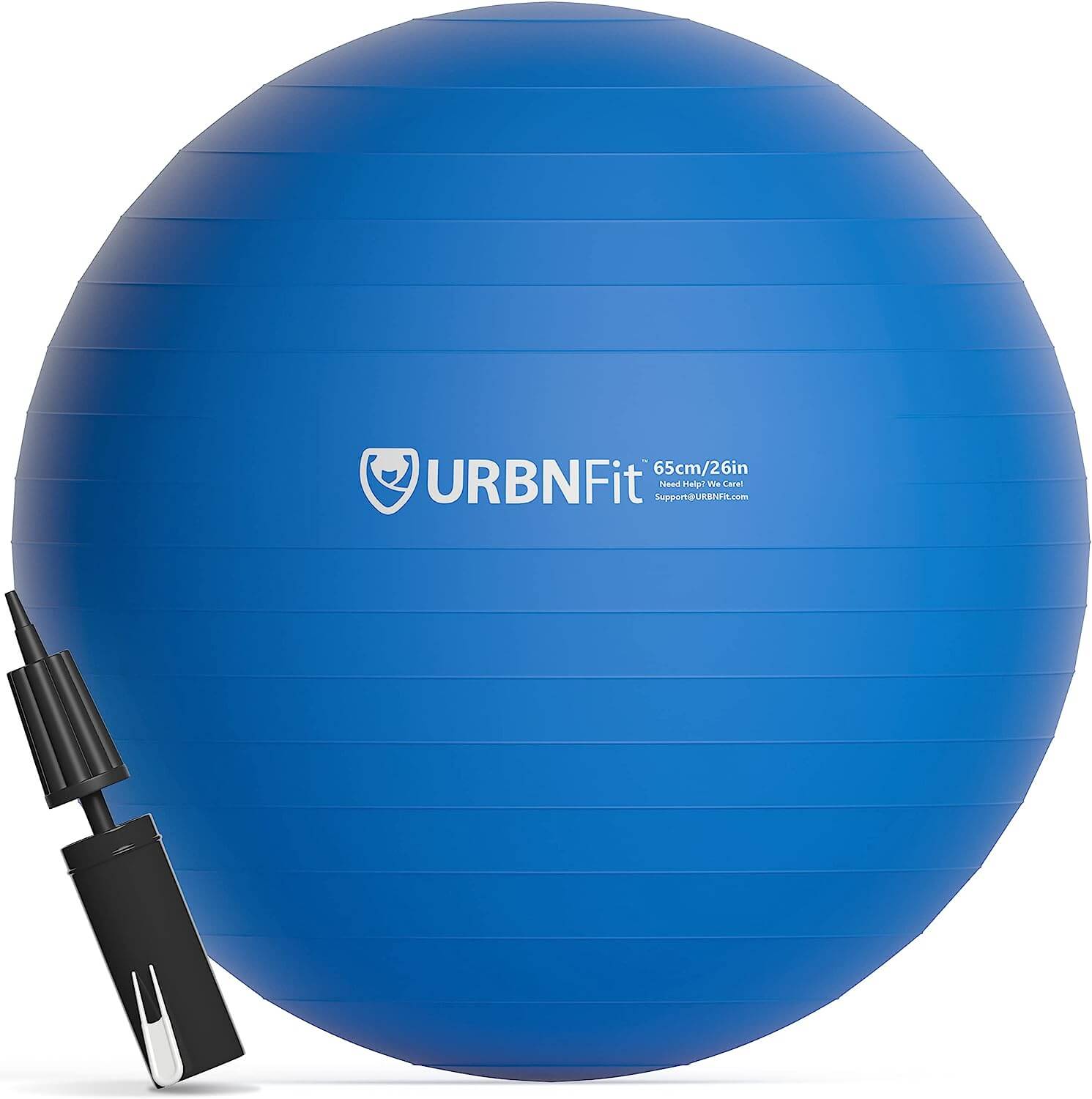 Type: Swiss ball
Specifications:
Dimensions: 18 in.
Maximum Weight Recommendation: 600 lbs.
Item Weight: 2 lbs.
Perfect for: Flexible kings
Price: $20.10 – $39.99
Made of professional quality PVC material, boasting a multi-purpose use, and most importantly, providing a brilliant way to strengthen your core, this Swiss ball is a great option for six-pack dreamers.
Undoubtedly one of the best exercise balls out there, its low cost and versatility makes it one of the preferred choices for trainers and therapists. Use it for yoga, Pilates, core exercises or full-on abs workouts, either from the comfort of your home, the office, or anywhere you please.
Buy here.
Stealth Fitness Core Trainer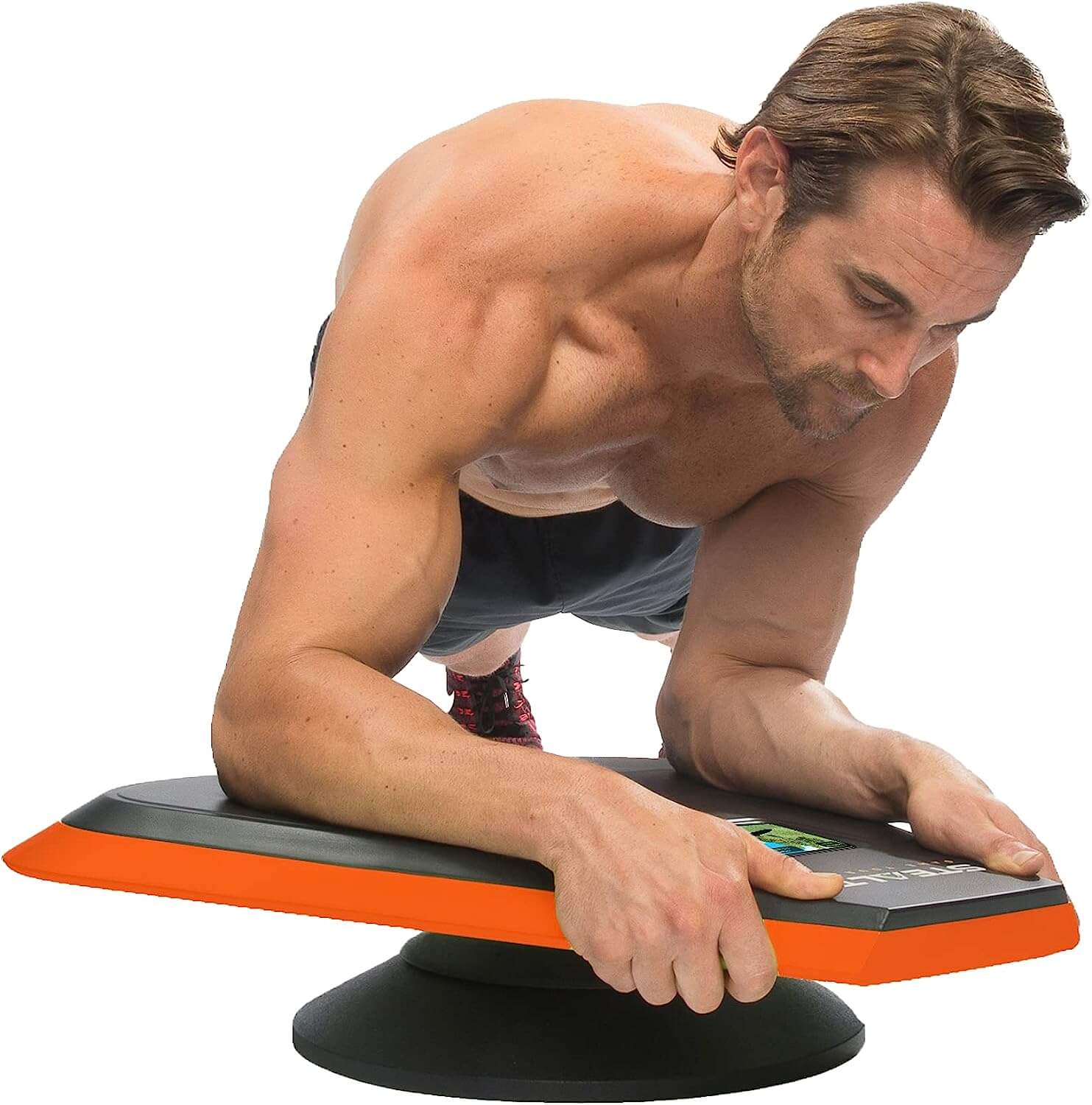 Type: Tech machine
Specifications: 
Dimensions: 26 x 24 x 6.5-in.
Maximum Weight Recommendation: 250lbs
Item Weight: 14 lbs.
Perfect for: Gadget-loving fitness enthusiasts
Price: $305.27
This one is a bit different. The black sheep of the Abs family. Released in 2021, this device was released to help people actually enjoy planking, aiming to help them increase their abdominal endurance by allowing them to distract themselves by playing mini-games. The games themselves vary in goal and difficulty; blowing up planets in outer space to flying over a forest while avoiding collisions with birds—but all involve twisting, turning, and balancing to stimulate core muscles to engage.
You will need to pay a fairly hefty price to get the device, but the app and access to the roster of games is free. Sick of doing endless crunches and want something a little bit quirky? This is the device for you.
Buy here.
Fitlaya Fitness Core Abdominal Trainer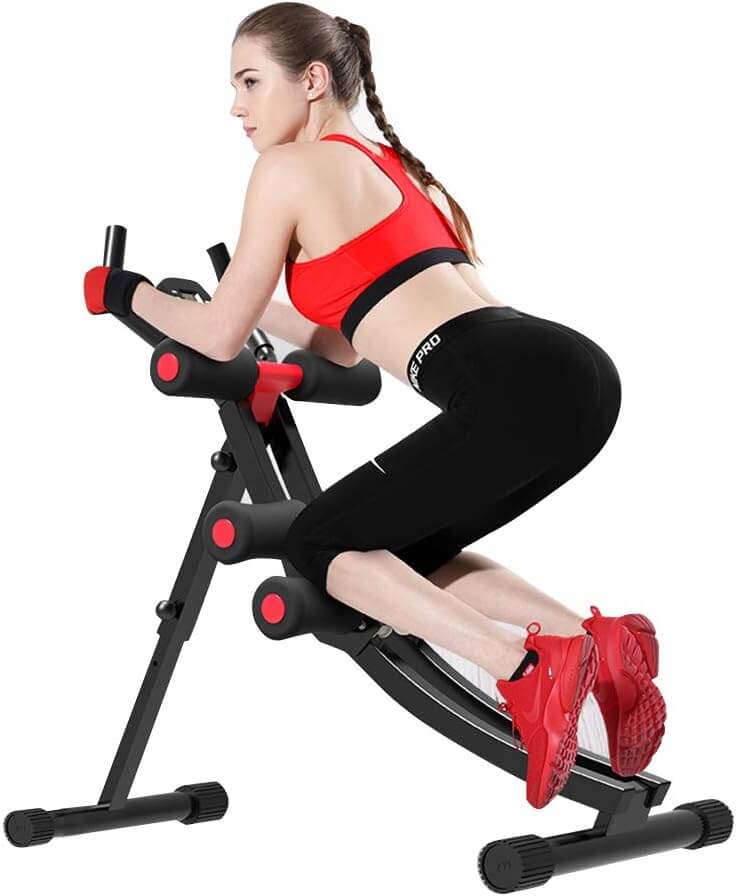 Type: Machine
Specifications:
Dimensions: 35.5 x 15.7 x 34.5 in.
Maximum Weight Recommendation: 440 lbs.
Item Weight: 22.5 lbs.
Perfect for: Core-hungry dreamers
Price: $240.11
Improving your core comes down to one fundamental thing; muscle contraction. That's where this machine steps in, offering a cushioned swivel seat that ensures a smooth and controlled motion from the bottom of the arc to the top. As you slide up, you engage your lower, middle, and upper abs, and then repeat the process on the way back down. It's a comprehensive workout that leaves no core muscle untouched.
Boasting an ergonomic knee cushion and foam-covered hand grips, it provides comfort and support, four adjustable training height levels, and smart LCD display to keep an eye on your reps, calories burned, and workout time. Overall, it's one of the best all-rounders for building a chiseled core.
Buy here.
VINSGUIR Ab Roller Wheel Kit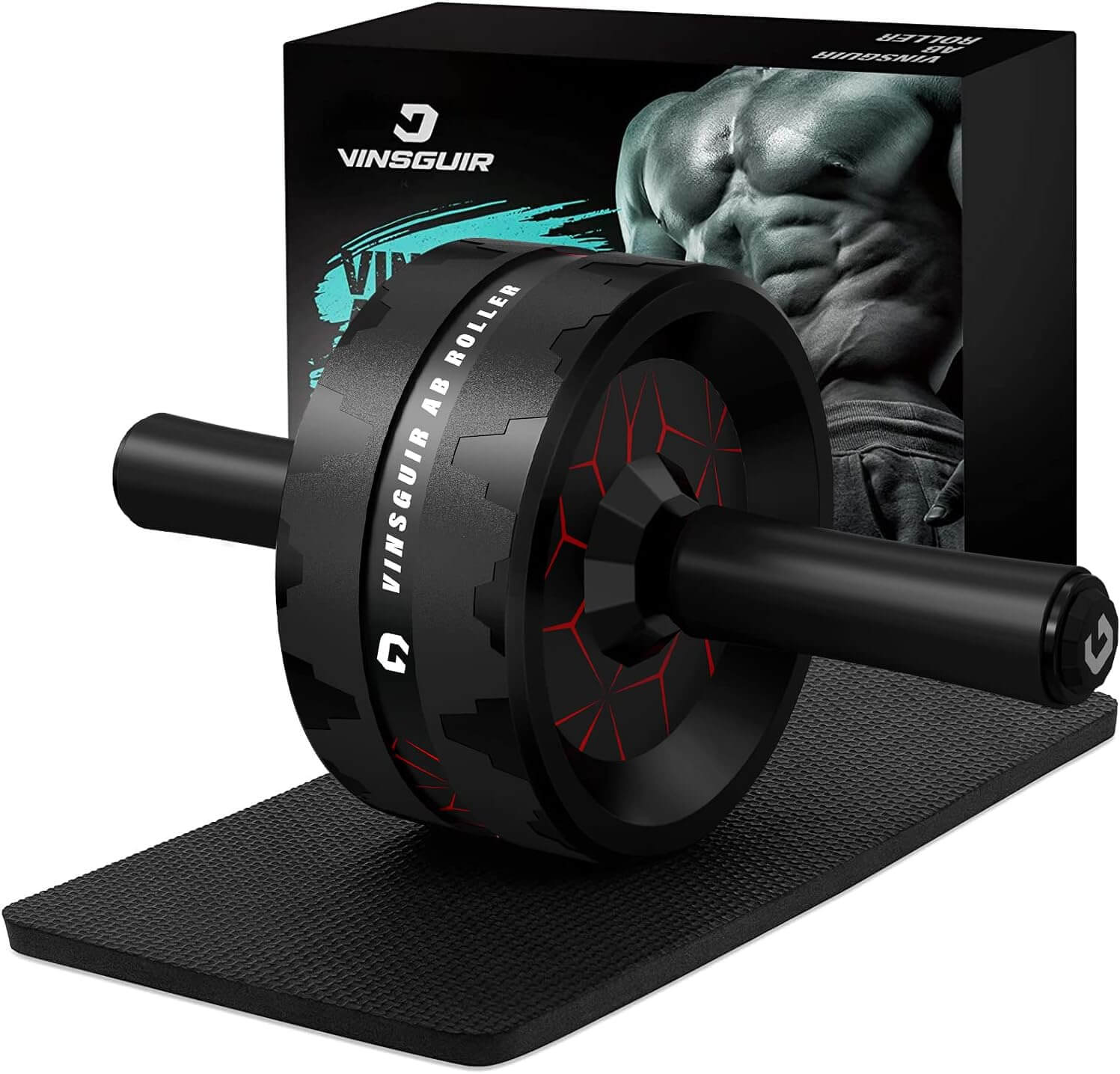 Type: Roller
Specifications:
Dimensions: 24.41 x 20.8 x 8.61 cm
Maximum Weight Recommendation: 500 pounds
Item Weight: 640 grams
Perfect for: Low-maintenance rollers
Price: $63.40
Budget-friendly, durable, and easy to assemble, this ab roller is the ideal companion for those looking to build their abs at home or on the move. Its size and super compact weight make it easy to chuck in a backpack or suitcase.
It also comes with a knee mat and resistance bands, but be warned, this one isn't for beginners. Make sure you've built up some core strength before purchasing. We don't want to be the cause of any lower back injuries!
Buy here.
BangTong&Li Power Tower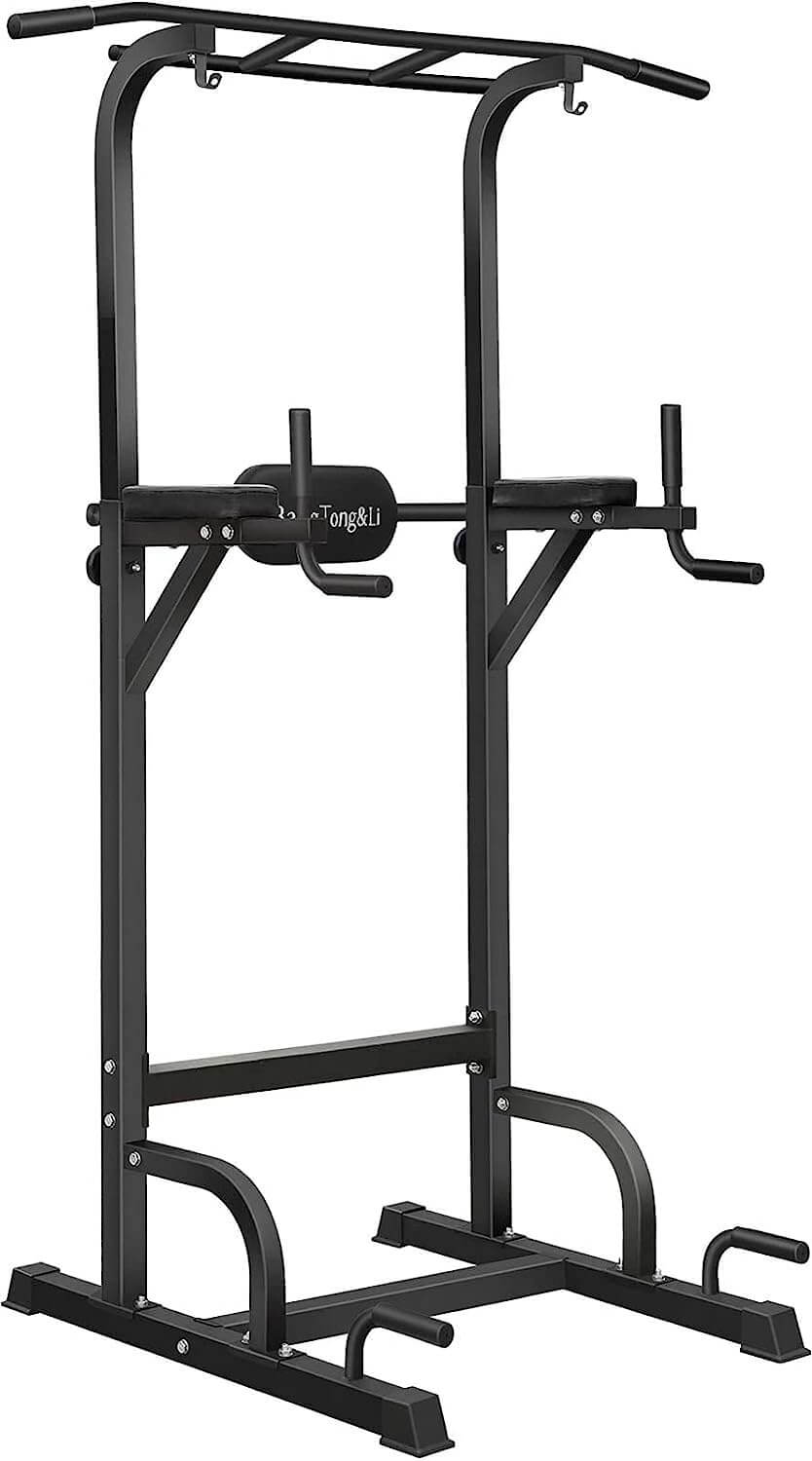 Type: Rig station
Specifications:
Dimensions: 125.09 x 36.83 x 17.14 cm
Maximum Weight Recommendation: 330 pounds
Item Weight: 23.99 Kilograms
Price: $204.88
Not only is this Power Tower ideal for ab exercises, but it also caters to your upper body workout needs. And the best part? This particular option comes equipped with a supportive backrest, adding an extra layer of comfort and stability for the captain's chair exercises and hanging leg raises.
Versatility is the name of the game with this design. The power tower allows you to unleash a range of exercises, including pull-ups, dips, push-ups, and more. Its robust construction ensures durability and reliability, boasting a weight capacity of up to 330 pounds. You can trust that this powerhouse will support your fitness journey with unwavering stability.
Buy here.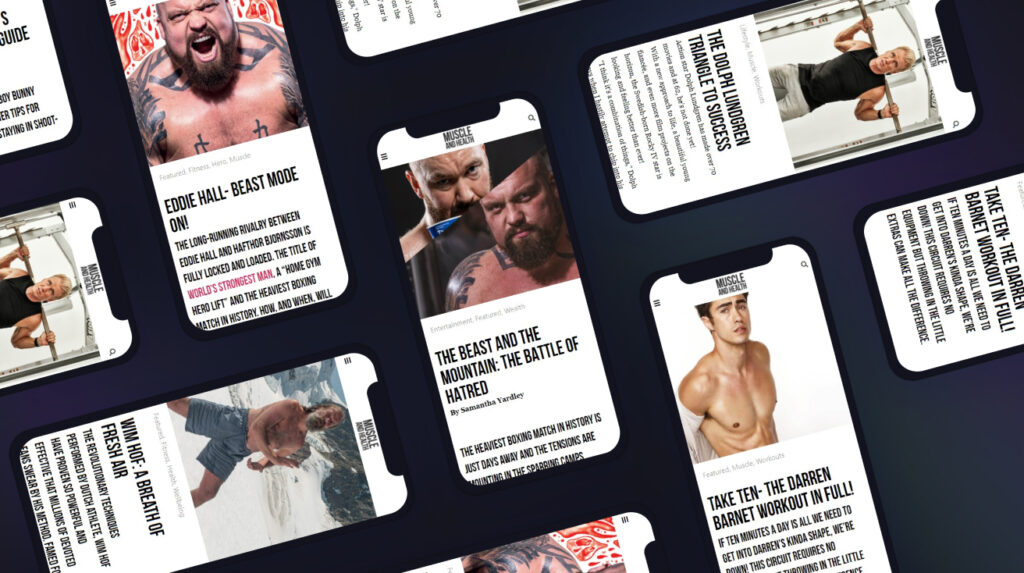 get all the latest mucle, health and wealth news delivered straight to your inbox