Words by Jack Franks
I won't lie. There are nerves as I wait in the Zoom lobby, staring at every inch of my face and trying to look as composed as humanly possible.
In fairness, it's not every day you get to speak to the current two-time Fittest Man On Earth.
Justin Medeiros, the winner of the CrossFit Games in both 2021 and 2022, is 20 days out from his quest to secure a three-peat and edge closer to the god-like status of Rich Froning and Mat Fraser.
Understandably, time is tight, with Justin's Manager and long-time close friend, Daniel Robbins, making me aware that there is training, recovery, and a few errands to run.
Any concerns that Justin might be late due to his stacked schedule needn't have entered my thoughts as he dials in barely a second over the agreed time.
In hindsight, punctuality is critical for CrossFit's elite crop. Rule 6.08 of the Competition Rulebook states potential disqualification for any athlete late or absent to an on-site event briefing, so being tardy is not a kind habit to possess.
Having religiously studied and researched every possible fiber of his life – including a deep dive into his Instagram page dating back to September 2012 – I've built a predetermined picture, albeit only from interviews, articles, and viewings of the two latest CrossFit documentaries – Next Gen and Retro/Active – in consecutive evenings.
Justin and CrossFit had consumed my existence for a week, but the nerves quickly evaporated.
Naturally warm and with an infectious attitude that has seen him become a hugely popular athlete within the community, the world's fittest man isn't short of a word or two as he tells me about his final preparations before heading to Madison.
"It's pretty wild right now. If you know anything about the CrossFit Games, you know everything, and anything is on the table.
"We've done obstacle courses, swam miles in open water, kayaking, paddle boarding; there will probably be a few curveballs but nothing too out of the ordinary.
"This time of year is about branching outside of the box of classic CrossFit and trying to touch on all the skills that may or may not come up at the Games. It's a little bit more fun, but it's still a grind.
"There are 15 events at the games, so it's primarily about preparing our bodies to handle that."
Despite the pleasant exterior, it's clear there's a fire burning inside, emphasized by a track record of fierce competitiveness and a hatred for losing.
The Fittest Man on Earth is ready to defend his title again.
It's pronounced Low-dye
Sitting in the middle of California's vast, flat central valley, with over 100,000 acres of vineyards in the surrounding areas, lies Lodi (pronounced Low-dye, something I only discovered after getting it wrong on two occasions).
Cited as California's best kept secret, it's the birthplace of A&W Root Beer and legendary Chicago Bulls Center Bill Cartwright, boasts a 'World Wonders' science museum modeled after the San Francisco Exploratorium, and has two sister cities; Kofu, found in the north-central Yamanashi Prefecture of Japan, and it's namesake on the western bank of the River Adda in northern Italy.
Along with Shanna and Anthony Medeiros – his parents – and Megan and Jessica – his two older sisters – Lodi is where Justin grew up. His younger teenage years were spent riding dirtbikes, wakeboarding, hunting, and driving his 1996 Ford F250, a gift for his 15th birthday.
It's also where he cut his teeth in the world of CrossFit and competitive sports in general.
He attended Lodi High School – one of four in the district – which boasted the motto "Knowledge is Power," it was evident sport would play a significant role in his life, albeit after a slow start.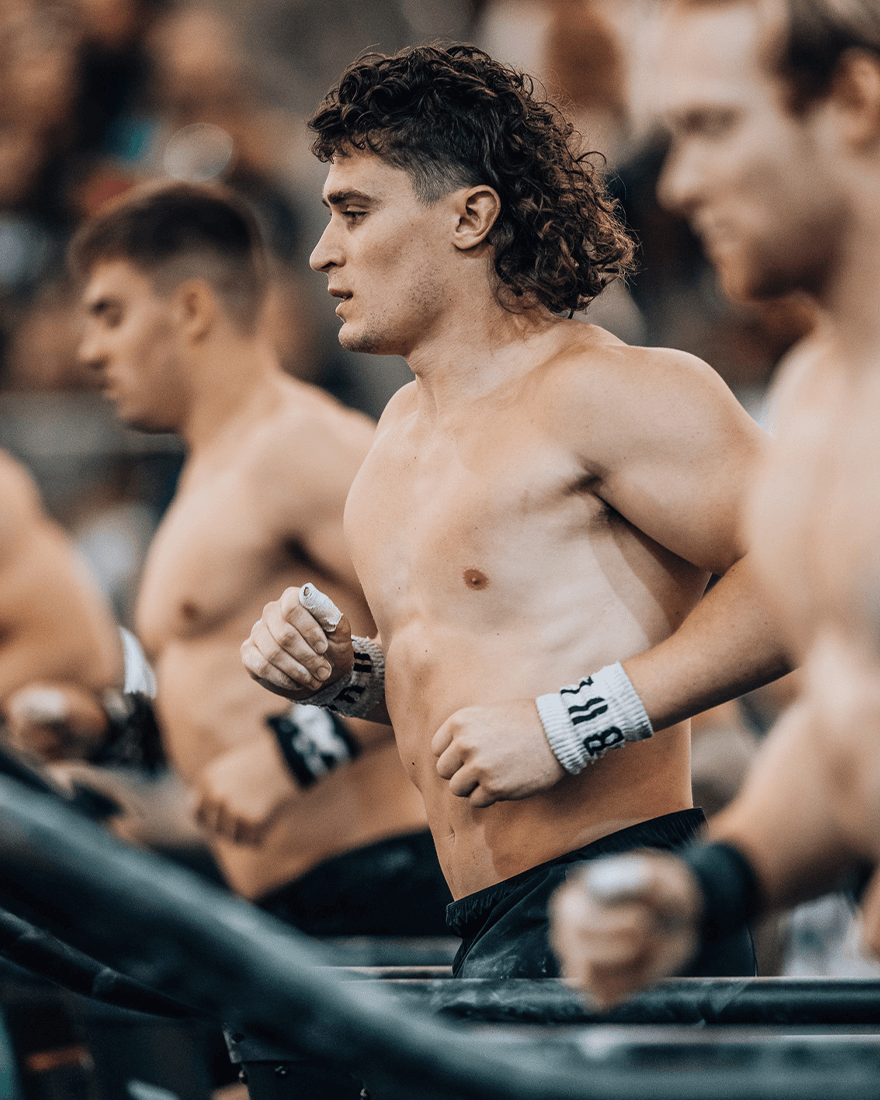 Justin's love of sports originated from his "awesome" P.E. teacher at elementary school, where basketball, American football, soccer and rugby tournaments would be held in a draft-style format.
"As a kid, I was doing anything and everything. I've always been super competitive, and I did not handle losing well at all. Not even in a productive way. I was just mad.
"I would throw temper tantrums if I was going to lose a board game. I would quit and walk away because I couldn't handle that stuff well.
"It was only when I started wrestling in fourth grade did I learn to find success in defeat. In my first year, I only won one match in total."
Tears were shed frequently, but Justin's coaches identified the wins even in losses when pointing out he executed specific takedowns they had been working on. It proved to be a valuable lesson in reflection, a critical tool that would be vital in the future.
Success was soon recurrent, with individual and team victories littering his Instagram page between 2012 and 2016, accumulating winning the 172-pound class as a Junior in High School.
An article published in the Lodi News-Sentinel in 2017 further highlighted his talent:
'In the last three seasons, Justin Mederios has climbed up the ladder toward achieving great heights. The Lodi High wrestler, a senior, needed only two steps to capture the title at 184 pounds at the Tri-City Athletic League Tournament at St. Mary's High last Saturday. The wins, both by a pin, improved Medeiros to a 19-3 record.'
Medeiros was multi-talented, also excelling in American football – he once scored a touchdown run of 85 yards for the Lodi Flames against Delta Kings – but admitted he "was a much better wrestler than a football player," influencing his decision to stop playing halfway through high school.
A constant throughout his early adolescent years, originally used to compliment his efforts in wrestling more than anything, was the rising sport of CrossFit. 
When Justin first discovered it at 13, a decision heavily influenced by his mom, who was already on the CrossFit hype train, its existence as a sport was still in its infancy; Greg Glassman and Lauren Jenai founded it in 2000.
However, it was a milestone era. In 2012, the CrossFit community witnessed rapid and accelerated growth, with more than 69,000 people signing up for the Reebok Games Open – a massive improvement of 43,000 in 2011.
"I didn't think of CrossFit as a sport. It was just a fun way to work out, and I loved being in and around the gym space.
"As I progressed later into high school, I would do my wrestling practice and then do CrossFit after. In my junior and senior years, I even had a small gym in my house where I would finish the day with a little session, purely because I loved it.
"But it was never more than that for me at that time because you couldn't go to school or college for it, and the goal was always to wrestle at college."
Five hundred eighty-six miles away, Justin opted for Boise State University in Idaho, a logical choice considering its rich wrestling history dating back to 1959, producing six PAC 10 champions and 10 Big Sky Conference Champions.
Unbeknown at the time, a twist of fate altered Justin's eventual course, with Boise discounting its wrestling program in 2017, coinciding with his arrival. 
Now lost and without a sport, it was finally time for CrossFit to emerge from the shadows and take center stage.
The nearly years
Another Level CrossFit – now known as Fulcrum CrossFit – is where it all began. A 220 lb back which would rise to 255 lb within five months – 270 lb deadlift, and first strict muscle up would be achieved here.
Aged 14, Justin finished first in the U.S. within his division following a competition at HicFit, where he would continue to compete in the following years. His potential was undeniable, yet it remained a side hustle within the bigger picture.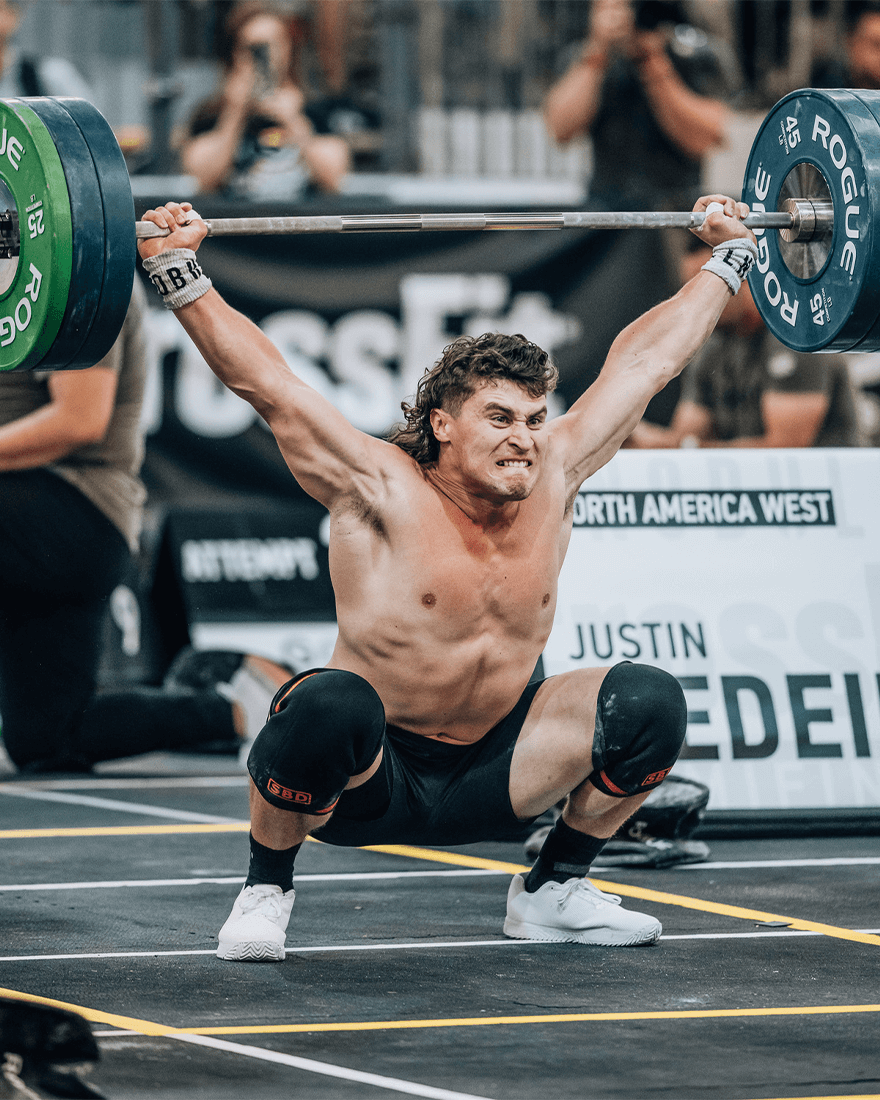 "There weren't many people my age doing CrossFit, especially at a competitive level.
"I didn't realize I could do something in the sport until I qualified for the Games!
"Some guys in the gym beat me in workouts even today, so it's hard to see potential when the process is so varied.
"You have people that are good at certain things. Some guys twice my age were stronger than me or could do more skills than me. But that's what I loved.
"The eventual goal to qualify for the CrossFit Games didn't become a reality until wrestling wasn't an option."
Before he was a competitor, Justin volunteered at the CrossFit Games in 2015 – the same year that the inaugural Teenagers Games were held – witnessing Ben Smith and Katrin Davidsdottir claim the titles of Fittest on Earth.
This lit the fire to compete, not just watch in awe from the sidelines.
In his final year of high school – aged 17 – his last as a teenage athlete, he finished 19th worldwide in the 16-17 division, which in future years would have been enough to get him to the Games.
Fast forward one year, and Justin qualified for the California Regionals alongside Garret Fisher and Jeff Patzer. Still, the iconic figure of four-time Games finalist Josh Bridges had the most significant impact.
Ahead of a 1,200-metre meter run followed by 12 rounds of four strict handstand push-ups, eight chest-to-bar pull-ups, and 12 squats, Justin threw up before eventually finishing 22nd in the event. Bridges came first.
"Bridges was one of my idols. He's from the California region and had a wrestling background before joining the military. He's one of the most iconic figures in the sport.
"I went from never really seeing myself having a future in the sport and watching the likes of Bridges on T.V., and then I made it to Regionals, and I'm in the warm-up zone…and he's there!"
A 15th-placed finish went under the radar – despite 11 of the men in front of him having some form of Games experience – overshadowed by Nick Paladino and George Sterner, both of whom finished first and second, respectively, in the Teenage Division and had momentum on their sides.
One man who did spot Justin's potential was Tommy Marquez, a host, podcaster and writer for multiple CrossFit-related streams. Ahead of the 2018 Open, he said:
"Real Talk: Finishing 15th at Regionals in today's competitive landscape at 18 years old is pretty amazing.
"I don't know about you, but even IF the CrossFit Games existed in their current format when I was 18, you'd be more likely to catch me eating Taco Bell and playing Halo than throwing down on the competition floor alongside Josh Bridges or Garret Fisher.
"Moving from 15th to a top-five placement to earn a Games spot in one year may be a big leap for Medeiros, but you should keep an eye on him this season. He has certainly caught my attention with what's already an insane fitness level for his age."
In his early years, Fortune didn't favor Justin trying to claim a coveted ticket to Madison. In 2018, following Regional realignment where the California and West Regionals were combined, Medeiros improved one spot finishing 14th at the newly formed West Coast Regional.
If the realignment had happened, Medieros would have finished 5th at the California Regional and qualified for the Games.
2019 saw Justin finish 17th at Wodapalooza in Miami before he took the floor at the Granite Games in Viking Lakes, Minnesota. Despite being in a qualifying position for the Games until the final workout, an almighty struggle with a heavy sandbag led to one of his worst finishes of the weekend.
He missed qualification by one place and just ten points.
Neiffer and the 2020 saga
The introduction of Adam Neiffer into Justin's life can not be underestimated. Without his guidance and influence, multiple years of coming close but never reaching the promised land may have continued.
Having decided to make a proper run at CrossFit after college, a mutual friend put Justin in touch with Adam.
In 2017, CrossFit Fort Vancouver — the team Neiffer had been coaching, captaining, and competing on for ten years — reached the pinnacle of its success.
Knowing the soon-to-come changes to the Affiliate Cup in 2018, the teammates decided to have their last hurrah during the 2018 season before hanging up their competition T-shirts in the back of their closets. 
After taking third place and standing proudly on the podium at the Games that year, Adam returned home from the competition ready to reprioritize his life, choosing to focus on his faith, family, and affiliation, with no intention of heading down the competition path again.
Until Justin Medeiros came knocking at his door.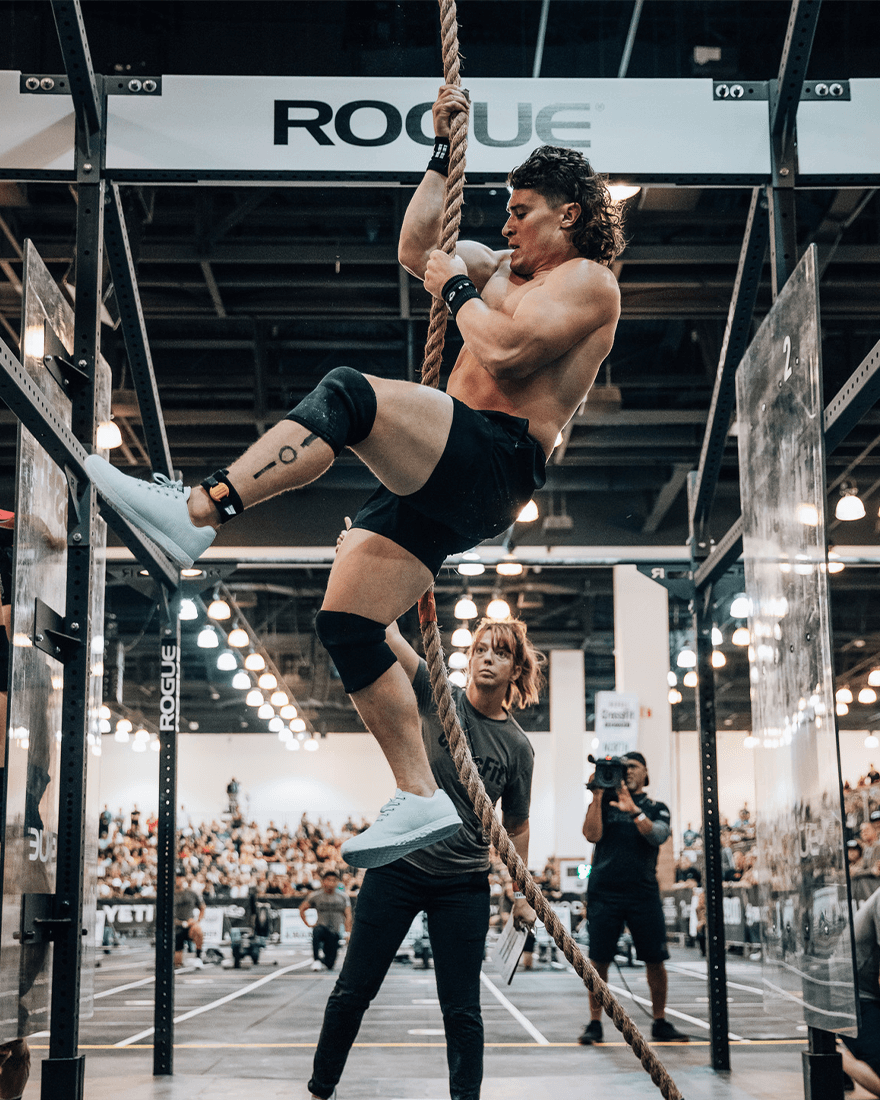 Not long after Neiffer stowed his competition gear, a friend called him up, asking him to consider coaching an up-and-coming competitive athlete with incredible potential. Neiffer declined the offer immediately.
But the friend kept calling, and to get him to stop, Neiffer agreed to talk to Medeiros.
Still skeptical, he asked Justin to write a letter outlining why he wanted to compete and his values, amongst other things. The thought of a 19-year-old college kid taking this seriously was never under consideration, yet, an in-depth email arrived in Neiffer's inbox just two days later.
His number one rule; no virtual training or remote programming. It needed to be in person. That meant Justin packing up his life, driving six hours to Vancouver, Washington, and embedding himself in CrossFit until the Games.
Neiffer's proposal was not one he considered Justin would take, but a reply was swift and straightforward in nature and letter count: "OK."
"It's crazy to see the jump that I made once I started working with him.
"I did the Open in 2019 and started working with him a month after that. We only worked together for around a month when the Granite Games came along. I bombed the last event and then missed it by one spot.
"Compare that to Wodapoalooza just three months before that, which was a similar field of athletes, and I came 18th and was nowhere near cracking the top 10.
"I was never going to get crazy strong or max out my endurance in that short time working together, but it was a huge flip regarding my game plan and mental capabilities. I was now training with a purpose, working on my weaknesses, and I felt I was getting everything out of my fitness."
From the moment Neiffer picked up Justin from the airport in 2019 – the first time the pair met in person – they hit it off, forming a solid connection that allowed them to grow and flourish as a duo of coach and athlete. 
Determined to succeed the following year, the pair agreed to compete in every Sanctional (independent fitness event as qualifiers separate from the Open) until they received an invitation to the 2020 CrossFit Games. 
One of those took them to Dublin, Ireland, to compete in Filthy 150. In what would become a recurring theme in the following years, Justin's consistency saw him beat Roman Khrennikov by 38 points; he never won an event but never finished lower than sixth.
Medeiros' determination and resilience were tested in the past four seasons, but this only motivated him to achieve his goal of competing in the Games [1]. Despite facing adversity, he pushed through and earned his coveted spot.
However, his strength and perseverance extended beyond the competition floor. When his father suffered a head injury, Medeiros left school to be by his side for three weeks and later took a semester off to help recover.
Even after returning to school, he faced another hardship when his grandfather passed away just weeks before the CrossFit Games competition.
And, of course, COVID struck.
"I finally qualified, and then COVID happened. I just felt like it was never going to happen.
"Before the Ranch, stage two of the Games that year, there was an online phase where the top 40 athletes were narrowed down to five.
"So, my first ever CrossFit Games experience was in my home gym with some friends watching me throw down the workouts.
"The leaderboards were hidden too, so you wouldn't know where you were standing, and that was the case through all seven events."
Following the conclusion of the final workout, Awful Annie, Justin's team, family, friends, and community were present to celebrate a third-place finish, punching his ticket to The Ranch for a one-off watered-down edition of The Games in October 2020 for Stage Two.
"The goal was not to come last. The Ranch is such an iconic place in the world of CrossFit. It's where it all started.
"There are very few people who have had the chance to work out there, and now I'm going to compete in a full CrossFit Games. It was such a cool and unique opportunity that I doubt it will happen again. 
Justin claimed Rookie of the Year, a spot on the podium behind Mat Fraser and Samuel Kwant, and finished ahead of seasoned Games athlete Noah Olsen. 
It capped a remarkable rise, but Neiffer was keen to keep his feet firmly planted on the ground. In an interview in December 2021, he said: "Although Medeiros technically entered the field in 2021 as a returning Games athlete, his rookie experience in 2020 wasn't exactly typical.
"There were no spectators, there wasn't a full field of athletes, and the competition was under strict COVID safety protocols. Medeiros finished 2020, a low-key year for the CrossFit Games, in third place out of five, which meant he was truly middle of the pack."
2021 was the test and a chance to showcase his talent before a roaring Madison crowd.
Business at the front, party at the back
Arriving in Madison, Wisconsin, Justin and his team checked into the Sheraton Madison Hotel a week before the 2021 Games commences, keen to acclimatize and take in the scope of what was to come.
A summer spent fine-tuning weaknesses and areas of potential frailty – one of which was Justin's upper-body pressing – led to the arrival of Neiffer's long-time friend, Jesse Bifano. 
He was one of several additions to the coaching team, with specific gymnastics and swimming experts brought in to alleviate some of the responsibility from the shoulders of Neiffer, who had previously covered all bases.
Consistency, a trait which has been a critical factor in Justin's success, was the decisive factor throughout 2021's 15 grueling events, with his lowest finish of 15th coming during a chipper of 220-lb sled drags, 510-lb Pig flips, and a total of 48 muscle-ups divided across the rings and the bar.
"I've only won one workout in the past two years, but every event was my best performance. Obviously, I'm mad about many events, but when you walk off the competition floor, I know I gave everything.
"It doesn't matter if that was 1st or 20th place; you die for points. That's what we always say. Even if you're fighting for 19th or 20th, you better slide across the finish line like you will win the Games.
"Every event is worth the same amount of points, and you gotta die for every single one."
Such are the acceptable margins of the Games; Justin recalls events in the middle of the 2021 and 2022 competitions in which he could have fallen down the leaderboard by ten places had he not maintained his laser focus.
This was evident in Event 11 of the 2021 Games, the first time Justin had done a pegboard event in a Games competition, and despite some early struggles, he managed to maintain his healthy lead over Patrick Vellner when he could have been caught at a critical moment.
In the next event, which closed out day three, he snatched 285 lbs under immense pressure following a failed first attempt, with a glance over at his family in the stands the boost he needed to rep a weight he had only lifted once before.
"Those are the workouts where I won the Crossfit Games because it's super easy to kick the can because you're not in the lead.
"You could lose five or ten spots, which is 20 to 30 points on the leaderboard, and you need to be mindful that every workout matters."
Justin was 32 points ahead of Vellner heading into the final event under the lights in the Coliseum, an advantage which required composure and efficiency over a 600-m row, 90 chest-to-bar pull-ups and a 108-ft barbell walking lunge.
What followed was a Fraser-like display of dominance. This was his time.
As he dropped the barbell for the final time, the iconic "business in the front, party in the back" bellowed out by Jeff Brightwell was the perfect sound bite for a moment years in the making.
One of the most endearing moments of Justin's iconic winning sequence was the image of his parents – Shanna and Anthony – staring their son in the face, eyes filled with tears, as they embraced him tightly.
The beauty of it all was that Justin didn't even know his parents occupied those seats.
"Crossing the finish line, I think that that moment was insane. I get chills right now."
Justin's face lights up as he reminisces.
"I didn't know my parents were there until I dropped that bar.
"I get goosebumps just thinking about it. It's so crazy that those moments are captured, too; I can watch them back. I remember what I was thinking as they called my name on the competition floor, what I was thinking when I was on the rower, and before every set of pull-ups.
"I remember my thoughts throughout the lunges and crossing the finish line. I was trying to win the whole weekend, but I never thought it would happen. It's hard to explain that feeling.
"Taking the last two steps to the finish line and hugging my parents was so cool because that moment was with all of them.
"That'll forever be my favorite CrossFit moment that I'll ever have."
At the same time, Neiffer watched from the stands, tears spilling down his face. 
Something tells me he was happy Justin persisted.
The Rogue Invitational title was secured two months later, and the new dawn of a future CrossFit legend was underway.
By the time the 2022 Games rolled around, Meideros was the favorite to reclaim his crown and join the likes of Fraser and Froning to claim consecutive Fittest On Earth titles.
Competing on Wednesday, Friday, Saturday and Sunday – with a rest day on Thursday – Justin fuelled his days with four eggs, two pieces of bacon, a bagel with jelly, plus two packs of oatmeal with brown sugar, to accumulate 3,000 calories and 500 grams of carbs every day. 
2022 featured a range of agonizing workouts, none more so than a max load sandbag carry and 'The Capitol,' one of the most visually stunning and immersive events in Games history, starting with 20 pig flips and concluding with a 200-pound safely bag carry the stairs of the capitol of Wisconsin.
To maintain his performance levels and help his body recover, Justin would utilize the cold plunges on offer after every event, take naps between workouts, snack on fruit, baby food, meat and rice dishes, sweet potatoes, and Smucker's Uncrustables, then end the day with further cold exposure, another meal, and put on NormaTec boots for 40 minutes to get the blood flowing.
This strategic and detailed plan played a part as Justin defeated stiff competition in a three-way tussle with Roman Khrennikov and Ricky Garard. However, the latter eventually saw his chances diminish heading into the final few events.
In his winning interview on the competition floor, he described the different nature of defending a title as appose to chasing one, once again citing a 'model of consistency' as the key element for victory.
There was still one final physical test before he could rest. Climb the walls to embrace his family, who have been there.
Justin Medeiros, back-to-back Fittest Man On Earth.
Anything but first is a failure
Rich Froning and Mat Fraser are names synonymous with CrossFit. Two iconic mountains with immovable stature and respect within the community, with their respective records speaking for themselves.
Justin grew up idolizing athletes he now stands alongside in the record books, an unfathomable reality for someone who volunteered at the Games in 2015. Eight years later, there is a general conclusion that we live in the Medieors Era.
"I think many of these guys on the men's side have defied what people thought was possible.
"That's always really attracted me. We watched Froning win four straight and thought that'll never happen again. That's insane.
"Then Fraser comes along and wins five straight, and everyone thinks that's never going to happen again.
"You never know what will happen, and that's what's pretty cool about the sport. I still do things I didn't think I could do in my training.
"That's what it takes to keep pushing the sport farther along."
Of course, Fraser and Justin's paths only merged once in 2020 at The Ranch, a spiritual passing of the torch moment in hindsight which saw one legend open the gates for his successor to step through.
"I can say Mat and Tia (Claire-Toomey) are my friends. I can text him and respond, which is crazy because I volunteered at the Games as a 15-year-old when they were competing.
"It was just crazy to be in the same area with these guys as a fellow competitor, and pushing Matt in a couple of workouts was amazing."
Ahead of Justin's attempts to claim a three-peat, he is again the favorite when the competition begins in Madison on August 1st.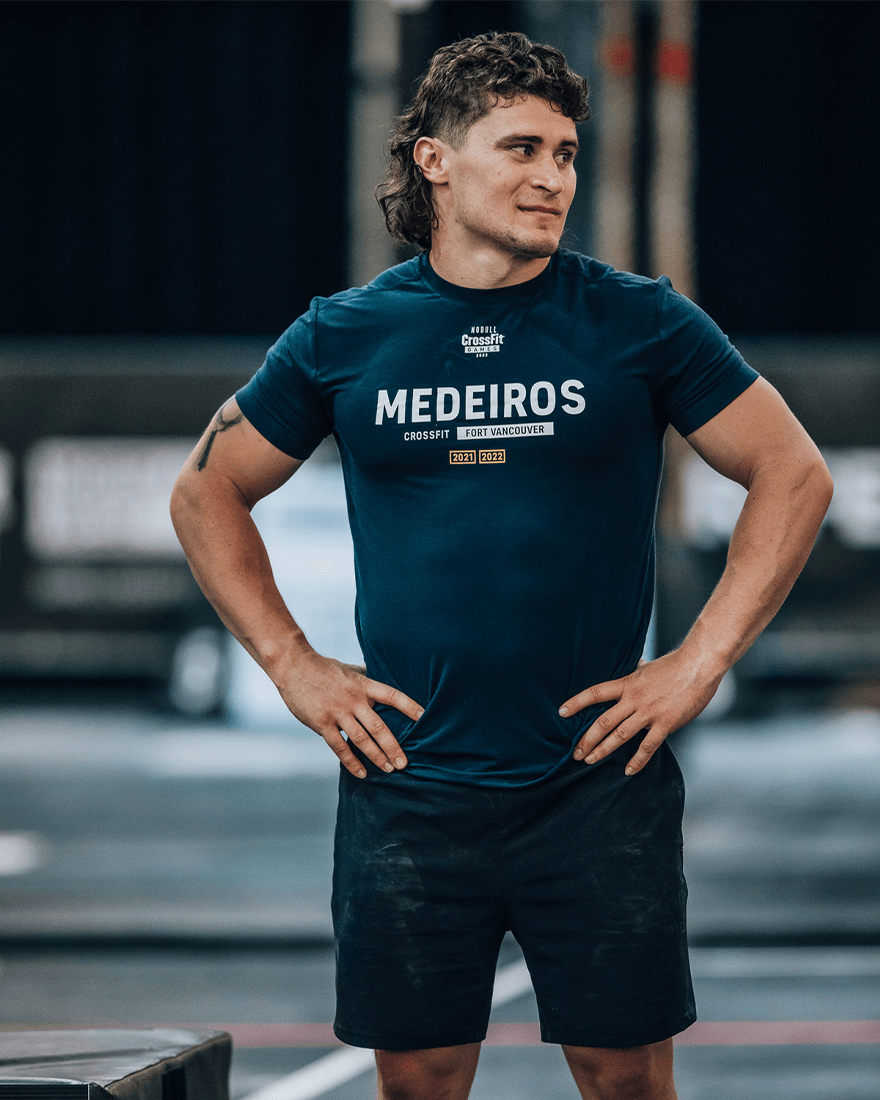 He told Morning Chalk Up that he is "fitter than I ever have been," having trained alongside his partner, fellow Games qualifier Ellie Turner, as they did before the 2022 competition.
So, the question remains. Are we in the Medeiros era?
"I hope so!
"It's still crazy to say that I've been at the Crossfit Games three times, came third, and could stand at the podium twice.
"It's unreal, and I'm soaking in every single moment. I love being able to step onto the competition floor and represent the team around me because I could not do that without every one of them.
"If I don't win this year, it's a failure. Anything less than first place differs from what I'm there to do.
"The goal is to win this year, and we can re-evaluate and make that happen again next.
"But right now, it's just training hard, preparing for competition, dying for points.
"Hopefully, at the end of the weekend, I'll be standing on top."
How to watch Justin at the CrossFit Games 2023
CBS Sports broadcast
You can follow all the competition's suspense, thriller and drama live on CBS Sports Network. The U.S. broadcast partner of the Crossfit Games is the Network. CBS Sports provides in-depth coverage of sports worldwide and games like CrossFit. When the competition starts, stream CrossFit Games live on CBSSports.com.
CrossFit's Social Media Platforms
You can also follow all the action live on CrossFit's social media platforms besides CBS Sports. These platforms include Youtube, Facebook, Twitch, and Pluto TV.
YouTube
Follow it on YouTube by subscribing to the CrossFit games channel. When you subscribe to the channel, you can Livestream the competition when it starts.
Apart from this, the highlights of previous competitions are at your disposal. You can watch the highlights of the ones you missed and the latest videos of the competition.
Facebook
To follow and watch the competition on this mobile platform, you must like and follow "The CrossFit Games" on Facebook. Once you like the page, you can Livestream the event on the mobile platform.
After liking their page, the good news is you'll get updated and receive notifications on your phone to remind you of upcoming events.
Pluto TV
You can catch the action live on the U.S. Internet television service whenever you are when the competition starts. To make things better, Pluto TV is a free live-stream television. So you can stream the games live without spending a dime.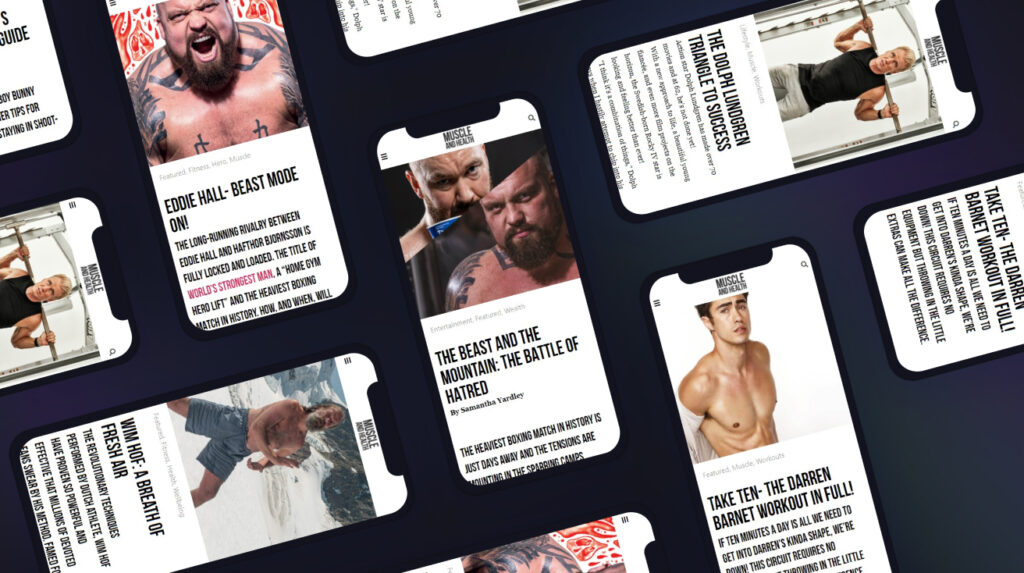 get all the latest mucle, health and wealth news delivered straight to your inbox