by Darren Croft

Looking for an exercise that will test your strength and endurance and give you a real taste of adventure? 
If your answer is "yes," then rucking could be for you. 
It's a great way to socialize and explore the great outdoors while getting fit and healthy. And even if you're not preparing for life in the military, training like you can inject the discipline and intensity your fitness routine has been crying out for. 
You'll wonder why you didn't try a good old "rucking workout" before.
But what is rucking?
And how do you incorporate it into your training routine?
Let's get ready to ruck…
What is rucking (and who invented it)?
Rucking (or ruck marching) is an exercise that's been gaining popularity in recent years, not least because many of us got used to our solo, government-sanctioned walks during the lockdown years. 
You can take advantage of the gains it gives you without investing in additional equipment (just use what you have).
Not surprisingly, "ruck marches" appear to have originated in the forces as part of a military training exercise. 
The phrase rucking refers to a person in the military moving their gear from one place to another in a backpack. 
It's necessary in the battle to carry cumbersome equipment on long treks across rugged terrains, and it's a case of getting it all from A to B and staying strong throughout. 
Ruck has become military slang for a backpack and can also mean rucking or going on a ruck march. e.g., "I rucked 10 miles yesterday with a 10lb weight in my backpack."
And when applied in a non-military context, it means loading up a big backpack or rucksack with weighted items and walking, marching or running long distances. 
It sounds easy, but the fact that you are carrying that extra weight means you'll be testing your endurance to the max, and even those who consider themselves reasonably fit, may struggle at the beginning.
It's a bit more intense than a stroll in the park, and those who remember walking home from school with twenty or so study books in their rucksacks will be familiar with the exercise.
What are the benefits of rucking?
You could hit the gym – so why load up and get rucking?
Firstly it will get you out and about, potentially exploring places you've never seen, which is great for your mental health. It's described as a form of meditation and can be a great way to recharge and reset your mind after a tough day. 
It's also great for socializing, and going rucking with friends is the perfect way to take your mind off the fact that you're working hard and exercising. It's also a great team-building exercise, especially if one of you struggles during the hike. It will test your character to the max!
But its real benefits come from cardiovascular fitness and muscular endurance. Your heavy load will make your heart work faster and improve your respiratory system, particularly if you are hiking steep gradients.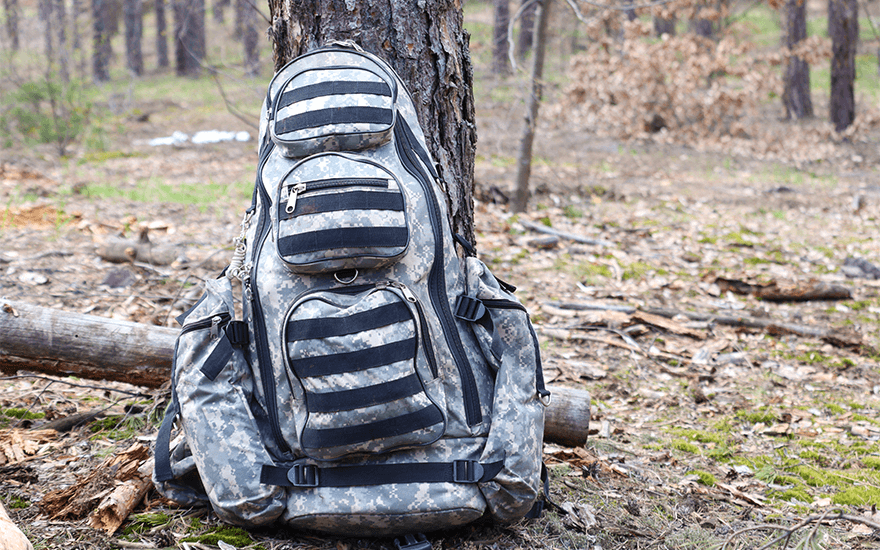 Plus, it's great for improving muscle strength and can also help improve your bone density and strengthen your glutes, upper body, back, leg muscles, shoulders and core. 
Many people take up rucking in preference to running as it puts less strain on your joints. It can help prevent injuries by strengthening muscles without putting excessive pressure on them. It has all the benefits of weight training but with more variety.
Rucking is a great "add-on" to your weekly exercise schedule – and can be added to your schedule. 
How many calories will I burn rucking?
Let's face it; you're not just going rucking for the fun of it (although you might have some).
And the good news is that rucking will burn a LOT more calories than a casual walk. You'll likely burn around 2-3 more calories rucking than walking. 
The added weight in your rucksack and the rugged terrain and inclines you may encounter will increase the test of endurance and give you a big advantage if you're looking to lose weight or build muscle. 
A rough estimate would be a burn of around 250 calories for a 30-minute hike.
What do I need to get started with rucking?
All the gear and no idea…
The best part about rucking is that you require a backpack, weights and suitable attire. You can weigh up your backpack using things you have in your house. 
Some online stores specialize in rucking gear, including footwear, waterproofs and dedicated weights (ruck plates) designed for backpacks – but it's unnecessary. 
Essentials for your rucksack
We would list five items as "essentials," whether you're a first-timer or an experienced rucker.
A First Aid Kit
Remember, you'll be in the great outdoors and potentially miles from help should you get injured. Worth taking along for anything from blisters upwards.
The weather can change dramatically sometimes, and it's best not to be caught out. Always ensure waterproof clothing in your bag, even if you're not wearing it on the go.
There are no guarantees that you'll get reception, but maps and compass apps are great should you need help with directions.
For those who don't have a torchlight on their phones, it's worth taking along a torchlight (with good battery life), just in case…
Food, protein bars and, of course, water are essentials for your rucksack.
You'll likely have most of these things in your house, so there is no need to get anything special if you don't want to. 
How much weight do you need for rucking?
How much weight you'll want to carry will depend on your fitness level. If you're new to rucking, it's a good idea to start with a lower weight and see how you get on. 
Generally, you should start with around 10% of your body weight. So if you are a man weight 220 lbs, you can load up your rucksack with around 22 lbs. 
If you feel you can take on more weight next time, then you can progress the weight each week by around 5-10lbs until you get to around 20-25% of your weight.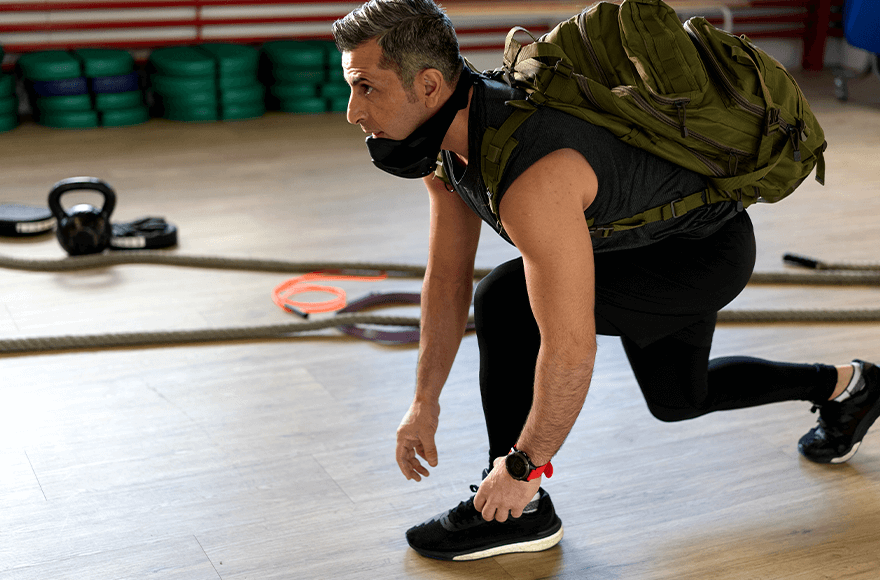 Try not to go "all out" on your first hike, as you may find you've bitten off more than you can chew and will risk injury. We advise you to limit rucking to once or twice a month when you start. Walk at a moderate pace initially, and you'll be able to judge how you progress after that.
You should plan your route carefully to ensure you can adequately manage long distances and terrain. Start to practice rucking with a reasonably low-intensity trek and plan and manage your goals accordingly from that starting point. 
You can add weight, distance and inclines as you progress. Maybe start with a mile ruck and go from there?
How can I progress with my rucking?
Once you feel ready to take it to the next level, you can increase the intensity of your rucking effort by –
1- Increasing the distance you walk,
2- Introducing steeper inclines,
3- Adding a heavier weight to your backpack
Unless you are at a high fitness level, we would only advise that one of those criteria is increased each time. 
Don't put too much strain on your body throughout the journey as it should be seen as "tough but enjoyable" and, of course- injury free.
Which Apps Should I Use For Rucking?
Apps are optional for any exercise, but they can come in very handy at times, and even if you don't use them on your trek, it's always nice to have a log of your adventures to look back on.
What do you need an app to tell you? 
The main items of interest would be where you went, how far you walked, how long it took and the amount of elevation.
The best choices for rucking would be Strava or Mapmyrun, and both apps will have all the data to analyze your rucking and track your progression.
Is rucking for me?
If you're looking for something to test and improve your physical and mental strength and endurance, rucking has it in abundance. 
It's also a relatively cheap way to get fit with just a rucksack, weights and a few bare essentials needed to get you started. You can start from the comfort of your home, and it's a great way to go out and explore the countryside.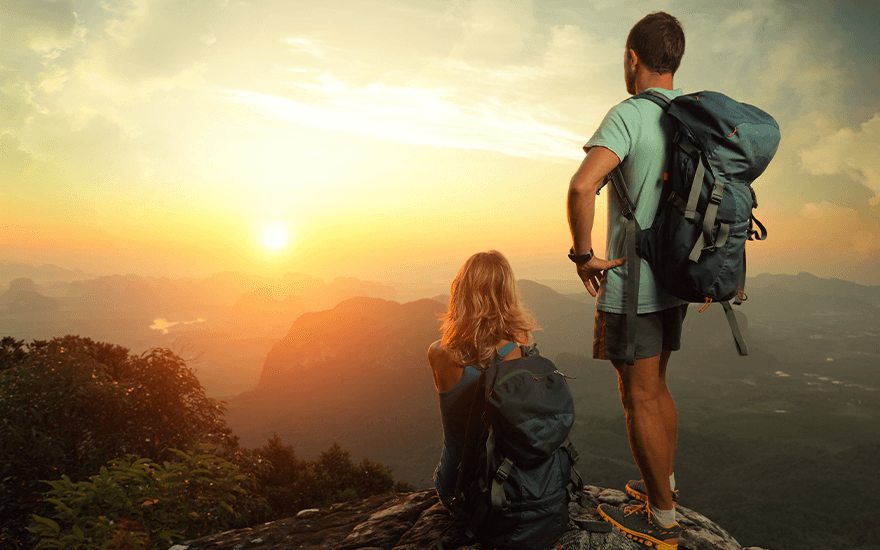 It's a great way to get your heart rate up and is a brilliant form of cardio and building up your strength simultaneously.
The extra weight you're carrying will force your legs, back, core, and shoulders to work the entire time you ruck, and because it isn't an "all out" workout like some, it will give you all the benefits but without a high risk of injury.
In addition to burning calories as you go, it's a great social workout too, so it's great for both body and mind.
Rucking has also been shown to improve your mood and sleep. 
There are many benefits, and you'll wonder how you ever did without it!
Related Articles: The Best Workout Shoes For Men – Lace Up In Style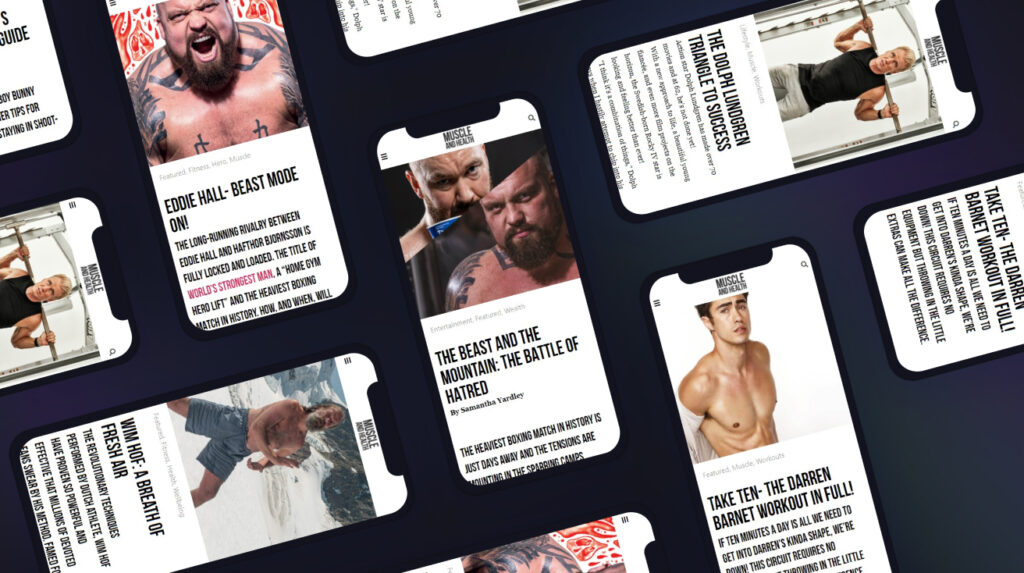 get all the latest mucle, health and wealth news delivered straight to your inbox