By Darren Croft
Virtual reality fitness sales have rocketed recently as enjoying yourself while exercising has become a reality. This article has brought you our best virtual reality workout games.
There's no denying that home workout technology has become more of a "thing" since Covid barged into our lives. The convenience of getting a decent workout in your front room means it looks like it's here to stay.
Traditional exercise requires dragging your lazy backside off the couch and into the gym. But now you can save on time and petrol money by sticking on a headset and having fun in the comfort of your home! 
But if you're new to VR, it can seem overwhelming…
Where do you start?
And what are the best VR fitness games to get your hands on?
If this sounds like something you want in on, clear yourself some space in the front room and dive into the world of the VR fitness game as we unravel the best VR games currently available.
VR Fitness: what is virtual reality fitness?
Virtual reality allows users to interact with the simulation and has been implemented across multiple industries, including entertainment, medical care and, of course… fitness. 
Instead of using a handheld controller like in a traditional game, in VR workouts, you use the hardware (the VR headset) to immerse yourself in the virtual surroundings.
You're moving your body to control the game, so it can get your heart pumping in a fun way that doesn't feel like exercise. You can alter the level of intensity and make it as easy or as hard as you want – you're in control. 
Plus, if you've got friends with VR headsets, many games have multiplayer options so that you can play with friends. 
Worried about motion sickness?
Traditionally VR was plagued with rumors about making you nauseous. And while some people are more prone to feeling sick with VR, we found these vr games didn't bother us – but it will be down to individuals. 
Related content: Virtual reality check, the best VR products of 2022 to augment your reality
   The best VR Fitness Games & Apps
Ps. we've included average costs on these games, but this is for the software only and does not include the VR headset. Some of these are bought on a subscription basis; you must factor this into your monthly cost.
When asked to picture someone playing a VR game, we often think of a guy in a headset waving around colored glow sticks. Welcome to the VR world of Beat Saber, one of the most popular Oculus fitness apps. It's not technically a fitness app, but it will still get you're heart rate pumping.
You're equipped with motion controllers and a VR headset, aiming to slice through the blocks without colliding with the numerous obstacles along your journey. It's a game that will promote your flexibility and stamina through music. If you can take a game like this in your stride, you can take it up a notch with the new FitBeat game, offering more intense challenges. 
Winner of numerous gaming awards, Beat Saber is a class act in the VR world. One try, and we think you'll be hooked!
Cost: $30 (plus $9.99 for add-on packs)
Best app for: people who don't want want to work out
In complete contrast to the epic movements of Beat Saber, Tripp is a much quieter affair.
In complete contrast to the epic movements of Beat Saber, Tripp is a much quieter affair. 
VR workouts aren't just for your physical fitness; they can also help your mental health. Tripp is an app that helps to train you to relax by using images and videos to help you focus on slowing down your thoughts and concentrating on yourself. 
It's great to know that if you need to slow down the pace of life, you can stick on the headset, choose a setting, and the brakes will be applied well. There are some picturesque meditations within the app. 
In this instance, the beauty of the headset is that you are entirely focused on the images and not distracted by what's happening in the room. Something that can be an issue if you meditate in a room full of people. 
Time magazine described Tripp as "one of the best inventions of 2022", so if you're looking for a great way to reset your head, you'll stick this on your Christmas list.
Cost: $7.99 per month
Best app for: Mindset and overall wellness
Like Beat Saber, FitXR is a fast-paced musical game, but this time in the form of a virtual fitness studio. 
There are plenty of classes from dance, boxing and HIIT workouts. The VR makes it feel more like fun than a serious workout. You'll also get personalized advice from fitness instructors to help you.
If you're looking for a delightful way to burn calories and improve your strength and energy, this is definitely for you.
Unlike most workout classes, this isn't repetitive or boring, as new classes are released on the platform regularly. A great experience, and you'll almost forget it was a workout. You get to work out with friends and family too. It is guaranteed to release your endorphins.
Cost: 7-day free trial, then $7.99 per month
Best app for: Huge library of workout classes
"Anytime, any place, anywhere" is the ethos behind VZfit. Also, not exclusively for cyclists, there are many scenic routes to cycle if you are that inclined. 
Just pair up a stationary bike or intelligent bike to the sensor, and away you go. 
Where would you like to go today? 
You can cycle anywhere; VZfit allows users to be transported anywhere, thanks to the app's integration of Google Maps Street View data. The app contains many games and challenges, so you'll never get bored.
If you prefer not to cycle, there's the option of workouts using the standalone platform, and there are plenty to choose from. 
Great for those who appreciate variety in their workouts and virtual routes. 
You can also get personalized feedback from professional coaches along the way. A great app for beginners upwards.
Cost: 7-day free trial, then $9.99 per month.
Best app for: Incredible VR bike rides
An incredible app that gives you the feeling of free solo climbing. You can explore the mountains and caves and even compete against your friends. There are some fantastic visuals throughout the climbs; you can choose your favorite climbs from around the world. 
It's pretty much what VR was built for, and even if you're not big on climbing, it's a significant variation on the usual forms of exercise, and it's excellent for training your mental focus. 
Perfect for those looking for something different from the standard workout apps. The climb will help you to scale new heights in fitness. 
Ps. you will feel like you are falling in this game, so be prepared. 
Cost: $13.30
Best app for Explorers who like to try something different.
Look no further if you're seeking a full-body VR workout with many bizarre locations. Supernatural has similarities to Beat Saber in that you use a controller to smash targets to music while moving your body to avoid obstacles.
Perhaps it's the scenic locations, but it doesn't feel like you're working your body at all, and it's more a feeling of fun. 
You'll have a virtual coach beside you during your warm-ups, cool-downs, and guidance throughout the tasks.
Supernatural can be played from the beginner level upwards, and for those looking to take their first step into the world of VR fitness, this is a great place to start. 
Special mention should go to their boxing game, one of the best we've seen.
Cost: Free for 7 days, then £19.99 per month
Best app for: Huge library of unique locations
So, what's the best VR fitness game?
 So, there you go!
This is by no means a definitive list, and you've got others, including Dance Central, Thrill of the Fight, Holofit and OhShape as well as other. But these are some of our favorites and hit the mark on offering variety for those looking for something new to add to their fitness routine. 
If you are investing in a VR headset, you will get more than one game for a bit of variety – so a few of these should help you get fit without hitting the gym every day. 
For our round-up of VR hardware, you can read our article here. 
Related Articles
The future of VR: how virtual reality will change you sex life forever
Virtual Reality Fitness in The Metaverse Is Here to Stay
The Future Of Sex: How VR Will Change Your Sex Life Forever
Reaching Out To People In The Metaverse
The Great Outdoor Activities Of 2022: Trending Outside Exercises To Try This Year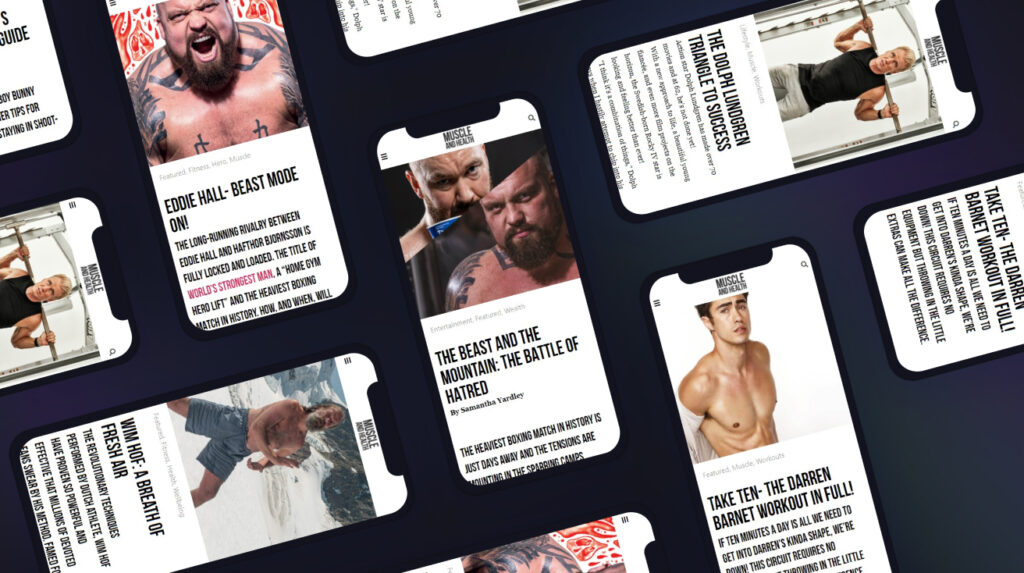 get all the latest mucle, health and wealth news delivered straight to your inbox